By Tony D'Onofrio – CEO, TD Insights / Marcin Pilarz – CEO, Talkin' Things
The latest retail industry research quantifies the challenge of global inventory distortion at $1.8 trillion with 81% from products being out-of-stock and 19% from overstocks. Lockdowns, misdirected inventory, and closed stores severely compounded challenges with inventory management. An estimated $570 billion in lost revenue has already been attributed to COVID-19 inventory distortion.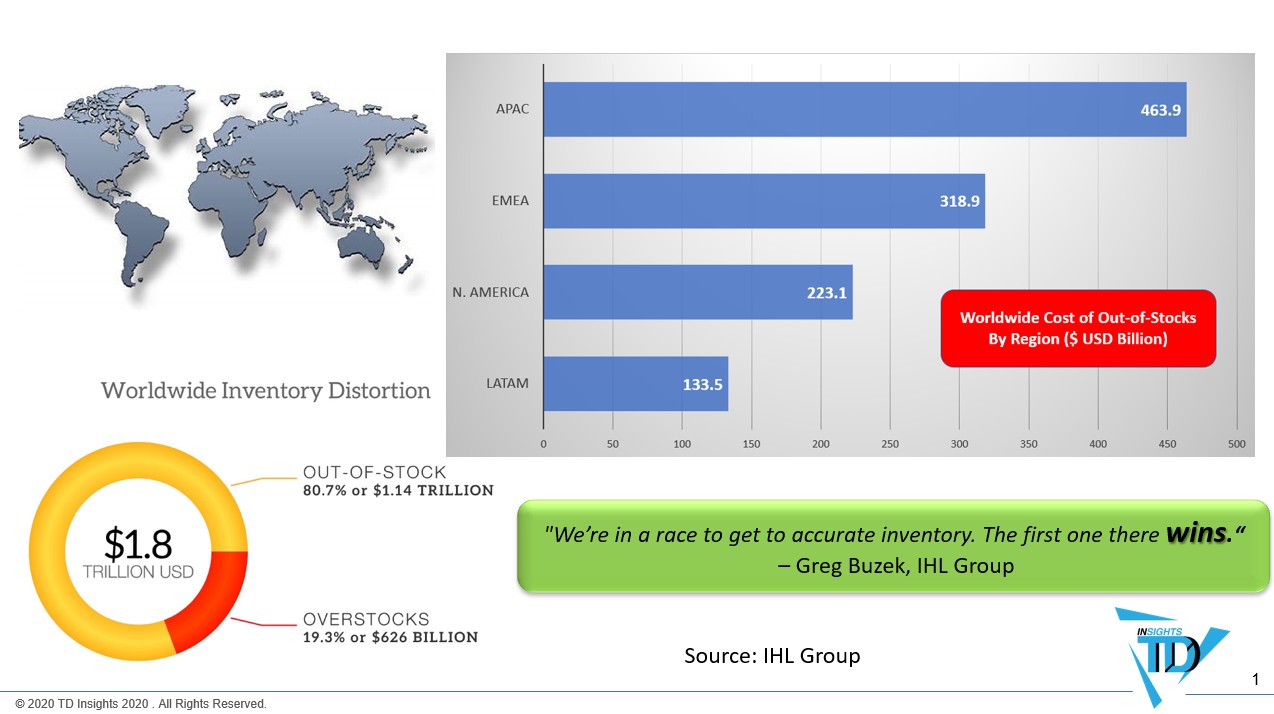 All industries now recognize that accurate inventory visibility is critical short term as we continue to recover from the crisis and long term to dynamically adjust product levels based on continuously changing customer purchasing patterns.
The Growth of Retail RFID
Even prior to COVID-19, RFID was a growing Internet-of-Things technology to attack the problem of inventory distortion. According to Statista, sales of RFID tags crossed over $2 billion in 2020 and will grow to $5+ billion by 2025.
The pandemic proved that companies that had actively invested in digital transformation technologies such as RFID were able to optimize operations to respond to inventory challenges created by the crisis. Inditex (Zara), as an example, which invested early in RFID had one challenging quarter during the height of the pandemic, but then very quickly returned to profitability.
Walmart and Nike have also publicly embraced RFID as an important customer experience technology. As the CEO of Nike stated in one of the earnings call, "it's (RFID) quickly becoming the most precise tool in our arsenal to meet an individual consumer specific need at the exact right moment…I think this will help us create the capability to grow profitably across the breadth of the portfolio and ultimately, again it's putting ourselves in a position to serve consumers in a way that gets them the product that they need when they want it and where they want it."
The Latest High Quality RFID Tagging Solutions
One of the most critical elements of successful RFID deployments is the actual tag. A breakthrough for the entire smart packaging industry and the wide dissemination of RFID in the industry may be a solution from the Polish company called Talkin' Things which in late 2020 announced new high-quality 40% lower cost tagging solutions through the optimization of the production process.
The offer includes a 23x17 mm ISO 14443 HF NFC smart labels (wet inlay) at $0.03 and ISO 15693 at $0.04. The UHF RFID tags are available for as low as $0.027. The company believes that by 2025 a price of 1 cent USD per converted label will be possible. According to Marcin Pilarz, CEO at Talkin' Things, adoption of its IoT industry leading technology solutions is growing in all sectors including retail, pharmaceutical, and alcohol industries in improving both user experiences and logistics processes.
The low cost of these advanced high-quality tagging solutions will increase the number of products tagged making RFID viable in additional sectors such as the food industry. This sector drives much higher unit volumes which in turn will continue to lower the cost of the solutions. Talkin' Things explained that one of the tagging projects underway includes tagging candy bars as part of smart shelf application. Today, it's just an experiment to analyze purchasing habits of consumer and their decision-making process, but it is an indicator of what's possible in the future.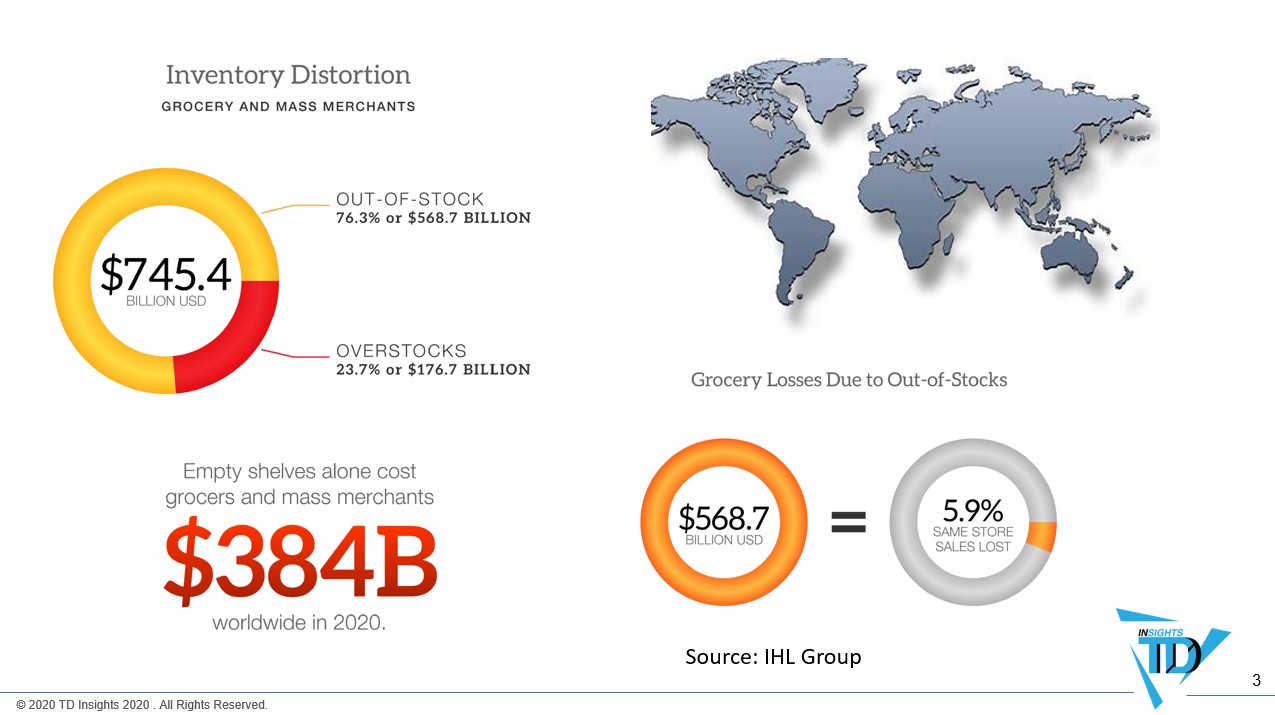 RFID is a core technology to frictionless retail whose importance has increased dramatically because of COVID-19. Ninety-six percent of retailers moving to frictionless are deploying RFID at much higher rates than average retailers.
The Accelerated Future of Retail RFID
The primary driver for the deployment of RFID is to improve inventory accuracy. Generically, across the retail industry, "RFID enables cycle counts to be completed about 25 times faster than traditional manual bar code scanning. Frequent, accurate cycle counts improve inventory accuracy, typically by 20 to 30 percent, allowing a number of retailers to achieve 99% inventory accuracy. This enables replenishment alerts to be reliably generated, increasing on-floor availability, and decreasing out-of-stocks (OOS), typically by 15 to 30 percent. This in turn results in sales uplift in the range of 1 to 10 percent or more for those categories.
Hardest hit by the pandemic are sectors that can substantially benefit from increased inventory accuracy and consumer digital engagement. Through November 2020, USA department store and soft goods (apparel) were projected to decrease nearly 20% for the year. At best, both of these sectors will not recover to 2019 levels until the distant year 2023.
Significant technology cost reductions such as those outlined in this article will lead to increased deployments of RFID solutions. Retailers should understand that RFID is another powerful tool that with appropriate infrastructure can lead substantial positive operational benefits, especially as we emerge out of the pandemic.
Omnichannel inventory visibility, branding, and immersive consumer experiences are the pandemic accelerated future of retail. Simply summarized, being out-of-stock means handing over your business, perhaps on a permanent basis, to your physical store or online competitor. Retail success is as it always was, the right product at the right place, at the right time, today at a much quicker digitally influenced pace.
--------------------------
SPONSORED CONTENT: For more information on Talkin' Things Solutions, E-mail - This email address is being protected from spambots. You need JavaScript enabled to view it.