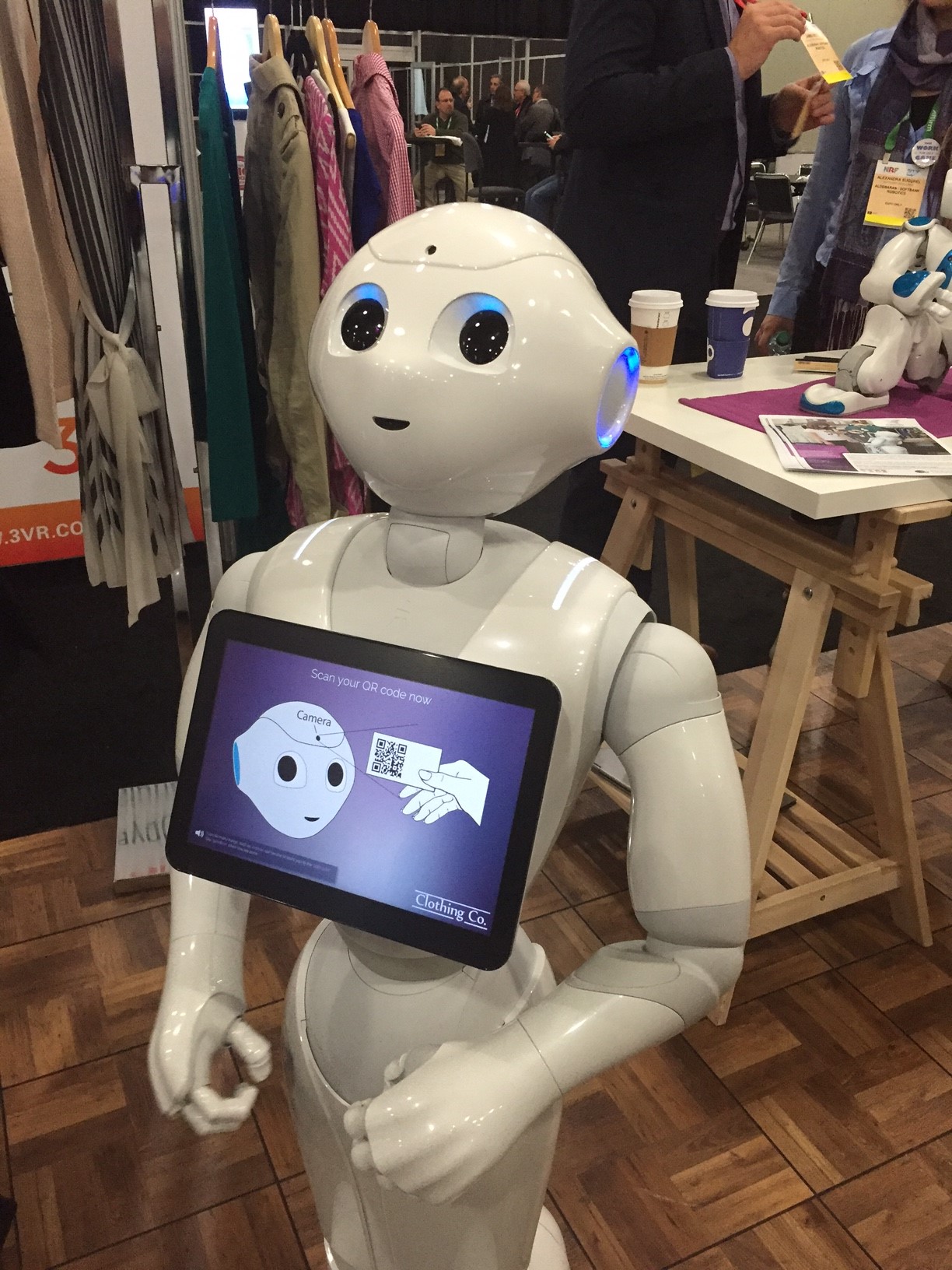 The 105th USA National Retail Federation (NRF) and EXPO delivered more than 33,500 attendees, hundreds of educational sessions, miles of exhibits, and some technologies that boggled the mind. I would describe the event as a cornucopia of digital innovation.

The NINE retail disruption takeaways from NRF 2016 include:
The Robots Are Here
In a recent post, we introduced OSHbot deployed at Lowe's and Tally from a San Francisco startup. At NRF 2016, I had the pleasure of meeting Pepper, a friendly and smart retail focused robot assistant (photo).
Seven thousand Pepper like robots are deployed across multiple verticals including retail. My favorite example is an automotive dealership where you can negotiate your next car deal with Pepper.
Up to half of jobs could be replaced by robots and automation in 20 years. The retail robots are here and their in-store presence will increase starting in 2016.
The E-Commerce Blur
Total USA retail sales increased 3% in the just completed holiday season, below industry expectations and last year's actual growth. UK December sales increased 2.3%, the second best year in spending since 2008.
The majority of the retail growth in both the USA and UK was online. USA e-commerce sales grew 9% to $105 billion. UK online sales grew 7.4% with in-store shopping broadly flat to negative (-0.1%).
Multiple of the NRF 2016 attendees commented that a lot more e-commerce solutions were on display. The Expo emulated the continuous sales channel blur evolution taking place in the retail industry.
NRF 2015 was a reminder that consumers want to shop everywhere with the store now being one of the options.
The Technology Center of the Retail Universe
In 2015, mobile spending on smartphones as a percentage of total e-commerce sales was:
UK 16.5%
Germany 16.2%
Sweden - 15.4%
United States 14.4%
Europe 12.5%
NRF 2016 was a reminder that the new center of the retail universe is the smartphone.
Everything Is a Sensor
NRF showcased multiple examples of the expansion of new sensors inside retail stores. Favorite solutions included light sensors integrated into smartphone applications and improved smart shelves.
RFID increased its presence in more technology exhibits primarily focused on in-store item level sensor technologies. Wearables such as smart watches were integrated into multiple smart mirrors and smart fitting rooms.
A multi-sensored store is the key requirement to developing immersive social shopping experiences.
Data, Data, Data....
The amount of data that was present on the Expo floor foreshadows both a conundrum and an opportunity for the retail industry. Big data holds lots of promise, but it is the quality of the data that is important, increasingly this will mean predictive analytics.
In a world of shrinking resources, very few retailers have the time to analyze reports and take the appropriate follow up actions. NRF 2016 was still too much about the data and not enough about predictive analytics to faster profit improving decisions.
The Retail Industry Is the Place to Be
Worldwide total retail sales were more than $22 trillion in 2014 and in 2015 they were expected to reach $24 trillion. In the United States, an estimated two-thirds of gross domestic product (GDP) emanates from retail consumption.
NRF 2016 had an increased presence of new solution providers. From conglomerates to start-ups, everyone wants to be in retail. Expect this trend to continue as everything in the store becomes a sensor and / or an entry point into the retail industry.
Innovate, Innovate, Innovate...
New technology innovations were very prevalent throughout NRF 2016. Virtual reality had a stronger presence building on its prominence at the consumer trade event CES 2016.
Innovation along with a strong brand is what will drive the future of retail. Technology will continue to be the key driver of the retail model transformation.
The Customer Experience Re-Defined
Multiple companies at NRF showcased the new digital shopping journey. Smartphones and store sensors will increasingly leave a data footprint which can dramatically enhance the customer experience.
Imagine the possibilities of linking virtual, digital footprints, smartphones, etc. into immersive shopping experiences. It's now possible and NRF had some of the foundational technology elements to shape the new shopping journey.
Track and Convert
My favorite takeaways from NRF 2016 were the words from an actual progressive retailer. The future winners in the retail industry will successfully track AND convert their retail shoppers.
Buzz and cool technologies are useless if you are not able to convert the shopper into social media savvy brand ambassadors that will grow retail sales.
Robots, e-commerce, sensors, all that data, more companies focusing on retail, innovation, and increasingly social immersive customer experiences are the building blocks to tracking and converting retail shoppers. The future of retail was showcased at NRF 2016 with all the fun of shaping it, still ahead for all of us.