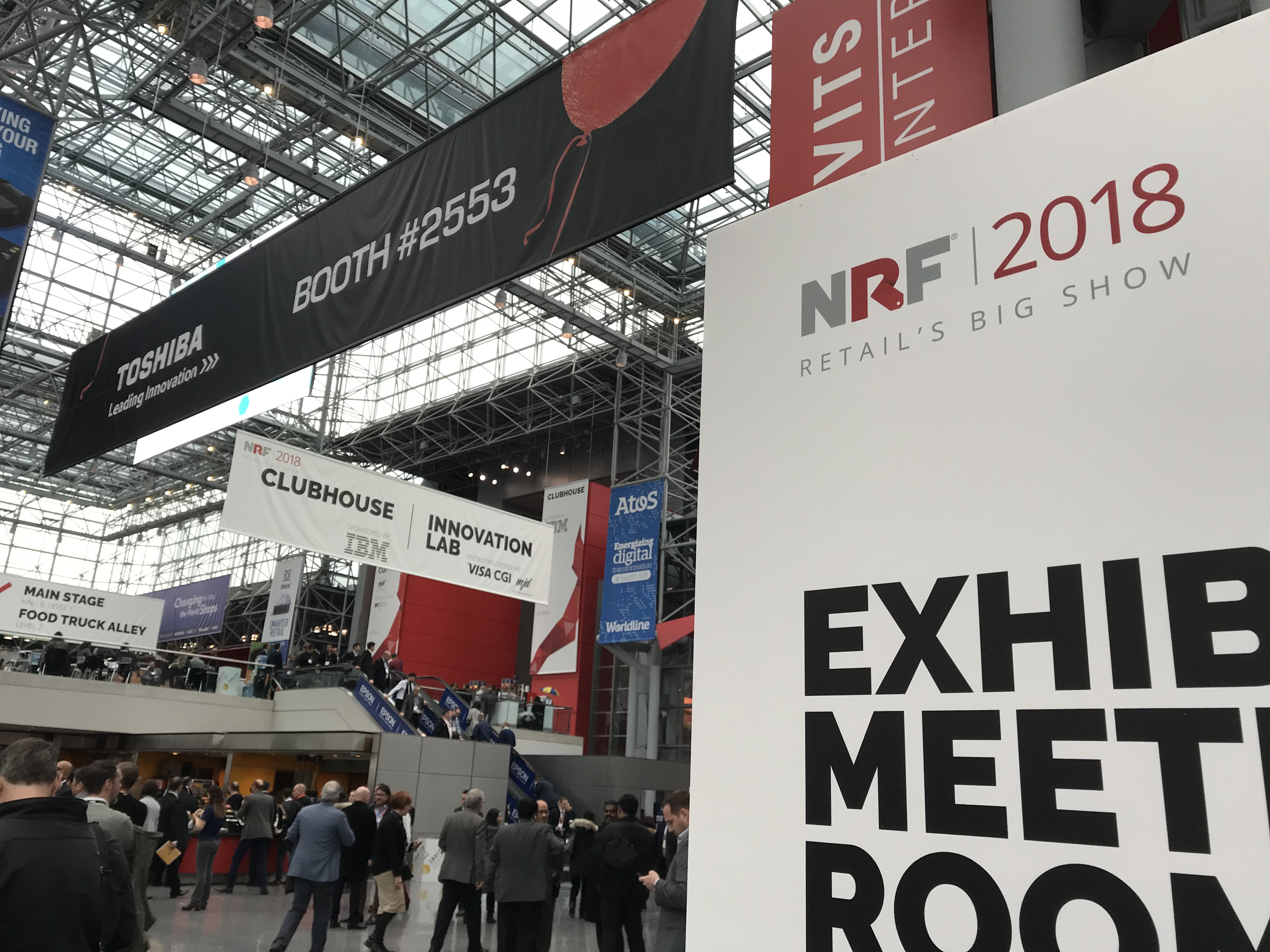 More than 37,000 retailers and industry partners from 90+ countries descended on New York for the NRF 2018 trade event the week of January 14, 2018. Because this was one of my favorite NRF's to date, a series of posts will follow.
An annual tradition is to walk the floor observing the technology themes, speaking to lots of retailers and industry friends, and creating my own personal list of the foundational ideas that are evolving the retail industry.
From an initial list of 20+ observations, following are my top 10 quick takeaway trends of NRF 2018.
"Big Data is Bot Food for AI"
If you were lucky enough to attend the Super-Saturday RetailROI Orphan Initiative all day event, then you heard what became my favorite quote of NRF 2018 from John Lawson: "Big Data is Bot Food for AI". Fully agree @ColderICE.
Retailers as Tech Companies
Both Amazon and Walmart had their own technology booths at NRF 2018. Think of all the retail companies that today have their own innovation labs. How long will it be before in addition to selling consumer products, they will be selling technology to other retailers?
Digital is so Yesterday
My focus every year is on understanding baseline technologies or table stakes that retailers must implement to succeed. Mobile was this trend a few years ago. Digital platforms focused on consumers was this year's table stakes for success.
The Retail Brands Get Technology Married
A trend that I spotted several years ago in retailers establishing strategic partnerships with technology companies for differentiated solution accelerated this year. Everywhere you looked at NRF, retail brands were prominent in technology exhibits. This is a positive future innovation trend.
The Hardware Commodity Trap
Low cost hardware suppliers mostly from Asia filled the first level. A clear indicator that hardware is being commoditized and focus needs to be on software and services.
Your Next Innovation Competitor Will be Global
This year's Innovation lab received mixed reviews. Startups were present both at the first level and in the expanded third level. Of interest was the number of international countries exhibiting new innovations in this United States event. Global barriers to innovation are breaking down. Below is a great chart from Super-Saturday on the number of global innovation centers similar to Silicon Valley that are exploding around the world. Retail is a perfect segment where more innovation will lead to profitable growth.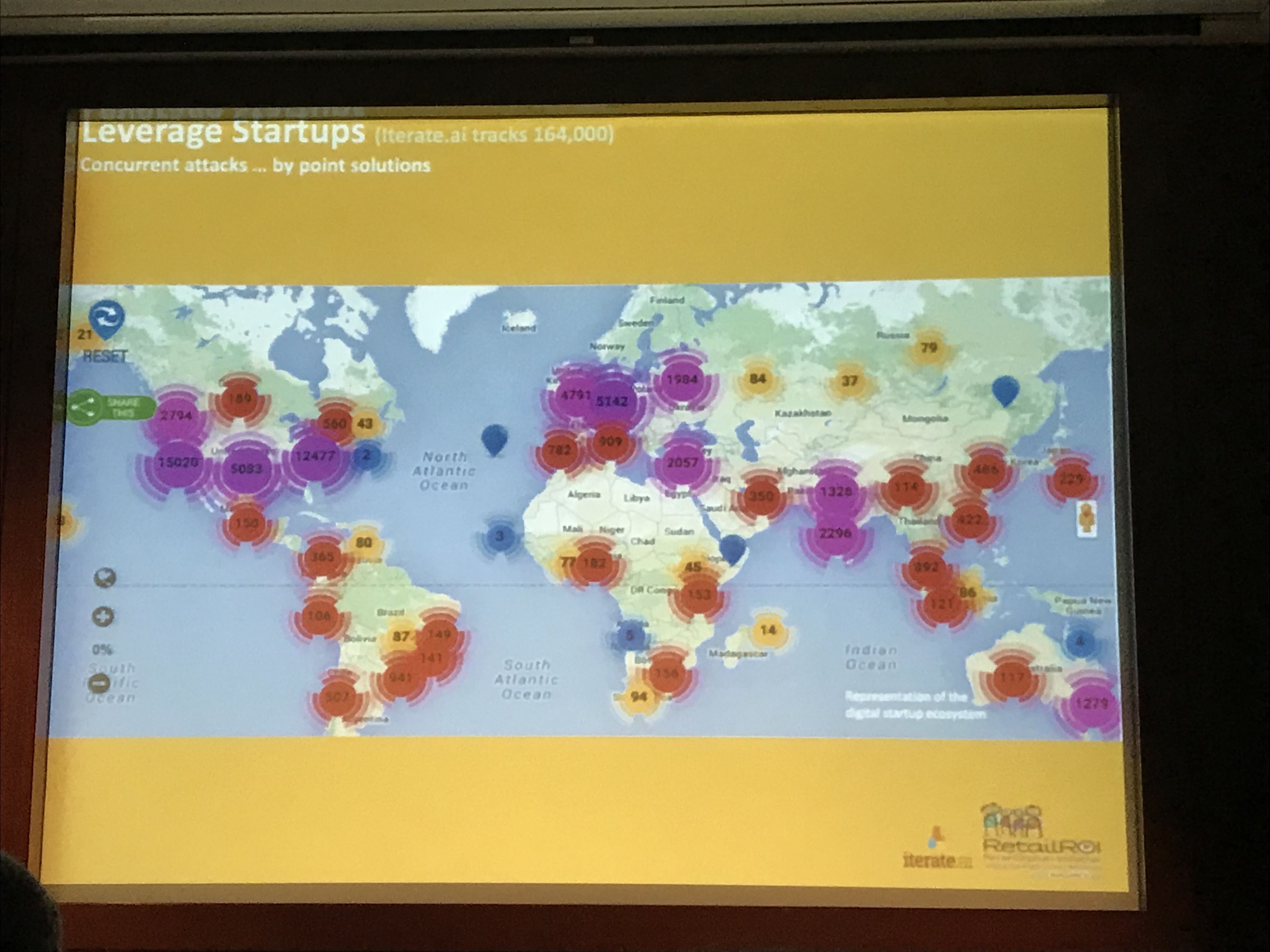 Mobile is Eating the World
The trends towards mobile and its dramatic impact on retail continues. The large POS stations of yesterday are shrinking and disappearing. At the next Olympics, VISA will let you checkout with your Olympic pin.
Retail Streaming Through the Cloud
Lots of speculation in previous years on whether Cloud technology would be accepted in retail. NRF 2018 was reaffirmation that a "Cloud First" strategy is now at the center of faster innovation. Great charts and data on the penetration of cloud in retail available in the RIS/IHL "Store Experience Study 2018" published during NRF.

I Robot Reporting for Specialized Duty
The robot invasion accelerated at NRF 2018. This year the robots were more specialized and included shopping carts, delivery bots, security guards, and visual inventory taking robots. Pepper the robot was also present offering great customer service.
Retail is BACK....
As Bain confirmed, "retail sales this holiday rose an impressive 5.6%, far above most predictions. The biggest surprise came from in-store sales. They grew 4.3%, more than 2 percentage points higher than last year. E-commerce was also strong, with sales through mobile devices and on Amazon.com driving much of the growth." Projections from the Economist are for a positive worldwide retail year both in 2018 and 2019.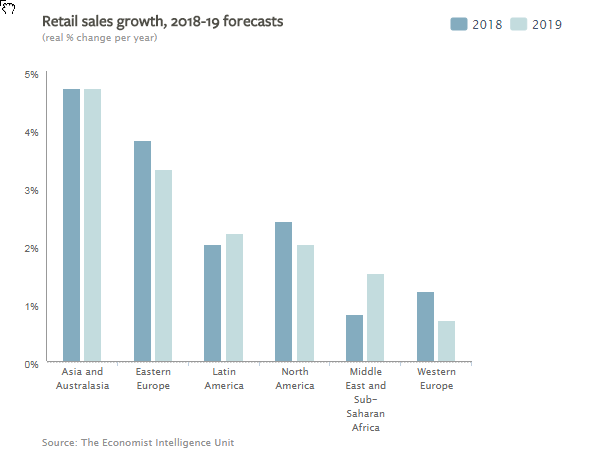 As I indicated on my Twitter feed, "Four intense days, 55,173 @fitbit steps later, an amazing @NRFnews #NRF2018 in New York. Pleasure meeting many of you & apologies to those that I missed (crazy schedule). Please reach out on @LinkedIn."
The next post which will follow in about a week is titled: "NRF 2018: The Three Below the Surface Trends Defining the Future of Retail."
What do you think? Which trend at NRF 2018 was your favorite?