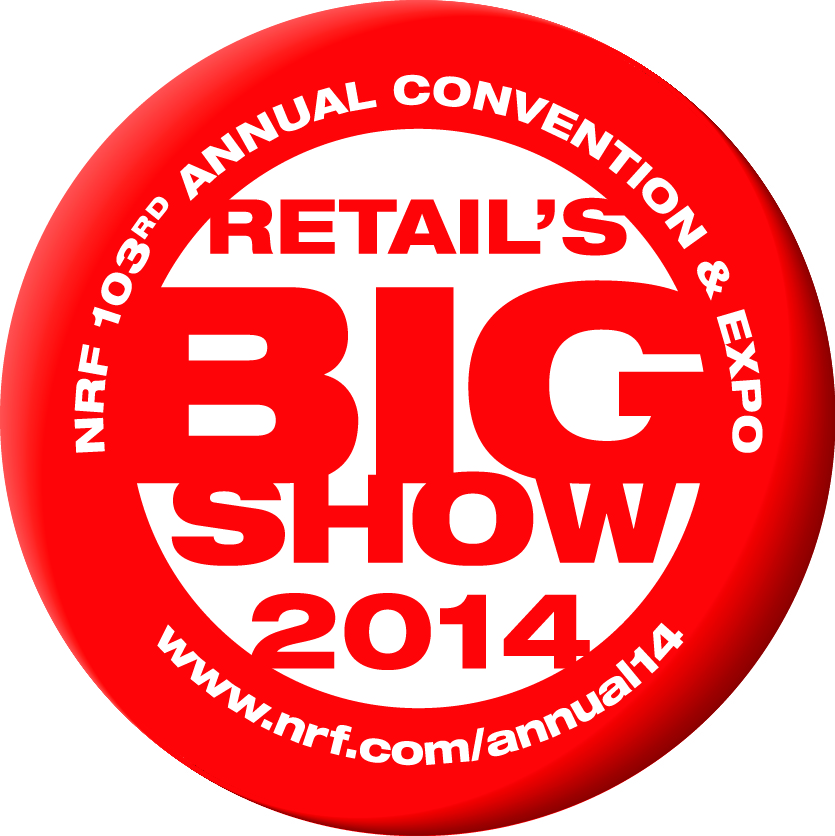 Every year, the National Retail Federation (NRF) trade event in New York seems to get bigger and more global. 2014 did not disappoint with over 30,000 retail professionals listening to 300+ industry experts and visiting a record 200,000 square feet of exhibit space showcasing the latest technologies. Brazil had once again the largest contingent of attendees outside the United States.
NRF is a great stage on which to reflect the " Big Ideas " that are reshaping retail. The top 10 from NRF 2014 include:
Information as a Natural Resource
As IBM CEO Ginni Rometty pointed out at NRF, 2.5 billion gigabytes of new data are generated every day and that number is growing. Eighty percent of the world's total data was generated in the last 2 years. The major drivers of data growth are potential consumers. Retail is in the crossfire as a business model that needs to find ways to mine and respond to the embedded data trends on an accelerated basis.
Immersive Shopping
The SmartPhone and peripheral wearable technology integration will lead to much more immersive shopping experiences. One in every five people in the world now owns a SmartPhone. Mobile devices are just the beginning entry point into a new shopping age. At NRF, new connectivity potential retail entry points included interactive fitting rooms, virtual reality store assistants, smart watches, and Google glasses equivalents.
Instant Social Feedback
Eleven percent of the world's population now uses Facebook. Ninety eight percent of 18-24 year old individuals use social media. On average, 190 million Tweets are now broadcast per day. Real time instant shopping feedback will contribute to the growth of social media traffic. Text messaging with pictures will transition to video shopping experience sharing.
Mobile Shopping Growth Will Continue
In 2013, mobile shopping accounted for 17% of Cyber Monday shopping, a 55% increase. In the UK, mobile shopping will account for 24% of e-commerce sales in 2014 and 35% by 2017. A dichotomy will emerge between consumers wanting to privately engage the store to make their buying decisions and stores anxious to engage to influence the buying behavior.
Value in Exchange for Information
The ability to deliver value in an increasingly mobile fashion will be critical to the success of future retail stores. Forty five percent of consumers will trade in "some privacy" for incentives tailored to their shopping habits. Forty three percent said they did not mind if the apps tracked their smartphone or tablet locations, if they received targeted promotions.
RFID is Back
A lot more exhibitors were demonstrating RFID at this year's NRF Big Show and a lot more retailers attended the break out session on the technology. A key driver is greater focus on omnichannel inventory visibility benefits. As one of the presenters indicated in the RFID breakout session, 20 out of 30 top USA retailers now have RFID technology activities underway.
The Brick & Mortar Store is Not Dead
NRF provided great content on the growing relevance of the physical store as part of an omnichannel shopping experience.
What's defined as a store is changing
The definition of a store will continue to evolve and again NRF provided excellent technology examples on the possibilities. A mobile device, an interactive catalog, a web site, and increasingly any smart surface are the new locations to shop.
The New Global Top 5
As Deloitte pointed out in their well attended breakout session "Global Powers of Retailing 2014", this year's top 10 worldwide retailers list had the "most churning in years". The new top 5 global retailers are Walmart, Tesco, Costco, Carrefour, and Kroger.
NRF 2014 Retail Winners
Congratulations to this year's winners: NRF Gold Medal Winner - Costco; NRF Silver Plaque Award - Half Price Books; NRF International Retailer of the Year - Lotte Department Stores (Korea); NRF Innovator of the Year - Nike. Interesting business models mix.
For those attending NRF 2014, what ideas did you pick up? What are your thoughts on this list?