Around the world RFID continues to be piloted in hundreds of retailers. By far the vast majority of the activity is centered in the specialty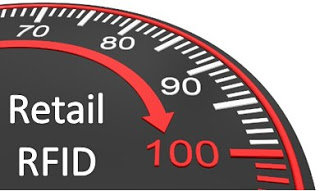 soft lines verticals. A handful of major retailers primarily in Europe and North America are post the pilot phase and in full deployment. Retail RFID industry adoption had multiple starts and it is finally coalescing around item level visibility as the foundation to transformational onmichannel retailing. For all the activities and discussions, much more needs to be done to speed up the adoption of this high potential retail technology.
Among the challenges and opportunities that RFID faces today:
Complex Sale - RFID is a complex sale. This item level technology can have a very positive impact throughout the retail enterprise. From operations, to IT, to sourcing, to merchandising, and even potentially loss prevention, everyone wants to weigh in to the decision making process. Unless from the start there is direct CXX decision making involved in shaping the priorities of RFID deployments, the sales cycle will be long. Compounding the sales process is the turmoil in the retail industry caused by the soft economic conditions. During the sales cycle, key decision makers may end up being replaced. In a complex sale typically this means more decision delays.
Message Confusion - Delivery of RFID in retail has been challenged by message confusion. Early adopters have stopped trying to solve all the problems of retail with RFID and are instead focused on a limited set of ROI proof points around customer buying experience across multiple sales channels.
Infrastructure Challenges - As discussed in an earlier blog (http://ow.ly/mv4Cp), retail lags in IT investment as a percent of total sales versus other industry sectors. RFID deployments over time require substantial infrastructure investments. The "Big Data" possible from RFID can be transformational. Early adopters have taken an emerging technology approach to the deployment of RFID. In successful deployments, the solution implementation is incremental and each subset stands on its own ROI.
Where is the ROI? - As clearly stated in an earlier blog (http://ow.ly/mv4Io), the real ROI in RFID is in planning and allocation of in-store merchandise. In this phase, the focus is on improving store replenishment, reducing safety stock, and reducing out of stocks. This initial phase has lower start up costs and delivers substantial benefits. Once item visibility is available on the sales floor, progressive retailers move to transitional visibility to the backroom. Lots of other phases are possible with RFID, but without prioritized execution, the technology journey will fail. As stated in earlier posts, each new layer adds complexity and more importantly cost leading to a longer unsustainable ROI.
Mobile - The allure of mobile can distract retailers from focusing on the true future of retail. Mobile is a vehicle for shopping interaction. It relies on the accuracy of the inventory being reviewed. If that inventory is inaccurate or not available, the shopping experience will be negative. RFID can improve customer satisfaction by ensuring the products ordered are actually available for delivery in a timely manner.
There are multiple new mitigating strategies available to overcome the above challenges and highly profit from the opportunities. Solutions emerge both from the continued improvements in RFID technology and the approaches of how they are delivered to market.
Retailers and technology companies need to work together to speed up the adoption of RFID. Understanding what is taking place at item level from a shopper interaction point of view is becoming more critical as the consumer increasingly leverages mobile technology to shape their own unique shopping journey. Social media interaction means that bad shopping experiences can have a negative impact on the retailer much more quickly. The old adage of having the right product at the right place and the right price is becoming even more important with connected consumers.
RFID as a technology platform has made tremendous strides over the last several years. The label costs have decreased, new innovative use cases have emerged, manufacturers are increasingly supporting the tagging process at source, readers have improved, and progress has taken place with encoding schemes.
Take a step back, solicit advice on new key mitigating strategies for success, focus on the pain points (not the technology itself), and accelerate the retail adoption of retail item level RFID.
Want further details on the profitable impact of RFID, then also read the just published "RFID a 'Very Big Part of Macy's Future'" http://ow.ly/mwidB
Image from http://ow.ly/mvcIv