The Five Transformational Strategies
In October, I had the pleasure of delivering my latest updated presentation "The Disruptive Future of Retail" on three continents. The new edition analyzes the state of nearly $30 trillion industry, answers whether ecommerce is eating the retail world, analyzes the recovery trends underway, provides a peak at the surprising early holiday season, explains the trends of what will be the new normal, and concludes with a summary of the technologies moving the retail industry forward.
COVID-19 has become a disruptive accelerator of digital transformation trends that were already underway. It's not only a question of being anointed as an essential retailer that determines success. Companies that were investing in creating harmonious retail channels with digitally enhanced immersive consumer experiences, coupled with strong branding will emerge stronger out of the current health crisis.
The world the virus leaves behind requires immediate focus on five transformational strategies and three foundational technology platforms. At the center of these critical initiatives is a much more intensive focus on creating passionate consumers that become active digital brand ambassadors for retailers.
The Post Pandemic FIVE Transformational Retail Strategies
"The pandemic has disrupted how we shop. There have been shifts in where we spend money, and the number of retail transactions made online has increased. This has created a wave of negative headlines about the demise of physical retail. What the headlines fail to appreciate is that the pandemic is not dividing retail, it is bringing online and physical closer together with many retailers using both channels harmoniously. This reflects how the consumer has always viewed retail: not as separate channels, but as one market. The evidence suggests that the pandemic has acted as a catalyst for the closer integration of stores and online and many retailers are investing in, or plan to invest in, multichannel systems, processes and tools to drive their overall sales."
Harmonious channels increasingly include frictionless delivery of retail commerce. Amazon Go was born prior to COVID-19 as were hundreds of similar locations now open in China.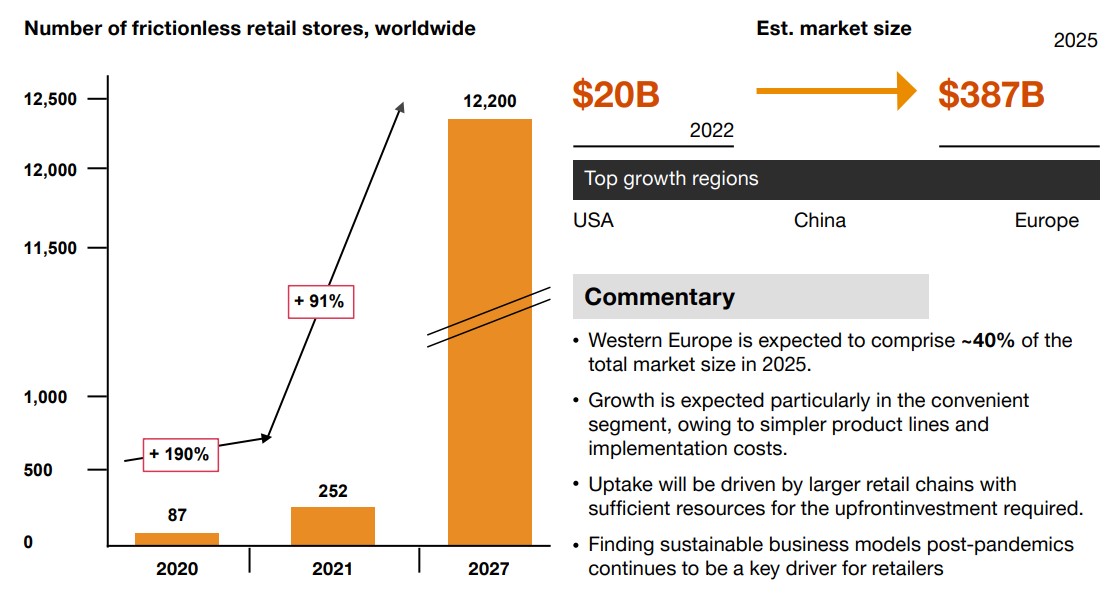 The cost of opening these fully self-service stores has been declining for some time. Frictionless commerce is elevating key technologies such as computer vision, artificial intelligence / machine learning, RFID, and smart shelves. Leaders planning this transition were already investing in Edge Computing, SD-WANs, and video analytics. A key barrier to overcome in the future is a potential increase in retail shrink.
The most important asset that a retailer has today in physical stores is the store associate. An empowered passionate store associate with brand ambassador proclivities is critical to a positive future of retail.
Heavier investments in digital tools to support store associates are required going forward. Retailers that empower their associates are experiencing a 55% higher sales growth percentage in 2020.
Selling across harmonious retail channels requires accurate enterprise inventory visibility. As Greg Buzek from the IHL Group said, "We're in a race to get to accurate inventory. The first one there wins."
Finally, the post COVID-19 future of retail requires increased delivery of real time analytics to optimize consumer shopping journeys. "Maximizing satisfaction with customer journeys has the potential not only to increase customer satisfaction by 20% but also to lift revenue by up to 15% while lowering the cost of serving customers by as much as 20%."
The Three Technology Differentiators
The three foundational technology solution sets that will be critical to transitioning retail to the new normal are edge computing, IoT (Internet-of-Things) at the store's center, and computer vision.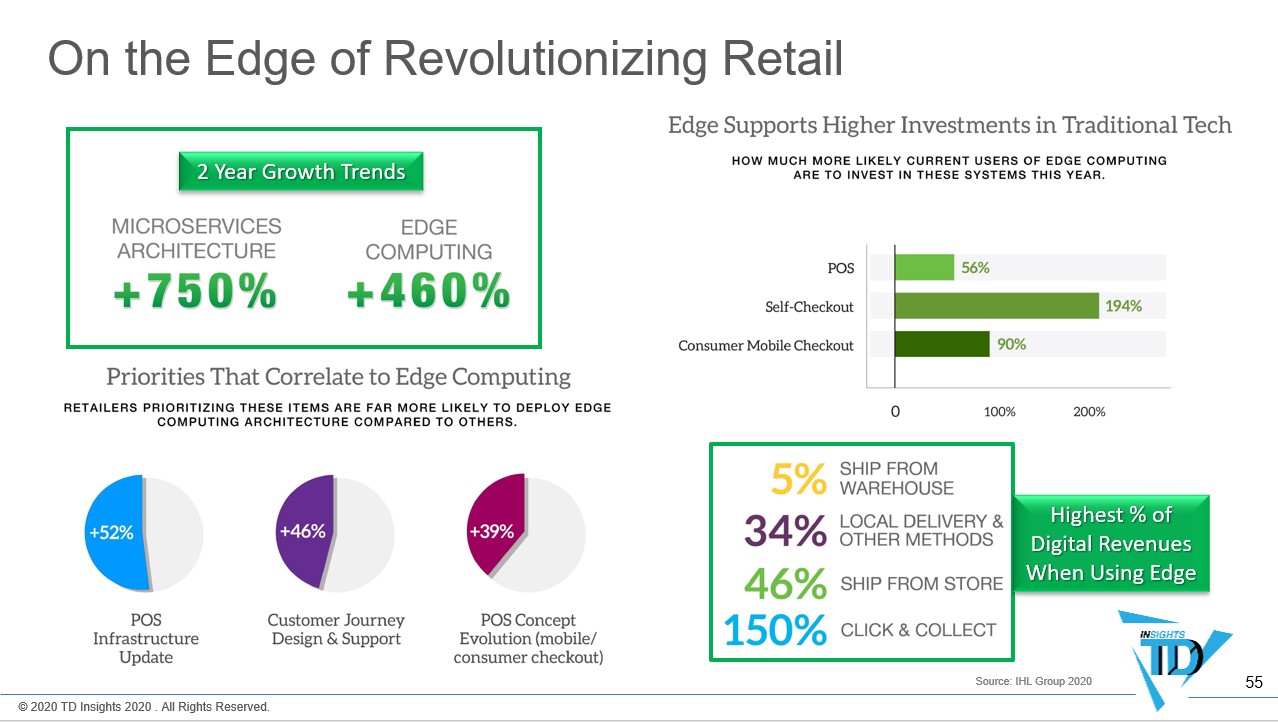 Humans are generating 2.5 quintillion bytes of data each day. Nearly 90% of all data has been created in the last two years. Unstructured data is a problem for 95% of businesses. Retail is not immune from this data explosion. Above chart reflects the growth and focus areas of moving processing to the edge to optimize its results.
The center of the retail store today is still too under-sensored. Enter IoT as the solution which as indicated by below chart continues to grow.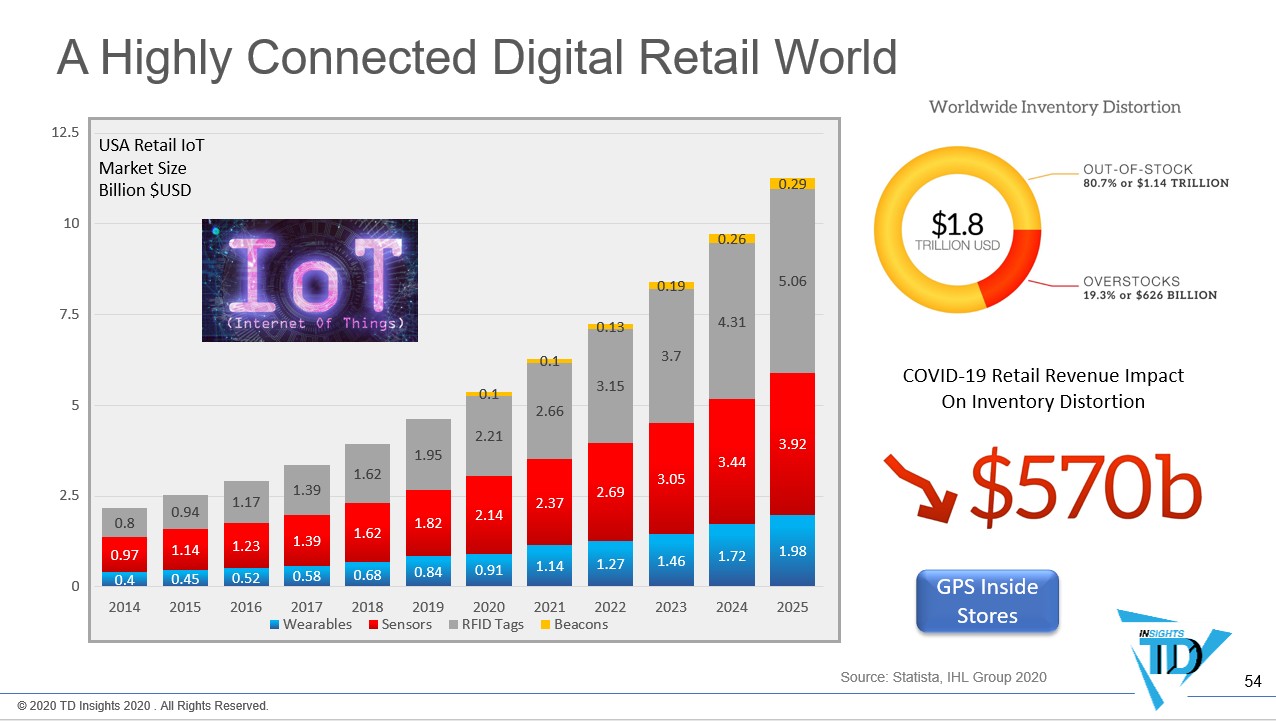 A core focus of IoT at the store's center is inventory visibility leveraging such technologies as RFID. Inventory distortion is a $1.8 trillion-dollar global retail problem, more negatively impacted by COVID-19. GPS solutions inside stores are also emerging as a powerful new sensor to track assets and deter crime.
The third major technology set that will define the post COVID-19 era is computer vision. Read the recent full article "Visual Artificial Intelligence on the Edge of Revolutionizing Retail" to understand the direction and ROI impact of this important innovation trend.
The Disruptive Future of Retail
Below closing chart summarizes the key strategies and technologies critical for the new normal.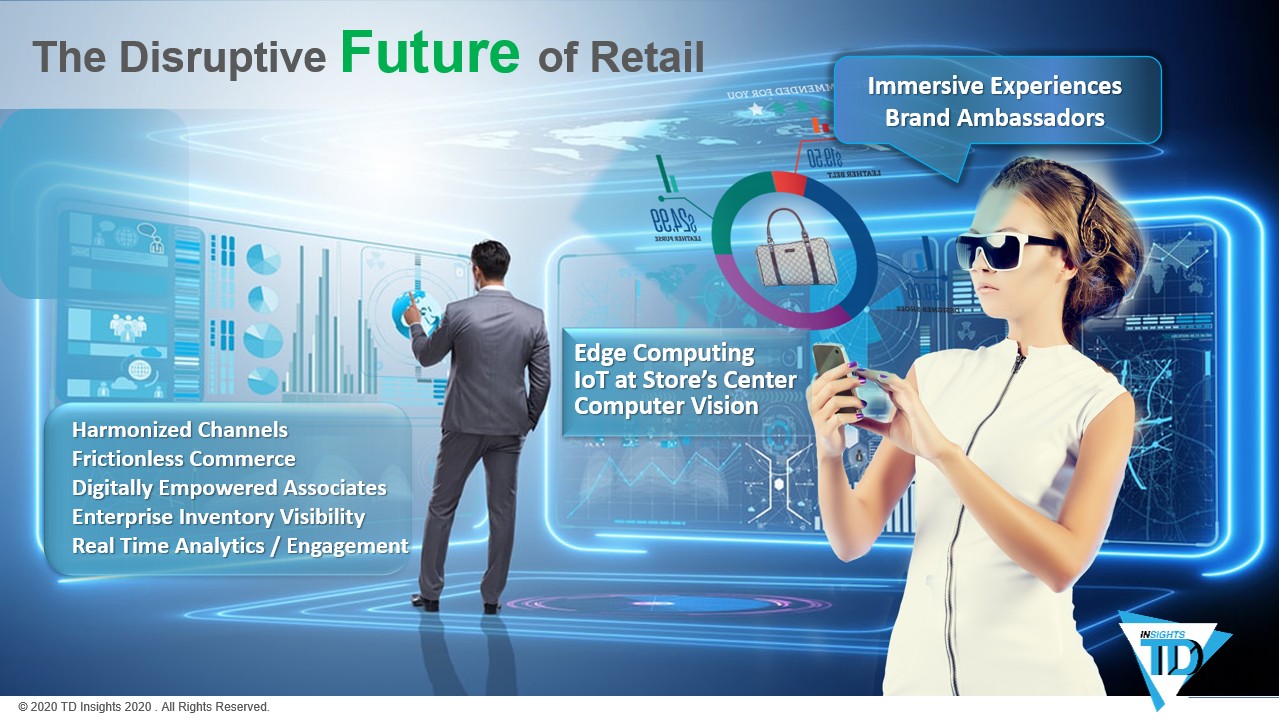 From a strategy point of view, focus needs to be on harmonized retail channels, frictionless commerce, digitally empowered associates, enterprise inventory visibility, and real time analytics / engagement. The key technology drivers of this change are edge computing, IoT at the store's center, and computer vision. The focus of this digital transformation is, as it always was, the shopper in creating immersive experiences that lead to passionate brand ambassadors.