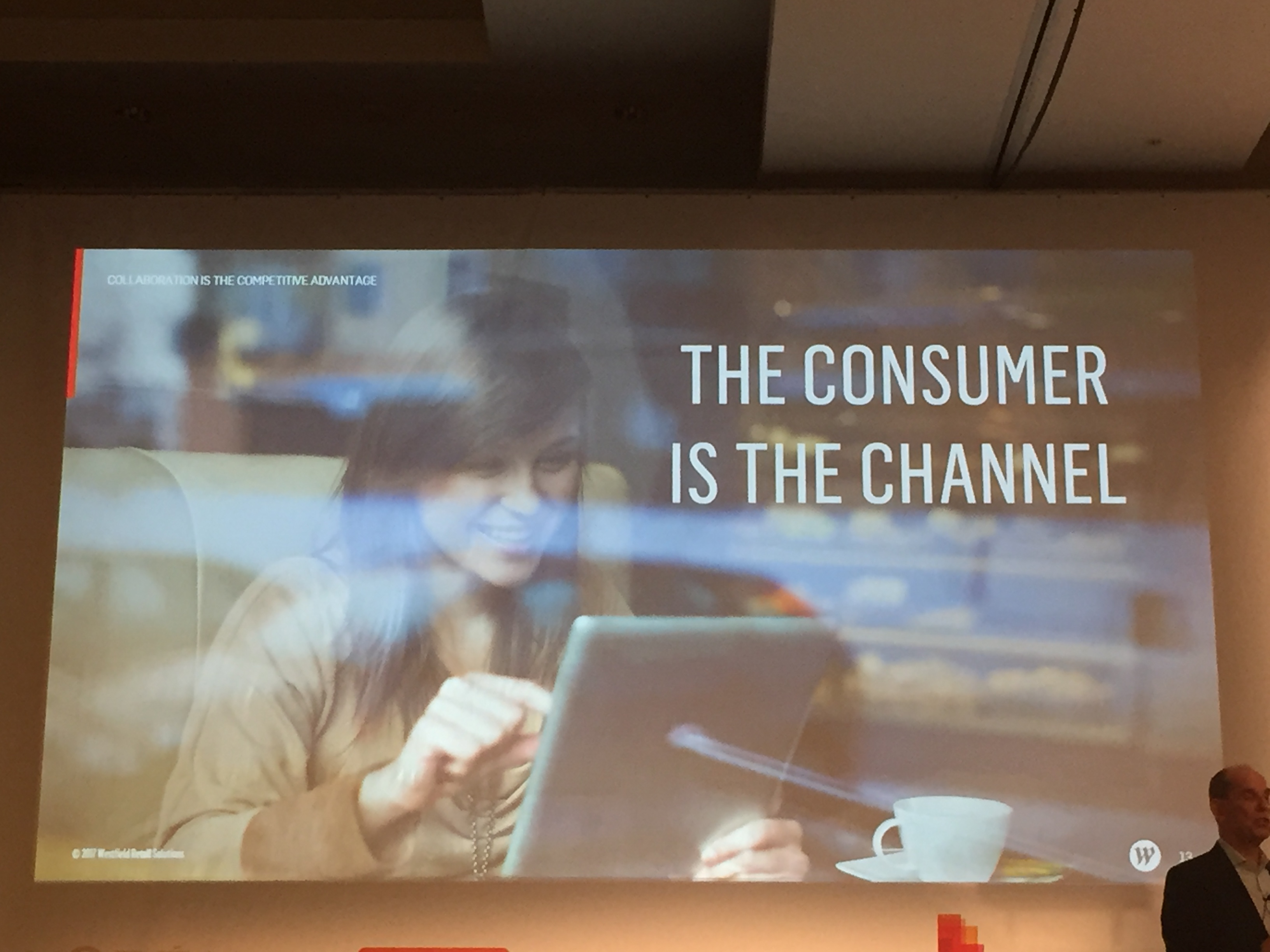 Recently I had the opportunity to participate in the World Department Stores Forum 2017 in Toronto, Canada. Forty five retail CEOs joined 300 attendees in an industry event titled "Digital and Brick-n-Mortar: One Magic Experience".
The host for the 5th Annual Edition was the Canadian luxury department store chain Holt Renfrew. The Forum is co-organized by the Intercontinental Group of Department Stores (IGDS), the largest association for department stores worldwide. IGDS has 41 members from 38 countries on all continents generating $89 billion in total sales in 2016.
The stage for the 24 hour retail discussion was set by Craig Wright, SVP & Chief Economic of the Royal Bank of Canada when he said that the "Last time interest rates stayed low for so long was in 3000 BC." We are living in extra-ordinary age of disruption.
This post summarizes my favorite insights from this year's IGDS event.
The Retailer's Views
"Our customer is ahead of us (in driving the future of #retail)." - Erik Norstrom, Co-President of Nordstrom USA
"The pinnacle of relevance in mass market retailing is personalization at scale." - Richard Umbers, CEO & Managing Director, Myer Australia
"Eighty percent of the people on the sidewalk have no intention to buy." - Pierluigi Cocchini, CEO La Rinascente, Italy
"The Department Store of Future - The first place to visit for a tourist after leaving the airport." - Pierluigi Cocchini, CEO La Rinascente, Italy
"The consumer is the channel. The channel walks into your store every single day." - Donald Kingsborough, President of Westfield Retail Solutions, USA
"We must increase speed. Success in retail isn't going from big to bigger, but from slow to fast." - Donald Kingsborough, President of Westfield Retail Solutions, USA
The Millennials set to Rule Retail
According to Tim McGuire, Senior Partner at McKinsey Canada, the four trends that define the current retail landscape:
A confident consumer returns - Millennials set to dominate
Digital dominates retail growth - Retailers have a 'trip problem'
Store economics are threatened - The street expects Brick-n-Mortar reinvention
Capital is still flowing - But it is misaligned to sources of growth
Millennials do like to spend on experiences, but not at the expense of selected consumer goods such as apparel, athletic apparel, and footwear. Note differences between generations.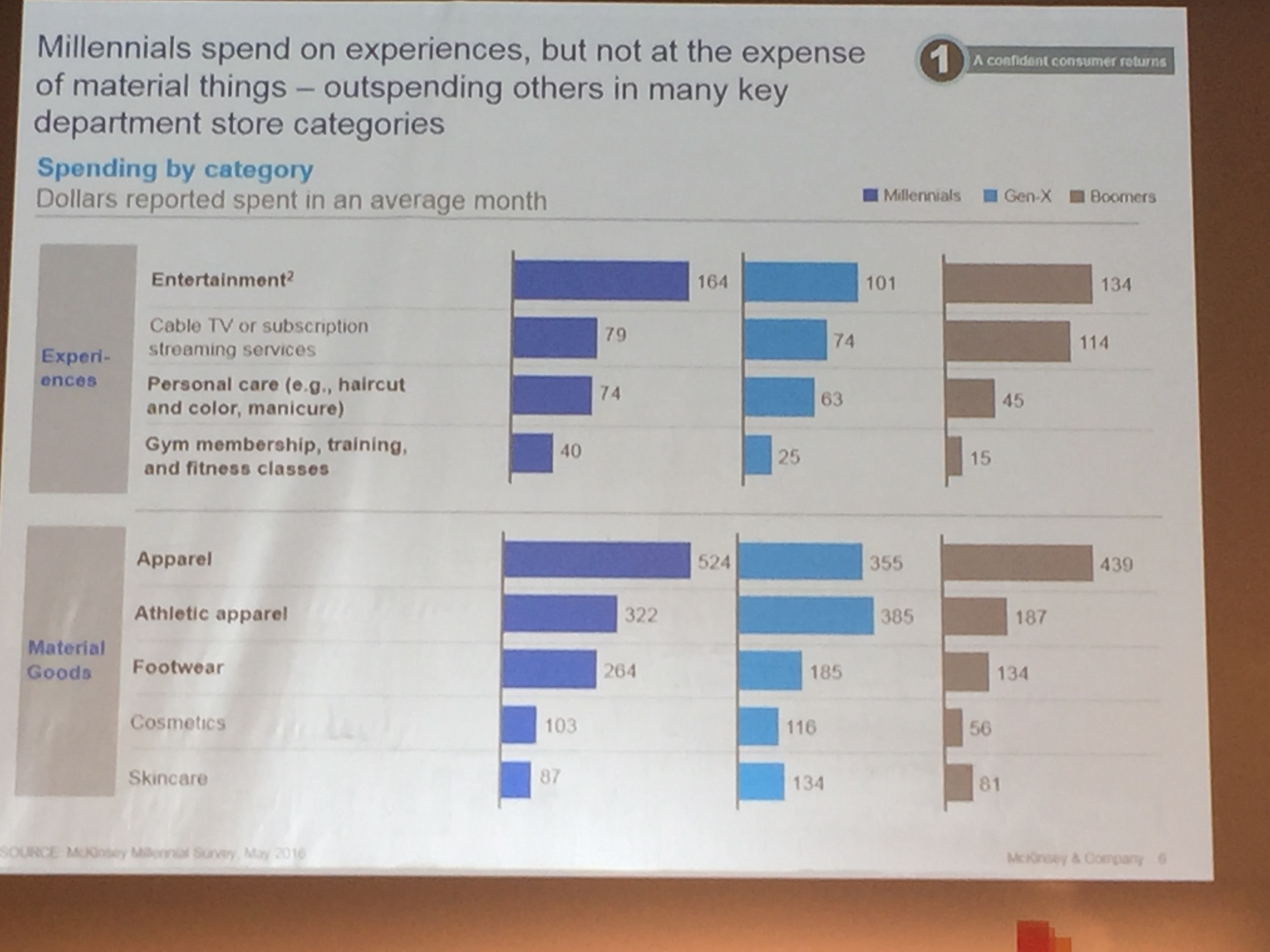 Millennials are moving away from departments stores and prefer to shop fast fashion, online, and off-price. (McKinsey)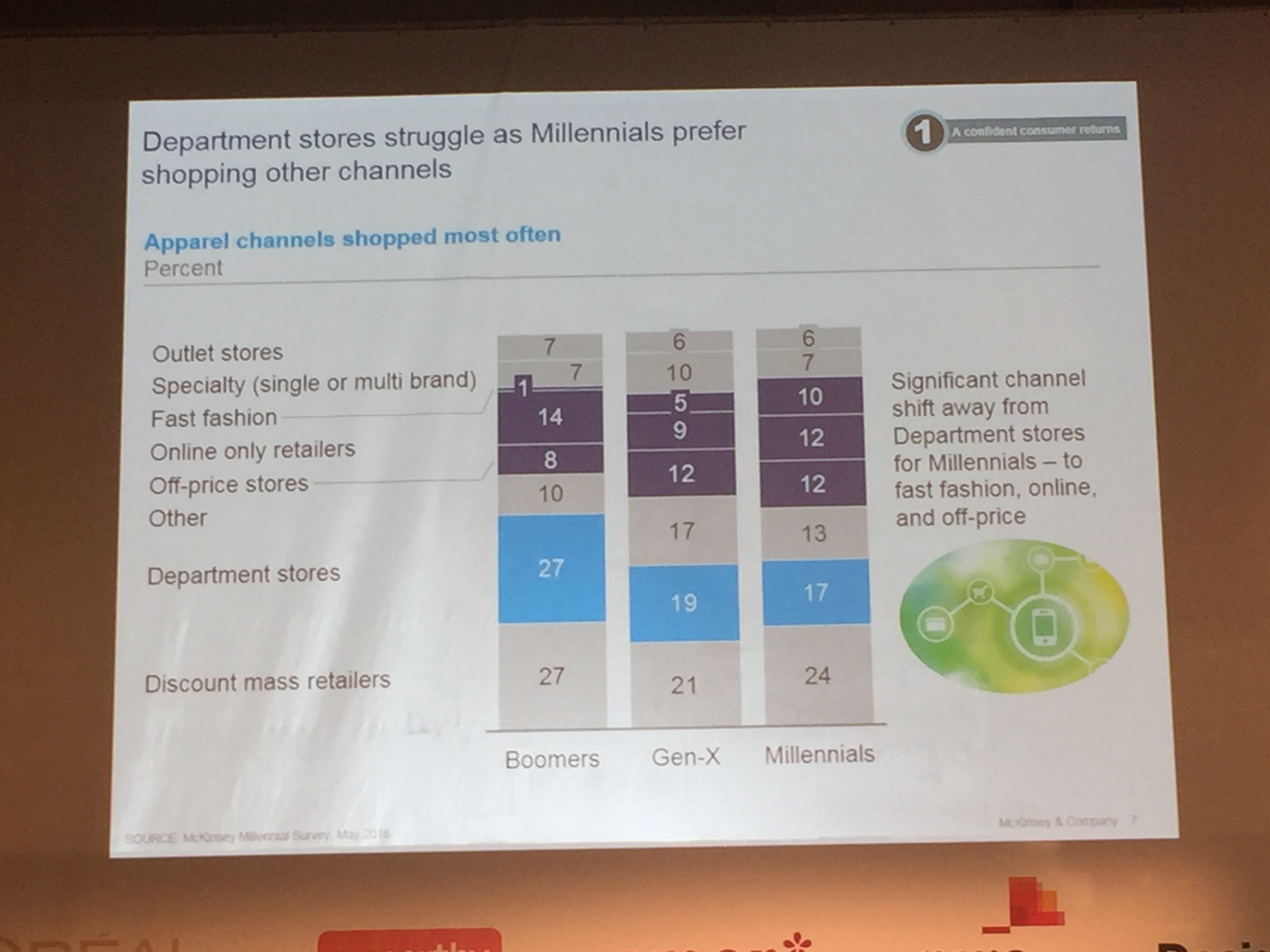 Forty five percent of millennials are using the Internet to inform at least part of their shopping journey. Millennials are two times more likely than Baby Boomers to make multi-channel purchases. Two thirds of Millennials still purchase in the store, but stores are less relevant than prior generations. (McKinsey)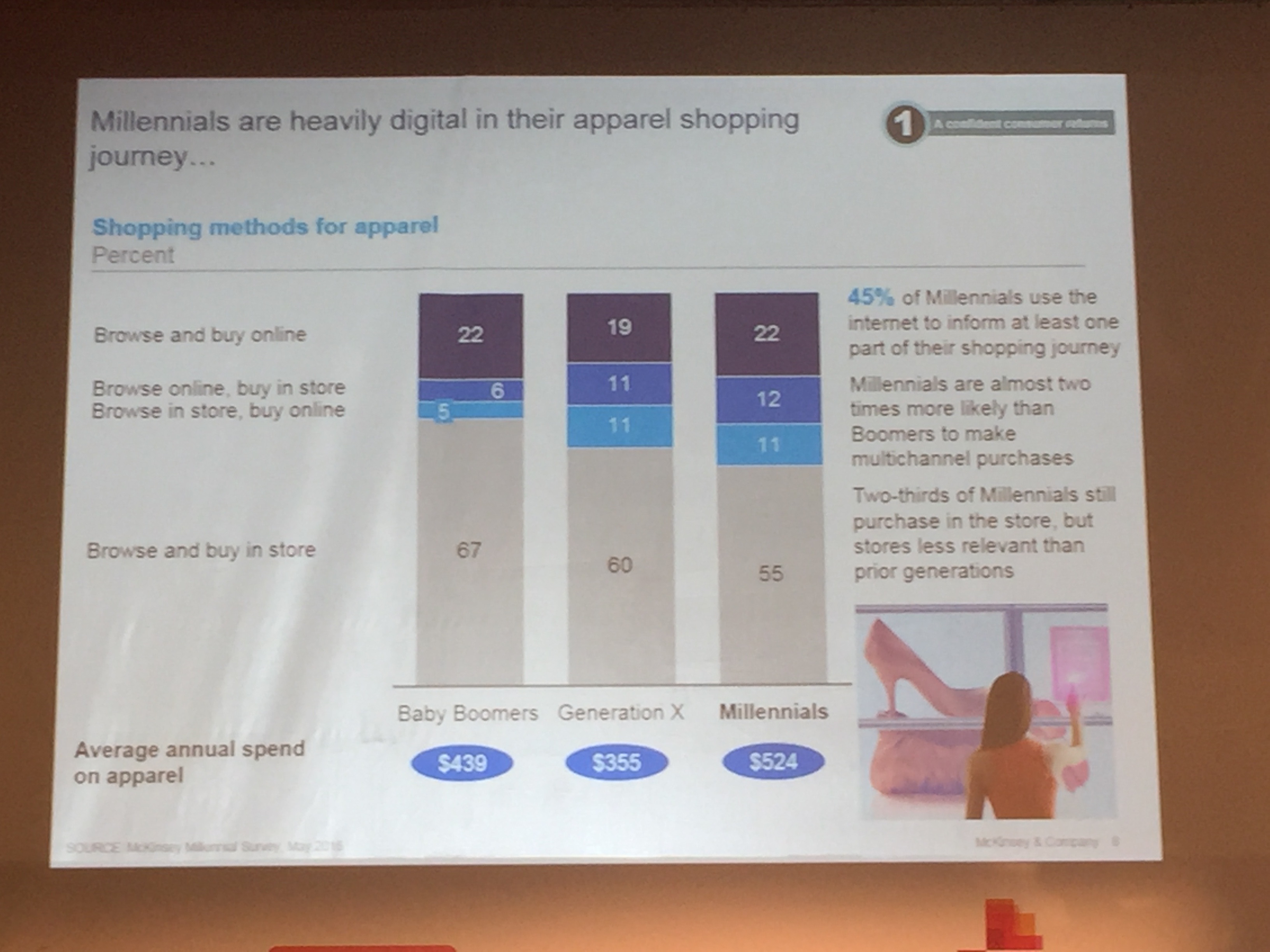 Top 2 McKinsey retail strategies to win: differentiated omni-channel experience and strategies that drive traffic in stores. Digitally influenced sales (a millennial trend) are responsible for 98% of projected retail growth to the year 2021.
Wow on all the platforms to communicate for youths, including millennials. How does #retail leverage? - Sandra Cortesi, Director of Youth & Media at Berkman Klein Center, Harvard University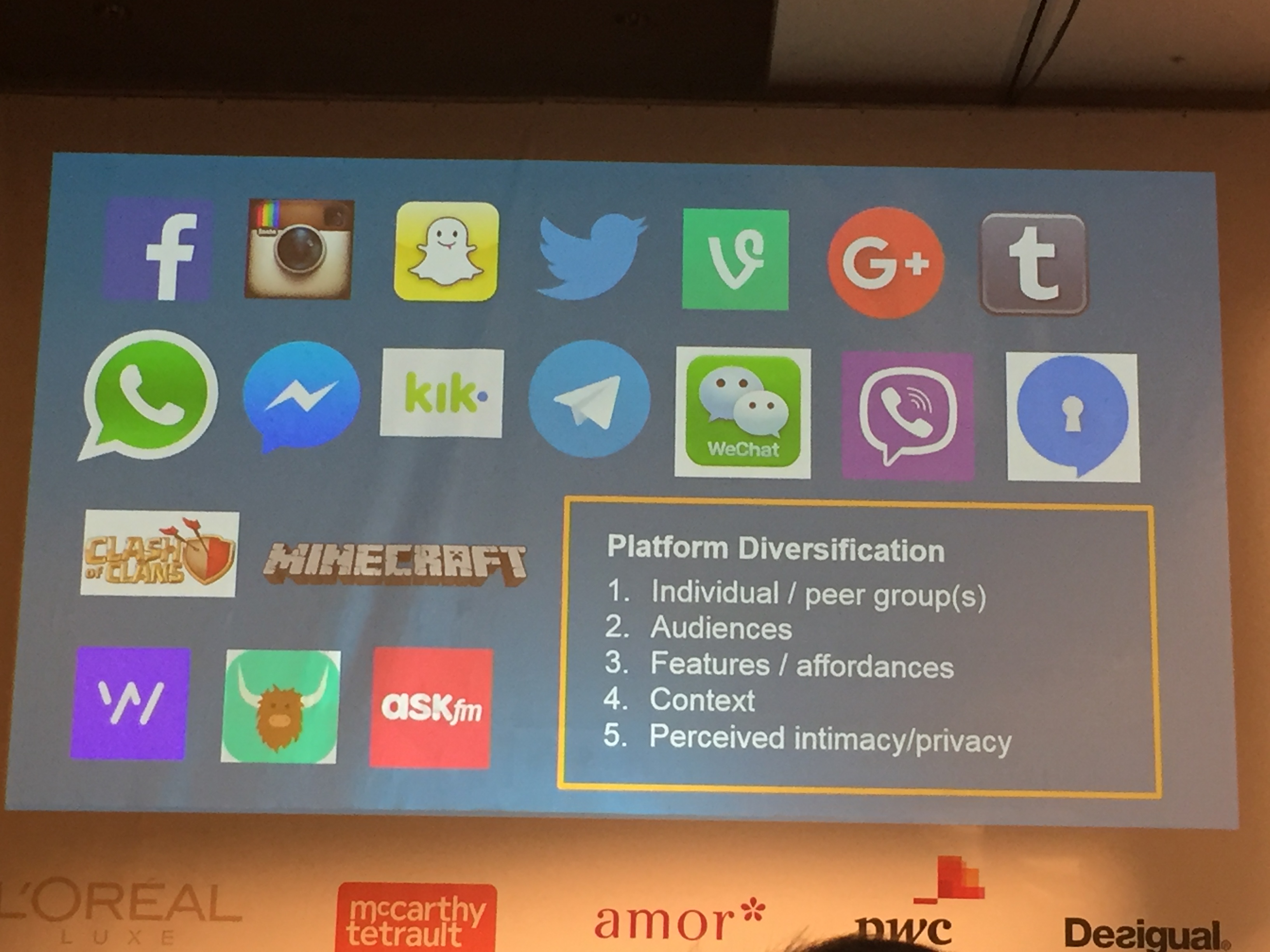 The Department Store Challenge
USA department stores have lost approximately $38 billion in annual revenues since 2000. Major shift, especially to discounters is the current trend. (McKinsey)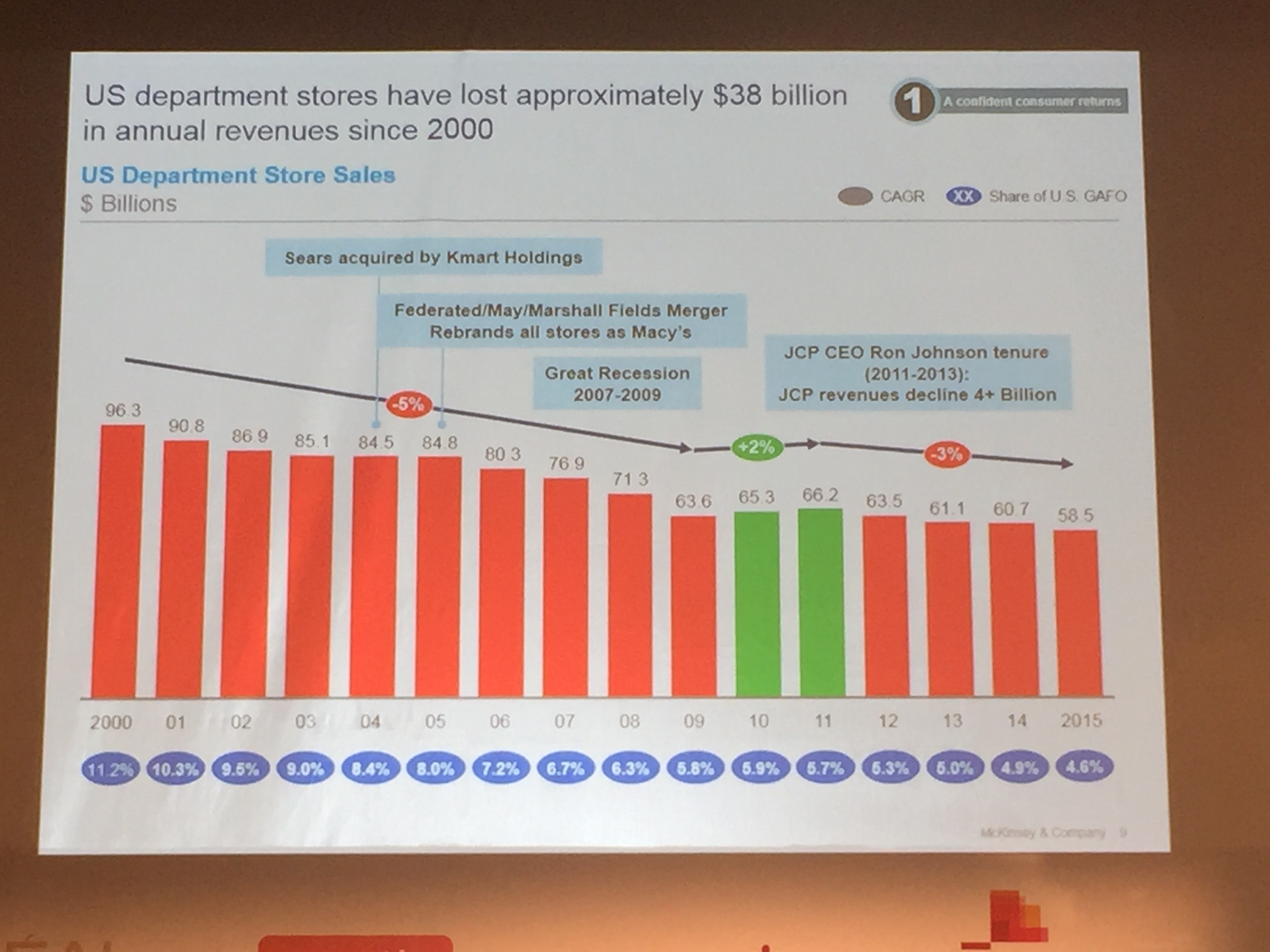 The Brick-n-Mortar Retail Store Opportunity
Only grocery and DIY are USA sectors projected to grow with in-store sales through 2021. Hypermarkets, department stores, specialty apparel, office supply, and electronics all have negative projected in-store sales trends (McKinsey).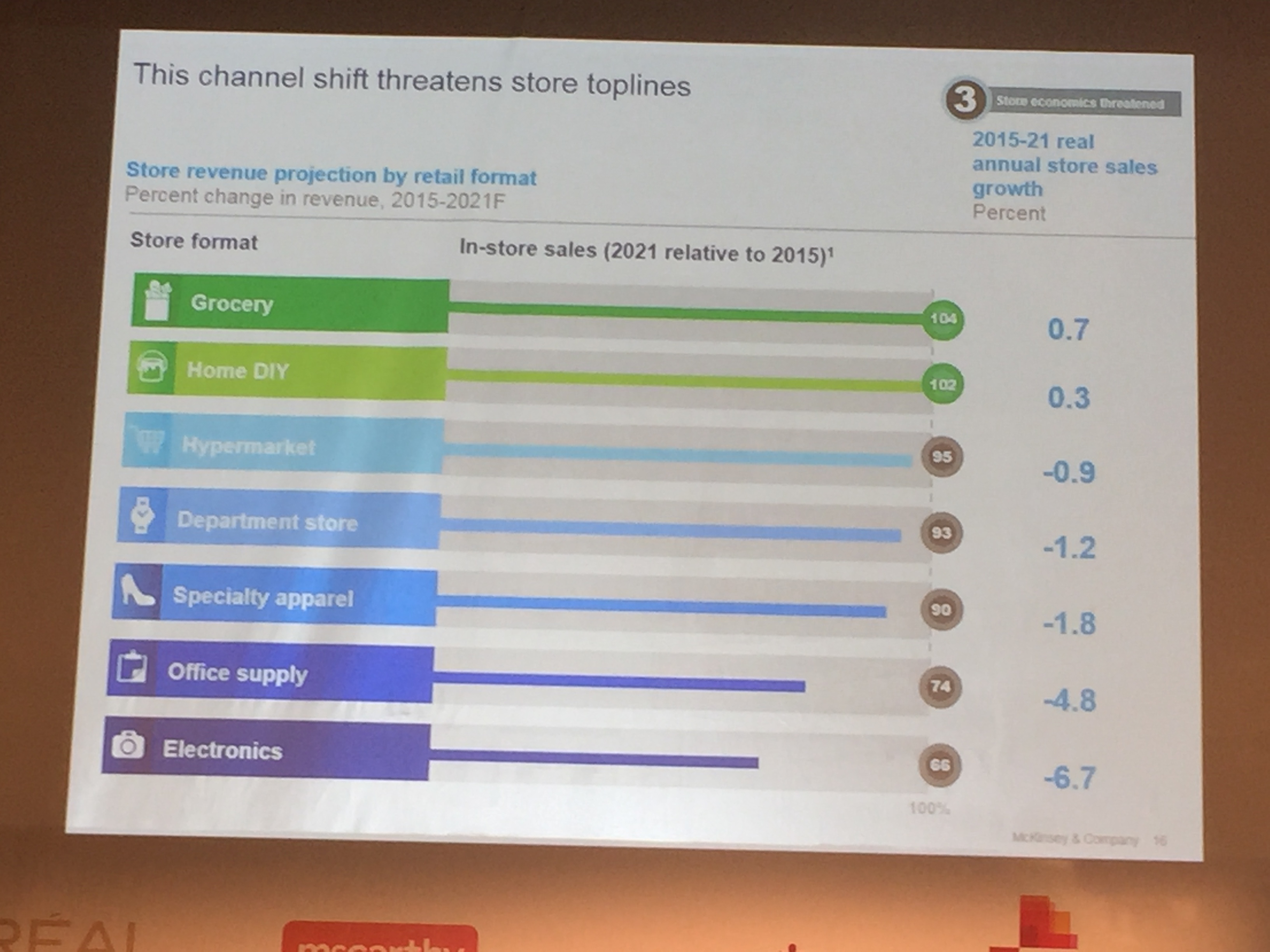 Agree with McKinsey that retailers have largely focused on defensive moves in response to the challenges they are facing. These include reducing SG&A, closing stores, and reducing prices. Retailers continue to under invest in the digital transformation strategies to meet future consumer demands.
Technology disruption is an opportunity for retailers to redefine the multi-channel shopping experience. Technology evolution is accelerating and new solutions will allow greater personalization to targeted consumers. Couple great charts presented by Donald Kingsborough, President of Westfield Retail Solutions, USA.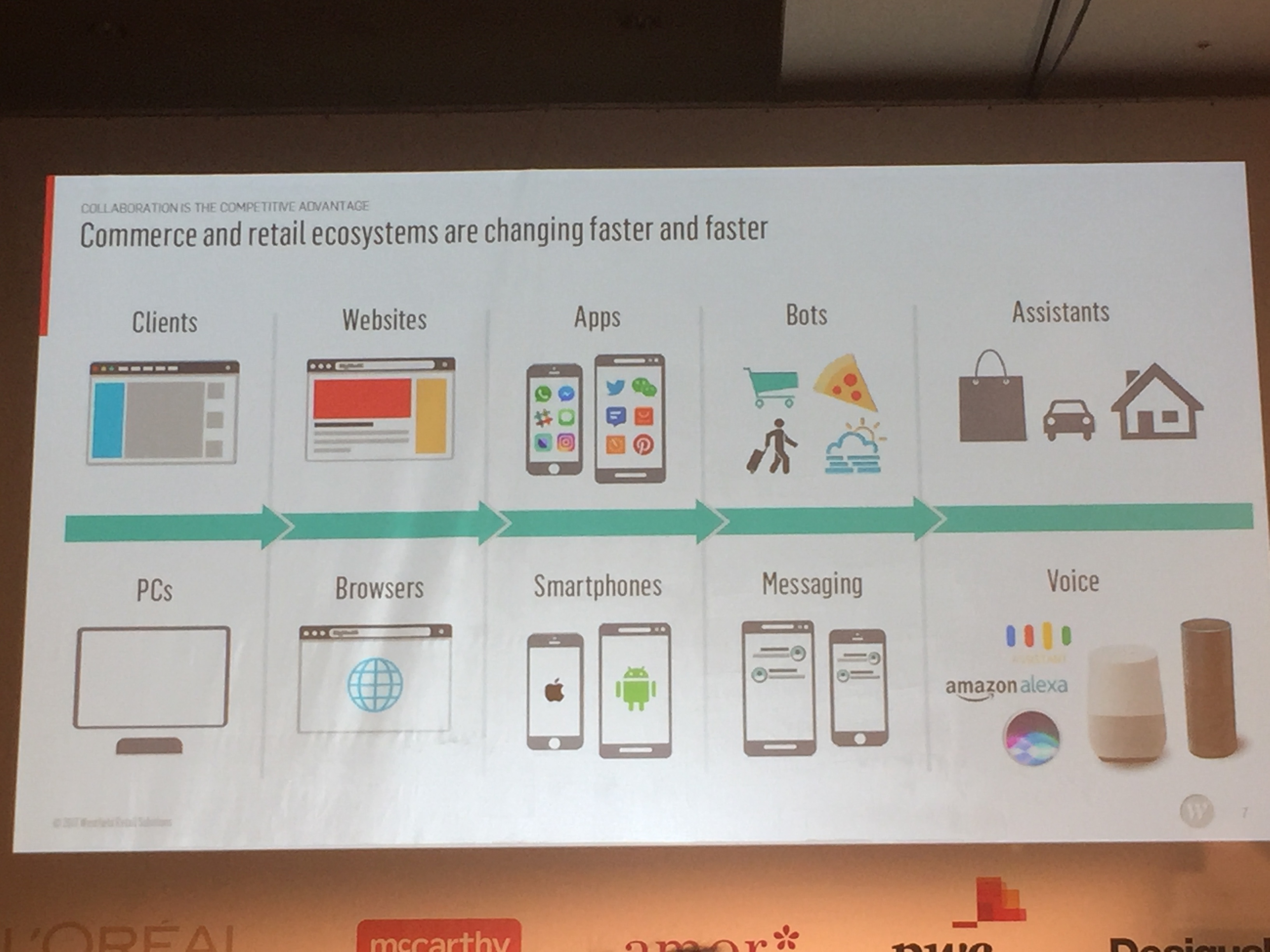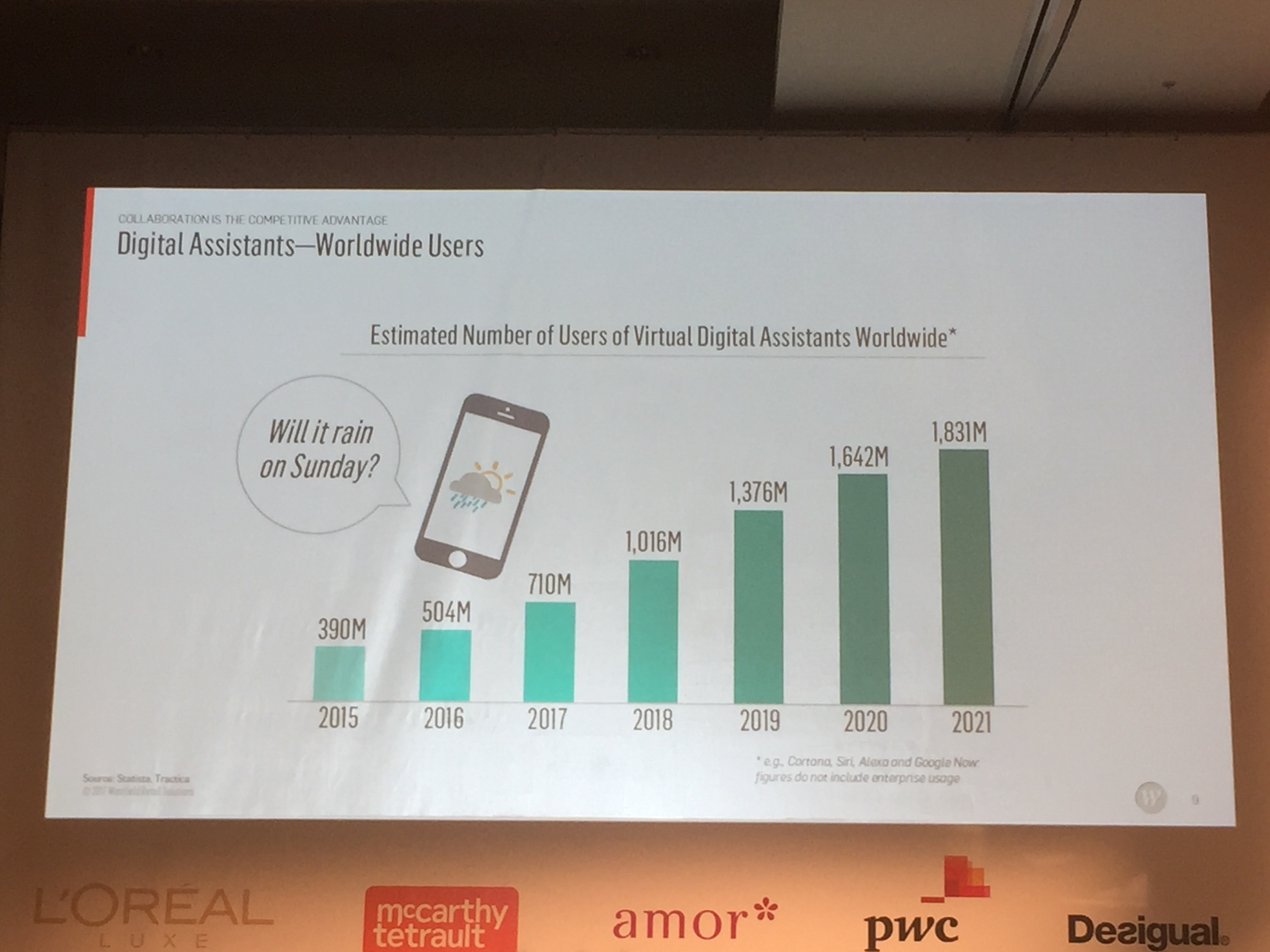 Agree with focus on data capture and personalization of the experience presented by Evan Neufeld, VP Intelligence L2, USA. Agree also with Evan on importance of mobile for associates and its impact on increased consumer satisfaction and sales.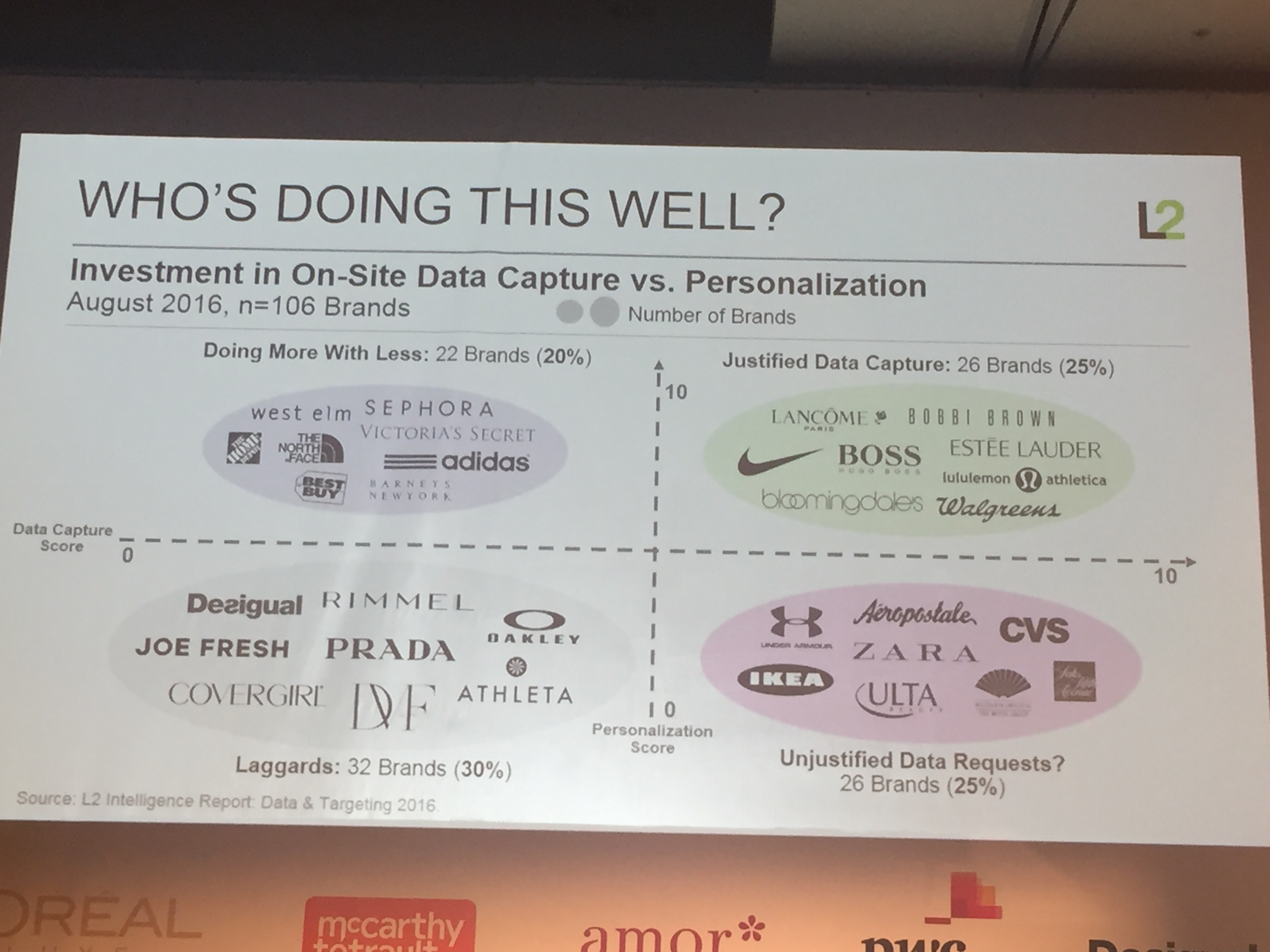 A Promising Future of Retail Ahead
Fully appreciated the current focus areas presented by Richard Umbers, CEO & Managing Director of Myer Australia. The new Myer is all about customer centricity, onmi-channel technology in the service of service, and business intelligence data driving personalization. The result is the "Department of Stories" represented in this video advertisement. Click LINK to see it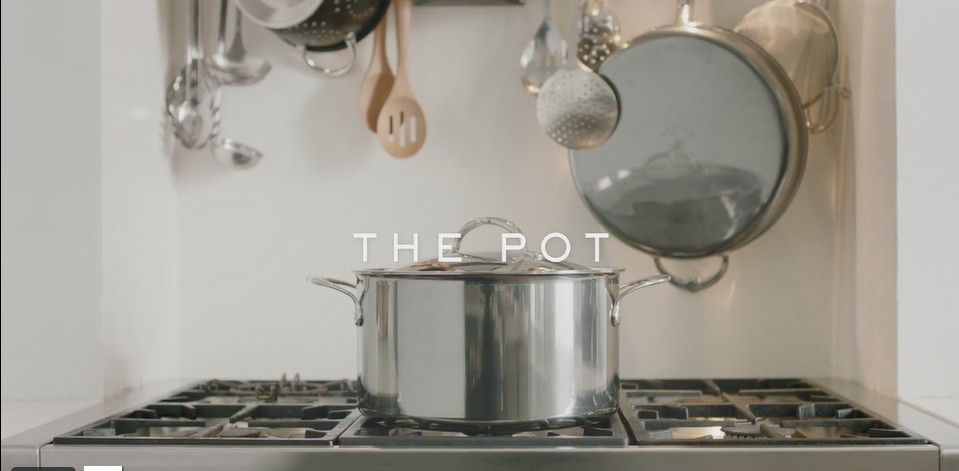 Timely with industry trends, the 5th Annual World Department Stores Forum reinforced the importance of branding and customer experience in driving the future of retail. Ms. Susan Plagemann, Chief Business Officer of Vogue USA summed it up best with below simple chart on what it takes to win.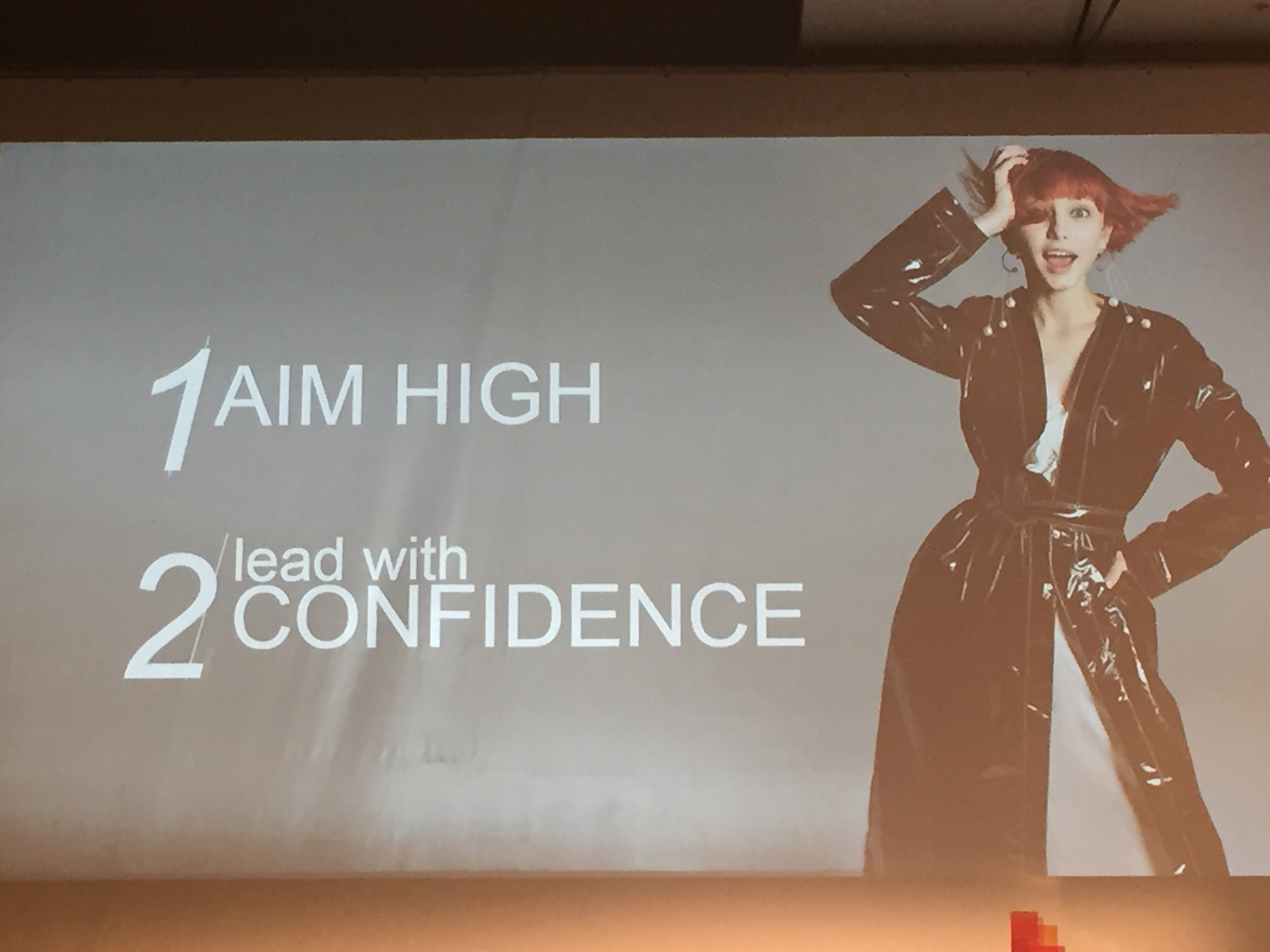 It is not about stores versus online. Shoppers increasingly are blind to the differences. The consumer is the channel. Millennials and future generations as the rulers of retail will expect many magical differentiated experiences.