"The world's most successful companies all have one thing in common: powerful brands ... Branding strategy is one of the foundational pillars of business. Simply presenting a unified brand message can increase profits by nearly 25%." - EU Business School
From multiple sources, this article summarizes key insights from the just published Brand Finance top 500 world's most valuable brands report.
Top 10 Most Valuable Global Brands and Key Insights from Entire Study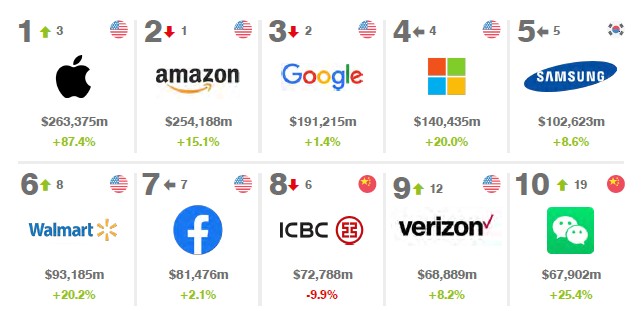 Five years since it last held top spot, Apple is named world's most valuable brand by Brand Finance Global 500 2021 ranking as diversification strategy finally pays off, brand value US$263.4 billion.
As new technologies drive brand value across industries, Tesla leaves traditional auto marques behind with fastest brand value growth in ranking, up 158%.
E-commerce brands thrive in new normal, with Alibaba.com doubling in brand value, but chain retailers are cashing in on home delivery too – Walmart climbs up to 6th rank.
Hospitality suffers from travel and dining restrictions, as Marriott and Airbnb check out from ranking and Starbucks, McDonald's, and KFC see brand values drop.
WeChat overtakes Ferrari to become world's strongest brand with top score of 95.4 out of 100 and AAA+ brand strength rating.
As we emerge from the COVID-19 in 2021, the importance of branding will increase. In this post, we will concentrate on the top retail brands that will lead the recovery in the new normal.
The Top 10 Most Valuable Retail Brands
A "testament to the role of technology in driving brand value, e-commerce brands are among those retailers to have thrived the most in the past year, with Amazon's impressive performance at the center. Alibaba.com has also benefitted from the unprecedented surge in demand, as consumers turned to online shopping during the pandemic. The retail giant's brand value has been boosted by an eye watering 108% to US$39.2 billion, making it the second-fastest growing brand in the ranking behind Tesla. Alibaba Group brand's, Taobao, up 44% toUS$53.3 billion, and Tmall, up 60% to US$49.2billion, have enjoyed parallel successes, their online business models providing ease of access and convenience for consumers."
"The story is similar for JD.com, which has enjoyed an impressive growth of 82% to US $23.5 billion, following a 30% rise in its annual shopper count – its fastest pace in two years".
"At the same time, many traditional brick-and-mortar retailers which have successfully leveraged technology to offer online delivery options and develop digital in-store improvements, have also fared well during the COVID-19 lockdowns. Walmart (up 20% to US$93.2 billion) has inched up to 6th place in the overall ranking, following an impressive spike in earnings. With targeted investments in e-commerce and over 400,000 workers hired in the last year to stock shelves and fulfill online orders, Walmart has been quick to adapt to the surge in demand."
Note the concentration of the top 10 highest value brands in the United States and China. Additionally, note the dramatic brand value increases in Chinese brands.
The Top 10 Most Valuable Global Apparel Brands
"Haute Couture and fast fashion are rubbing shoulders in the list of the worlds biggest apparel brands. Some sports clothing makers also rank towards the top. Nike is the biggest of the bunch at a brand value of almost $35 billion and also one of the highest market capitalizations."
Since its founding in 1964, Nike has become a remarkable brand builder. In fact, Nike is the most searched fashion brand in 49 countries.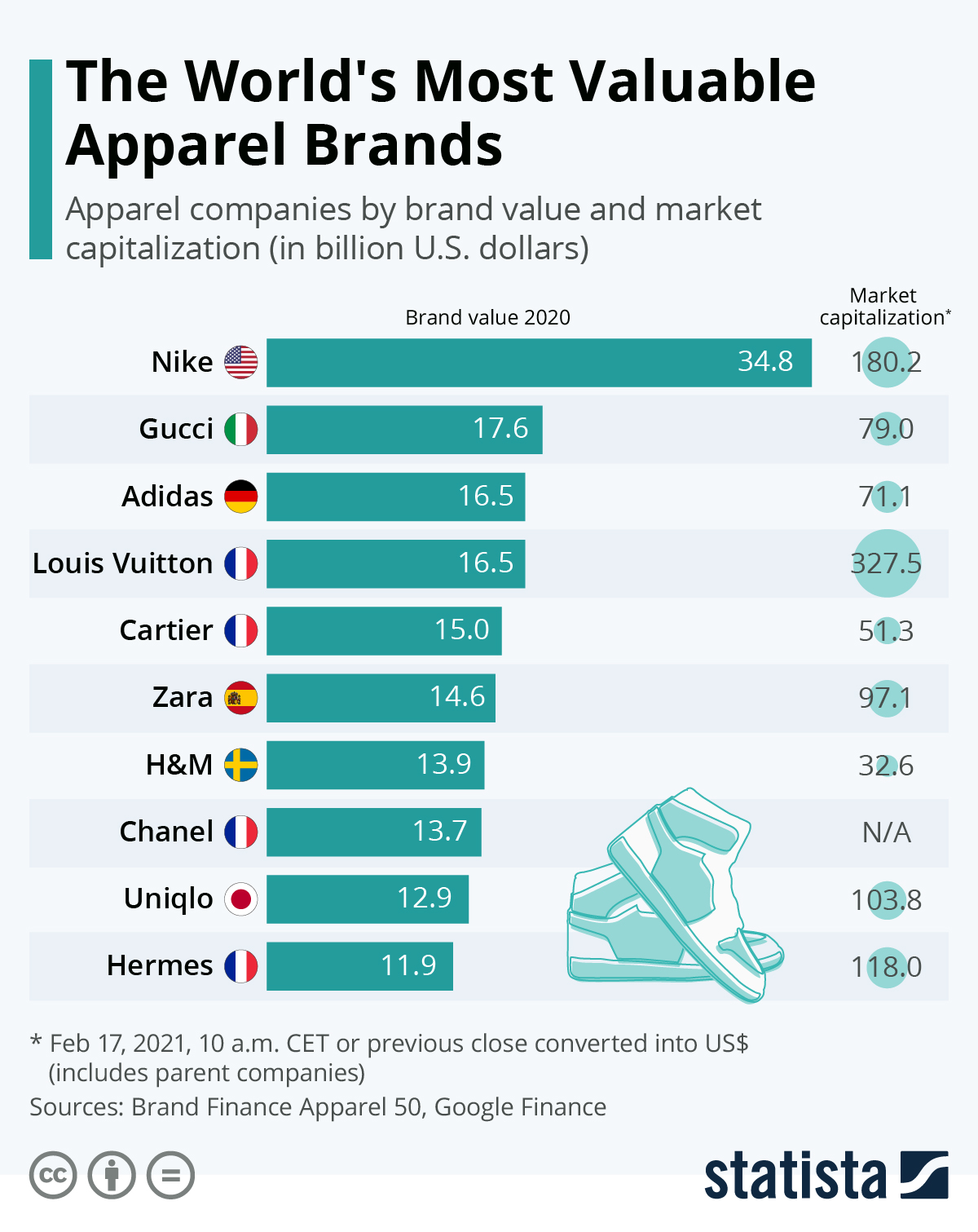 "When it comes to the highest market caps, French luxury conglomerate LVMH – parent company of Louis Vuitton – is taking the top spot. The parent company of Japanese fashion brand Uniqlo, Fast Retailing, recently reached a market capitalization of $103 billion, surpassing industry behemoth Inditex – the parent of Zara."
For all industry sectors, COVID-19 has become a brutal accelerator of digital transformation trends that were already underway. The future of retail includes digitally supported leadership branding coupled with hyper-personalized immersive consumer experiences. In the world the virus leaves behind, the 'new normal' will elevate the importance and value of branding.