Product or service differentiation has always been a strategy adopted by the retail industry towards finding that winning formula for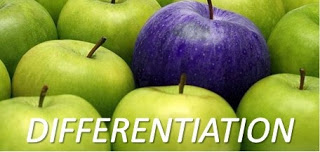 growth. Differentiation can take many forms and include price, product quality, store decor, targeted consumer audience, and the business model itself. Two recent examples of successful retail differentiation:
Zara and Fast Fashion
Forbes Magazine recently recapped the successful Zara business model. A team of designers and product managers in Spain oversee design, sourcing and production of specific apparel categories. These individuals monitor closely the sales process of each apparel collection -- from the time the merchandise reaches the stores to the real time customer response.
Wegmans and Empowered Employees
According to a just published article in the Philadelphia Business Journal, it is easier to get into Harvard University than to get a job at a new Wegmans grocery store. Wegmans invests in employees and is fanatical in building positive customer experiences. The retailer is one of only 13 companies that has consistently appeared in Fortune Magazine "100 Best Companies to Work For." Wegmans has been a top 10 place to work for in USA during the last 11 consecutive years. "Our employees are the number one reason our customers shop at Wegmans," says CEO Danny Wegman. "I'm convinced there is only one path to great customer service, and that is through employees who feel they are cared about and empowered."
This week's post was sparked by a recent presentation from the CEO of WABCO where he presented the following differentiation formula:
Differentiation = Anticipation + Creativity + Excellence.
Differentiation is achieved when all three of the formula elements are pursued with Passion.
Dissecting the WABCO differentiation formula:
Anticipation - Key to any company's or individual's success is always being a student of the industry you compete in and anticipating customer's needs.
Creativity - Distilling your unique differentiating solution elements from the customer needs and beating your competition to market takes lots of creativity.
Excellence - Ultimately differentiation comes down to exceeding customer expectations by focusing on excellence in the execution phases of the formula.
Passion - Successful companies understand that employees are the drivers of the differentiation. Focus the organization in passionately delivering results by exceeding their own personal expectations.
Clear lessons emerge from the differentiation formula on strategies we can all adopt at both personal and business levels. As Zara demonstrates, it is all about speed to market with a fanatic focus on understanding customer buying patterns and adjusting quickly to global fashion trends. Wegmans puts the passion of its employees at the core of driving great customer service.
Mobile technology is accelerating and empowering consumers to design their own personal differentiated shopping journey. . Progressive retailers are already investing in technologies that "listen" to their core customers in the new social media connected ecosystem. These listening posts offer clues on new differentiation strategies for profitable omnichannel customer engagements.
Retail was and will forever be about creating positive customer experiences. These experiences start and end on the real and virtual sales floor. The pace at which you differentiate and improve those customer experiences will determine your future retail growth.
Image from http://ow.ly/qifPA