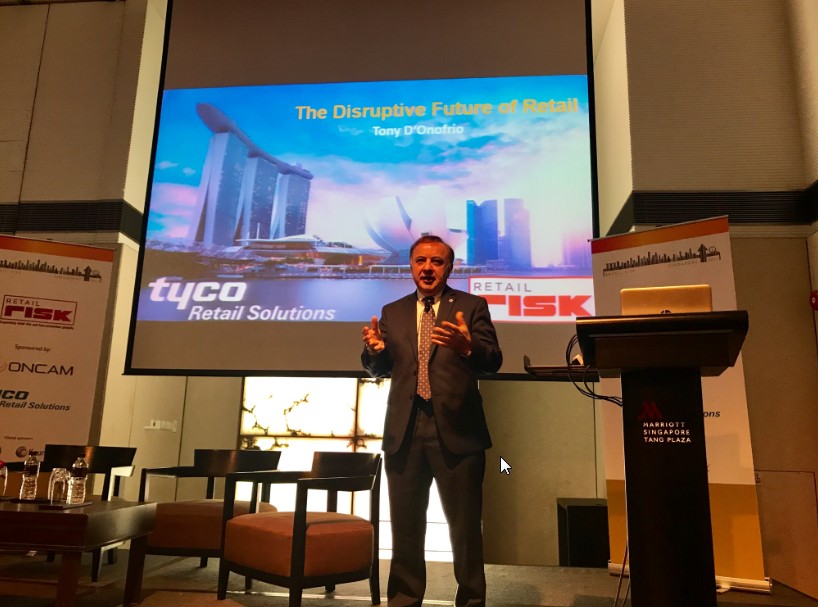 This past week had to pleasure of speaking at the Retail Risk Conference in Singapore. The audience mostly consisted of loss prevention professionals responsible for major retail brands across Asia. The customized presentation was an opportunity to reassess the state of Asia in the global retail economy.
The Growing Global Middle Class
A Brookings Institute study noted:
-- 3.2 billion people were in the middle class at the end of 2016
-- 140 million people are joining the middle class annually and this number could rise to 170 million in five years' time
-- An overwhelming majority of new entrants into the middle class—88 percent of the next billion will live in Asia.
That's a lot of new retail shoppers. The surprising finding is how the middle class is reshaping the Asia retail landscape.
The Asia Retail Market
In 2001, combined nominal retail sales of 11 key Asia countries, excluding Japan, were about $1 trillion USD or nearly 42% of the total retail sales in the United States. "Travel forward in time to 2016 and there is quite a change—retail sales for the same 11 economies jumped to an estimated US$ 6.6 trillion (figure 1), much higher than the corresponding US figure (US$ 3.9 trillion)."
Note the 2016 retail growth rates in both China and South Korea in this recently published Fung Business Intelligence study. To understand what is happening in Asia, note also the Ecommerce percentages of total retail sales in both countries.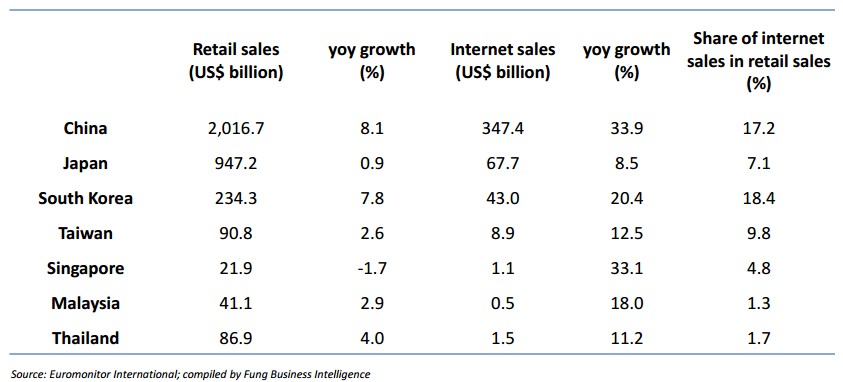 The Digital Savvy Asia Retail Consumer
"Today, consumers in Asia are digital-savvy, mobile and socially fluid. They are highly connected and demand omni-channel experiences where they can shop anytime, anywhere and with any devices. They also demand personalized products and services, look for greater satisfaction in life experience and have a strong desire for convenience and immediacy, rather than merely static material possessions."
Asia's utilization of social media has exploded and currently represents over 52% of total global users. An amazing 97% of social media users access their platforms via the latest smartphone mobile devices.
The Asia Wild Card Retail Country
India is Asia's wild card country that could dramatically accelerate the continent's retail industry growth. Ninety-two percent of India's retail sales are still unorganized (locally owned small shops). Ecommerce is a measly 0.5% of retail sales.
"India's retail market is expected to nearly double to US$ 1 trillion by 2020 from US$ 600 billion in 2015, driven by income growth, urbanization and attitudinal shifts. While the overall retail market is expected to grow at 12 per cent per annum, modern trade would expand twice as fast at 20 per cent per annum and traditional trade at 10 per cent."
India's "e-commerce market is expected to reach US$ 700 billion by 2020. Online retail is expected to be at par with the physical stores in the next five years. India is expected to become the world's fastest growing e-commerce market, driven by robust investment in the sector and rapid increase in the number of internet users."
Asia Technology Investments Lead the World
Recent IDC data that I shared with the Singapore audience points to continued disruption from increased technology spending. Note that China and the rest of Asia Pacific (outside Japan) are outspending the rest of the world, including the United States.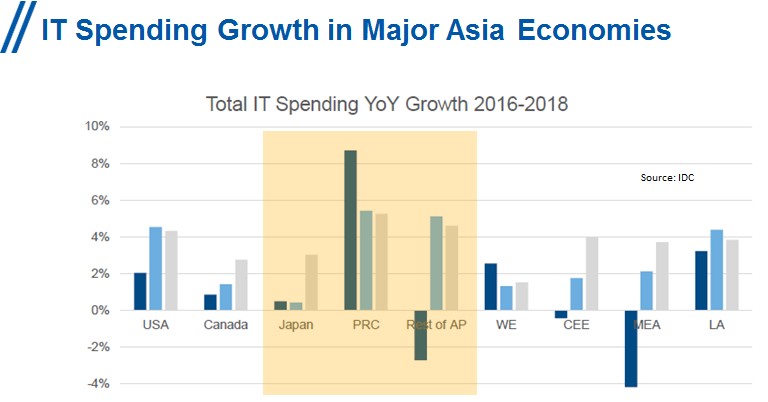 A great reminder of the Asia transformational technology investments disrupting retail was the Alibaba virtual reality global shopping experiment on Singles Day in November 2016.
Click LINK to See this Video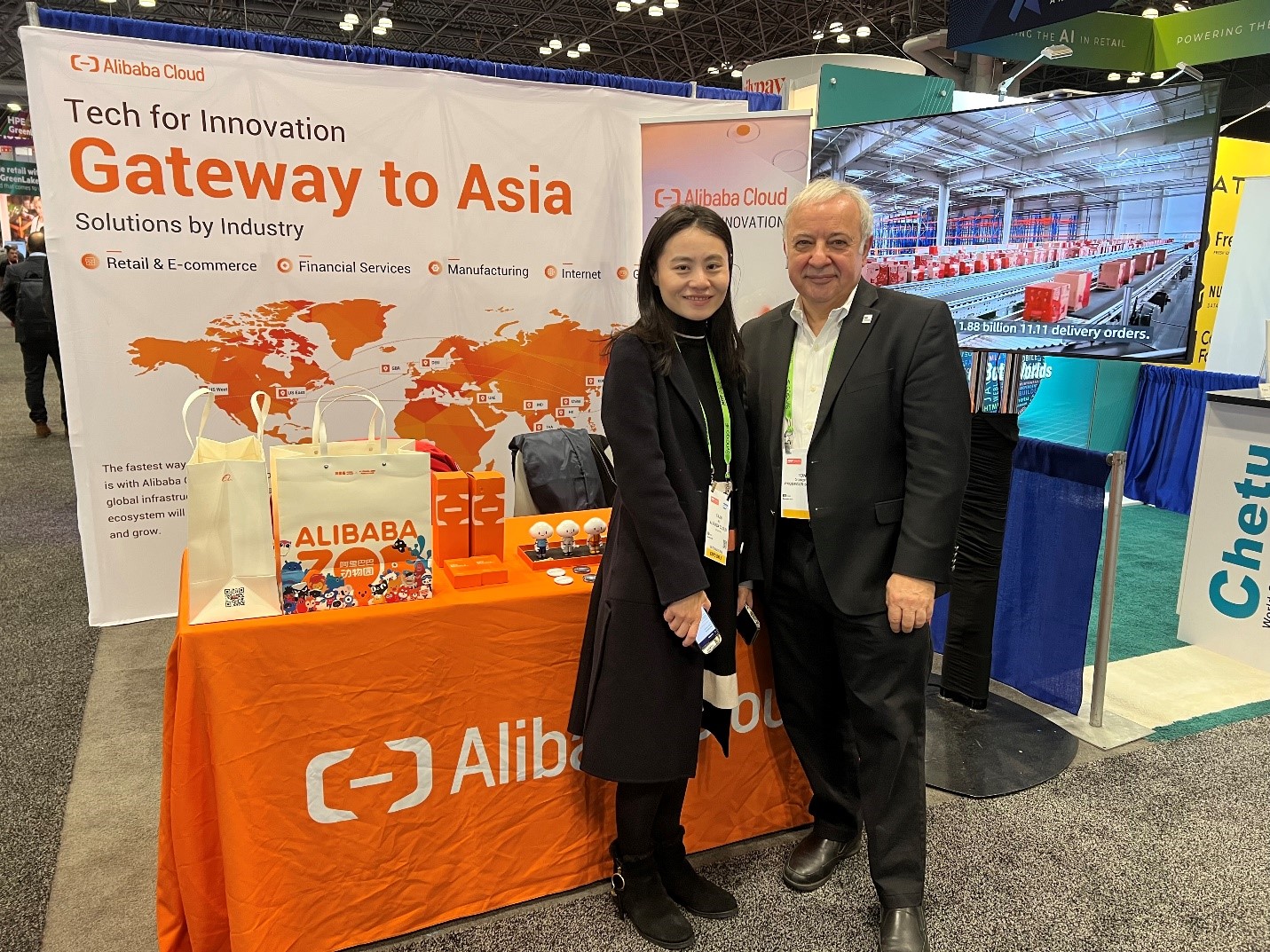 Thank you Singapore Retail Risk audience for the reminder that Asia is the microcosm laboratory of the digital disruption revolution engulfing global retail.