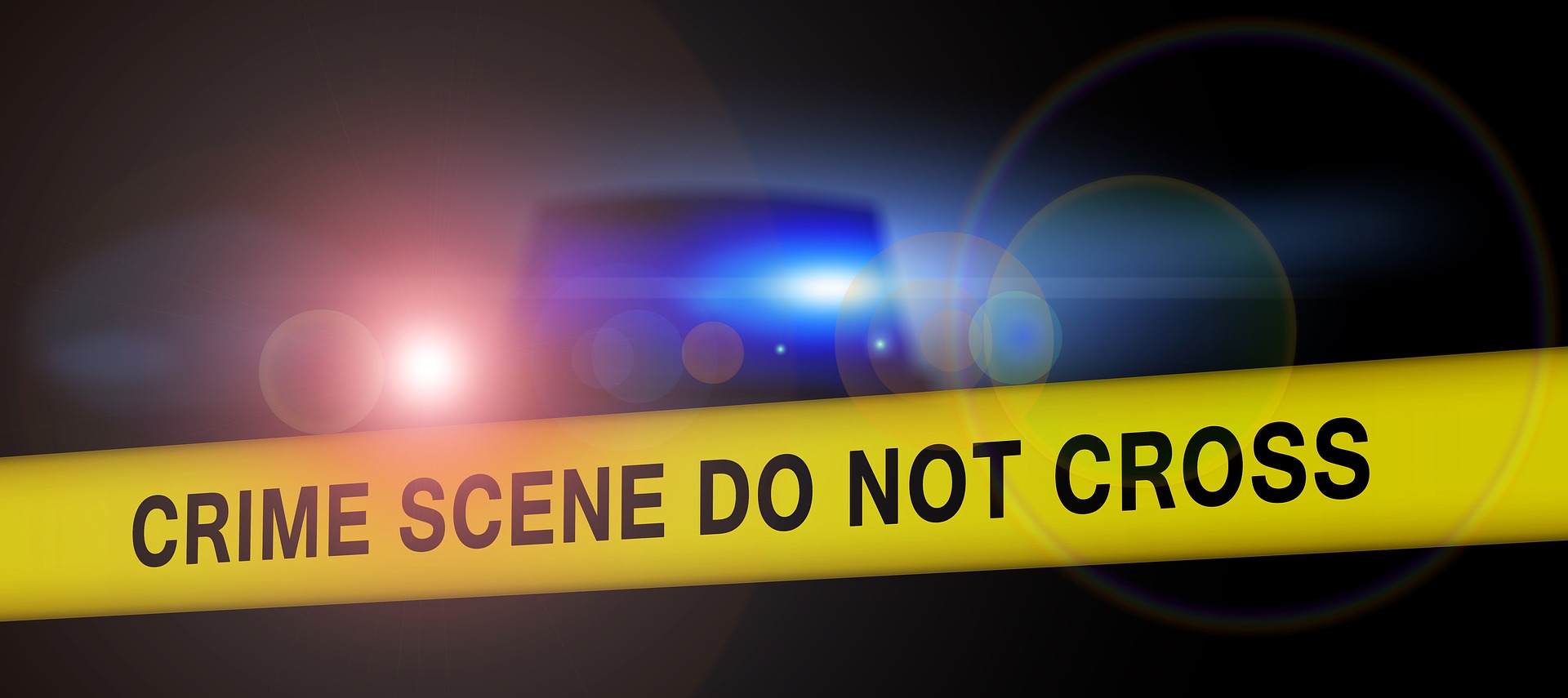 The Wall Street Journal recently reported a sharp rise in deadly violence in major USA cities. Their analysis of crime statistics among the nation's 50 largest cities found that reported homicides increased 24% so far this year.
"Police, researchers, mayors and community leaders see a confluence of forces at work in the homicide spike. Institutions that keep city communities safe have been destabilized by lockdown and protests against police. Lockdowns and recession also mean tensions are running high and streets have been emptied of eyes and ears on their communities. Some attribute the rise to an increase in gang violence."
This article is a follow up to the very successful July 2020 Global Retail Crime Summit. The Wall Street Journal analysis and the just published D&D Daily retail crime reports are a reminder of the challenges we face. Similar to the urban increase in homicides, retail experienced spikes in violence in the first half of the year.
Summarized in this post are the latest USA retail violence, organized retail crime (ORC) and retail robbery trends. As I pointed out in my Crime Summit presentation and in a recent podcast, data driven industry collaboration, increased best practices communication, and new technologies are critical components to attacking multiple of the surreal challenges taking place in 2020.
Retail Related Fatalities Were Up 45% in Q2/2020
As reported by D&D Daily in their latest 'Retail Violent Fatalities Report', the year is off to a violent start. Through the first six months of the year, total violent incidents are up 20%. For the second quarter 2020, they are up an astounding 46%.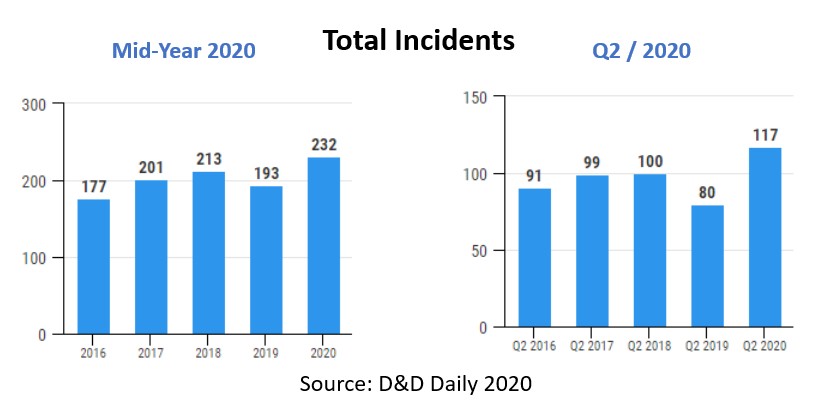 More alarming are the spikes in fatalities. Through mid-year fatalities are up 22% and for Q2, up 45%.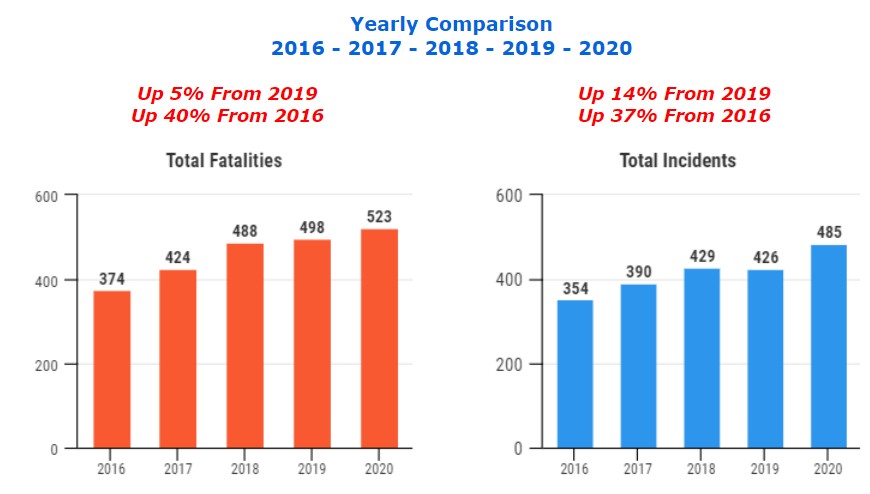 Of the 253 total fatalities, 28% were suspects, 40% were customers, 26% were associates, and 6% were law enforcement / security personnel. Associates deaths are up 94% and security personnel fatalities are up 133% from the previous year.
Fifty-five percent of the fatalities were inside the store or mall, 39% were in the parking lot, and 6% died off premises. By retail sector, convenience stores led with 33% followed by restaurants at 15% and grocery at 7.5%.
Organized Retail Crime Declines
Good news from the latest USA D&D Daily Publicly Reported Mid-Year ORC Report. For the first half of 2020, ORC Incidents are down 35% and the value reported is nearly half last year at $54 million.

Electronics (29%), clothing (18%), and tools (15%) are the top three ORC categories. California, Florida / New York (Tied), and Pennsylvania are the top three states most impacted. Much of the decline in ORC crime can be explained by the number of stores and malls that were classified as non-essential and closed during the lockdown phases of the pandemic.
Robberies Up Through Mid-Year, but Down in Q2
For the first half of the year, USA retail robberies are up 4%. For just Q2/2020, the peak of the lockdowns, incidents were down 5%.

Convenience, Restaurants, and Jewelry are the top 3 categories. Highest peak of incidents is on Monday and lowest on Friday. Fifty-one percent of robberies take place between 8 PM and 4 AM.
Top 3 states with highest number of robberies are California, Texas, and New York. Top 3 cities are Chicago, San Antonio, and Las Vegas.
The Pandemic and Escalating Retail Violence
A Vox article pointed out that we know less about why there might be a homicide spike, but here are some of the theories: the pandemic has really messed things up; de-policing; lack of trust in police; more guns; overwhelmed hospitals led to more deaths; idle hands; and a bad economy.
Violent escalations have taken place in retail stores, multiple tied to new mask requirements introduced because of the pandemic. Several of these confrontations have turned deadly.
While spiking this year, homicide rates are still lower than in the past. In 1990, for example, New York City alone had 2,262 murders, about equal to the total number of killings in the nation's largest 25 cities so far this year."
All of us can contribute to reducing crime and avoid returning to this more violent past. Active communications to find solutions are required more than ever. New technologies such as GPS inside stores, visual artificial intelligence, and ecosystem-based reporting can substantially help.
We will get through this pandemic to a new retail normal. Facing up to the challenges, sharing best practices, greater cooperation between retailers & law enforcement, and leveraging technologies that de-escalate violence or let professionals address it, are a good place to start.