Last week, I had the pleasure to attend a two-day Executive technology briefing at Microsoft headquarters in Redmond. A highlight was the retail technology tour where the latest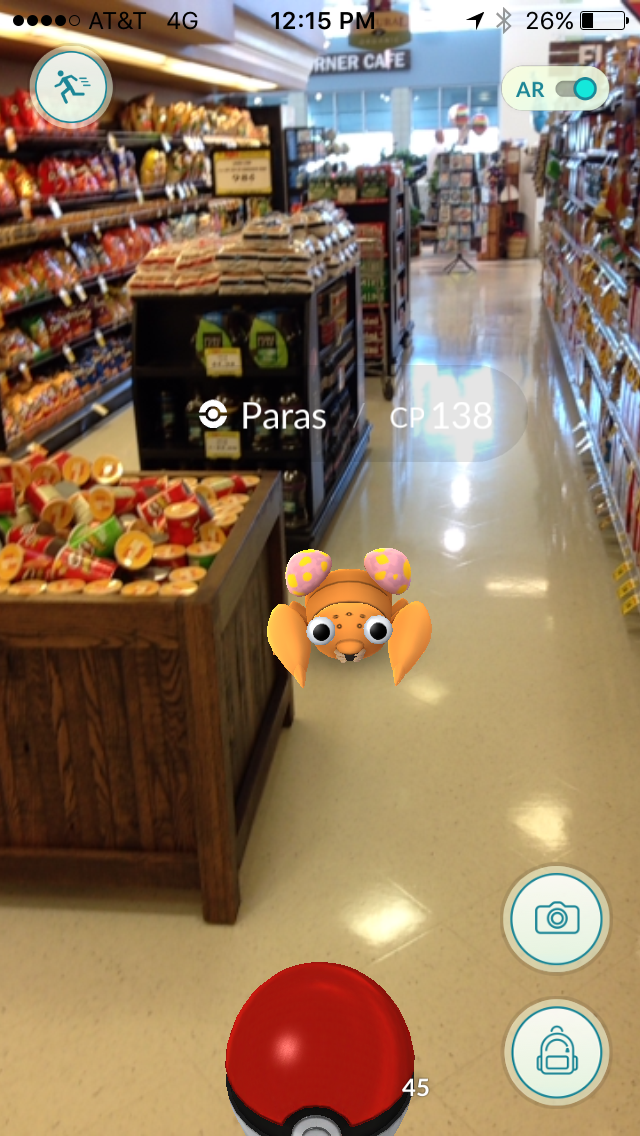 technologies were integrated into a mock multi-store mall. In each of the store formats, lots of digital sensor solutions were feeding a growing computing cloud.
Concurrently to my visit to Microsoft, Pokemon Go continued its meteoric rise in becoming one of the most successful mobile games of all time. As of Monday, July 11th, Pokemon Go was seeing about 21 million daily active users, making it the biggest mobile game in USA history.
Just as impressive is the amount of time that each individual is playing with the app. The average iPhone user spent 33 minutes on the Pokemon Go app, "whereas only 28 minutes on the Facebook app, 18 minutes on Snapchat app, 17 minutes in the Twitter app, and 15 minutes in the Instagram app."
The Psychology of Pokemon Go
A psychologist at the Oxford Internet Institute listed the following attributes driving the success of Pokemon Go:
The game relies on technologies that many people are already familiar with - smartphones and GPS. It's easy to dive in and have fun.
Nostalgia is another factor as Pokemon has been around for over twenty years.
The game encourages social interaction both via the web and face to face. Pokemon Go, "may well be the perfect game for the social media age - we're primed for it."
Five Key Success Business Lessons
Pokemon Go has hit the following viral success components: emotional connection, a mass consumer market, visual reinforcement in seeing so many players live, real social interaction in getting outdoors to play the game, and major global headlines hyping the game's success. Here are the five key messaging themes to achieve similar success:
"Build a genuine emotional connection with your target consumer. One player described Pokemon Go as 'finally achieving my childhood dreams.'"
"Pokemon Go demonstrates the importance of a large brand presence that engages people with sight, sound and motion. In the online world, this can be achieved with compelling video creative, strategic use of paid media to aid discovery, and strong social sharing."
"Relate to themes going on in the real world in a genuine way - from social issues that people care about...to the feeling of connection and gratitude that people have during the holidays."
"Build shareable content that creates social conversations."
"Put familiar content in a new context - evoke wonder, surprise and delight."
Retail Meets Pokemon Go
Multiple retail companies are already evaluating the potential of Pokemon Go. Upcoming sponsored content that will appear in the game is designed "to only charge advertisers when consumers - glued to their smartphones playing the game - show up in their stores. Indeed, foot traffic, the lifeblood of old-school retail and the Holy Grail for brick-and-mortar shops that lean on digital." Predictions are that Pokemon Go could become a $1 billion business within a year when retail stores become physical destinations for Pokemaniacs.
"Retailers have many places in their business where the power of gamification can be leveraged - in employee training, in customer loyalty programs. The rewards of Go are simple, but they are powerful. Wouldn't any retailer like to have this level of addiction with their own apps?"
Brick-and-mortar traffic continues to fall. June USA traffic was down 3.3%, May was down 6.4%, April was off 4.6%, and March was down 5.1%. Retailers can capitalize on the new traffic from Pokemon Go and become integrated in the entertainment experience.
Stop Making Shopping Boring
The retail model is stale. Retailers are not keeping up with increasingly tech savvy mobile consumer. Pokemon Go demonstrates the powerful potential for brick-and-mortar resurgence at the intersection of new sensor technologies and nostalgia.
Retail brands have cache. How do you translate that cache into your own social interactive scavenger hunt that grows brand value? How do you gamify the shopping experience to secure loyal consumers? Create your own Pokemon Go social experience and you will catch that profitable future of retail.