Prepare for the Worst and Plan for your Future Professional Best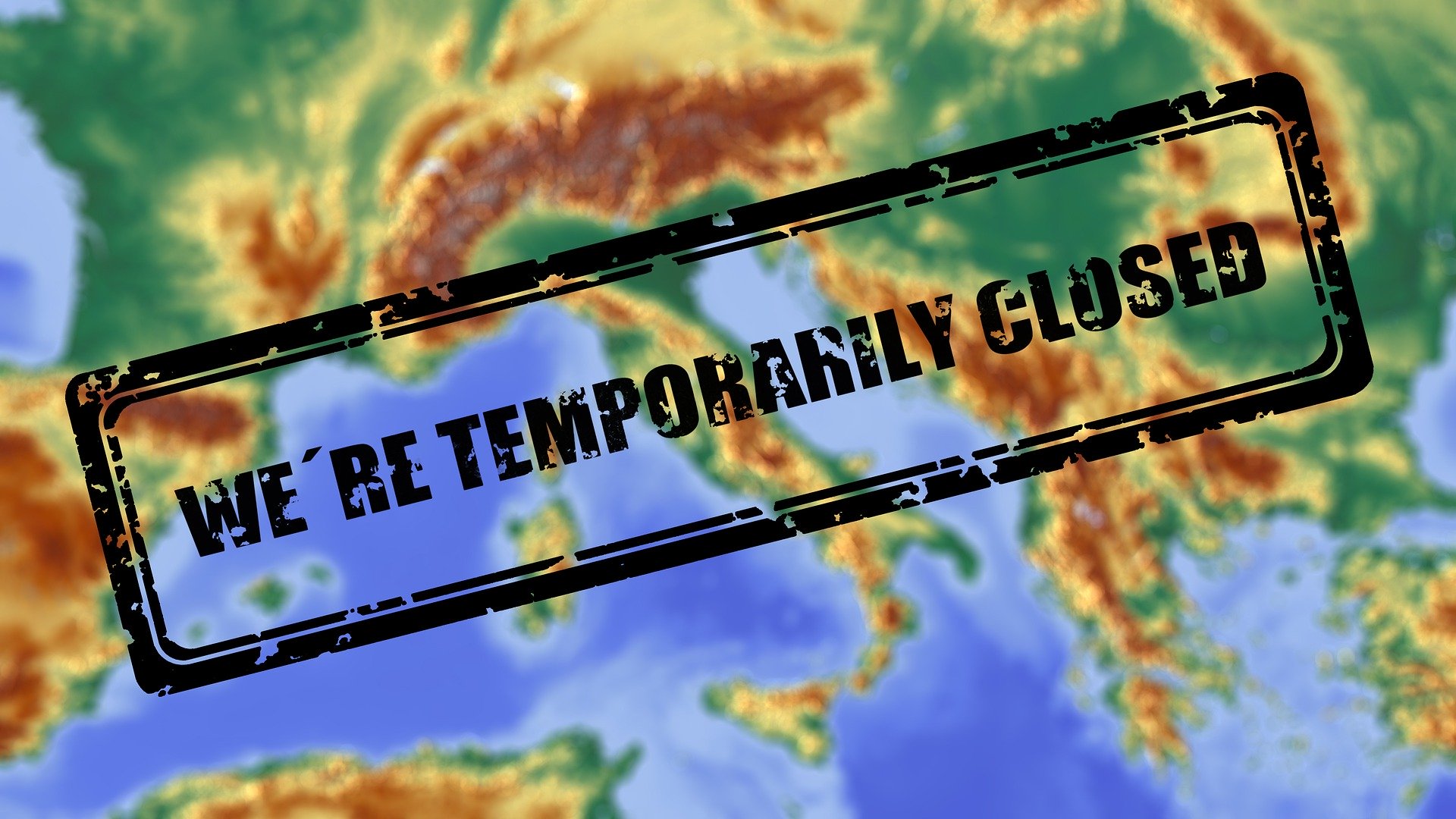 Having a substantial part of my family south of the red zone in Italy, I have been following very closely the progression of COVID-19. As of March 17, Italy had over 31,500 cases of Coronavirus with 2,503 people now deceased. To put that in perspective, Italy with 60 million people has already reached nearly 78% of the fatalities in China with a population reaching 1.4 billion.
"Italy has one of the oldest populations in the world, with a median age of about 46 years old. Nearly 60% of the population is aged 40 and over, about 23% of which is over 65." The data from China confirms that fatalities increase with age.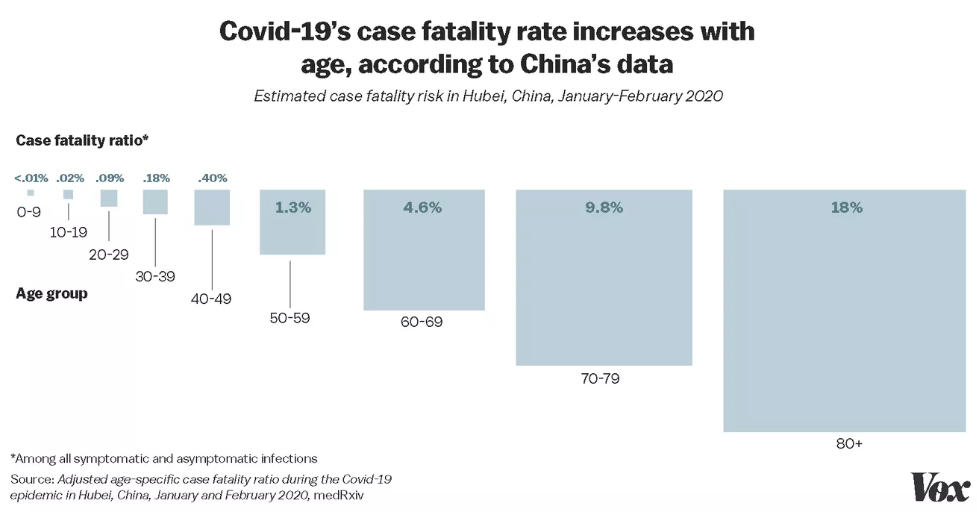 As exemplified by panic buying, COVID-19 feels overwhelming. Protecting your family and your health should continue to be paramount.
This article summarizes lessons for retail in China and where the industry transforms next. Several projected economic scenarios are also presented. Finally, we will explore the unforeseen new 'normal' that will emerge from digitally transformed stale business models.
The Retail Apocalypse Wanes
Near term outside food and pharmacy, all retail sectors will struggle with COVID-19. As an example, in China, which led the world with COVID-19 challenges, retail sales dropped 20.5% in February.
From Sydney Australia to Zurich Switzerland we are hoarding toilet paper. Debated whether to go potty mouth and answer why. One explanation, "toilet paper has primal—even infantile—associations, connected with what is arguably the body's least agreeable function in a way we've been taught from toddlerhood," It's primal fears redefined.
Additional China retail lessons reported by Bain include:
Grocers experienced waves of stockpiling and panic-buying of daily essentials. Restaurants suffered a rapid slowdown. Demand for contactless delivery methods surged.
Sales plummeted in discretionary categories such as luxury and apparel. In mainland China, luxury sales dropped 60% to 95% during the lockdown.
As the crisis grew, 80% of Chinese consumers expressed a preference for online grocery, though only about half could make purchases due to shortages. China online retailer JD.com reported that online grocery sales grew 215% from late January to early February.
COVID-19 caused dramatic shifts to online purchases of consumer goods in China: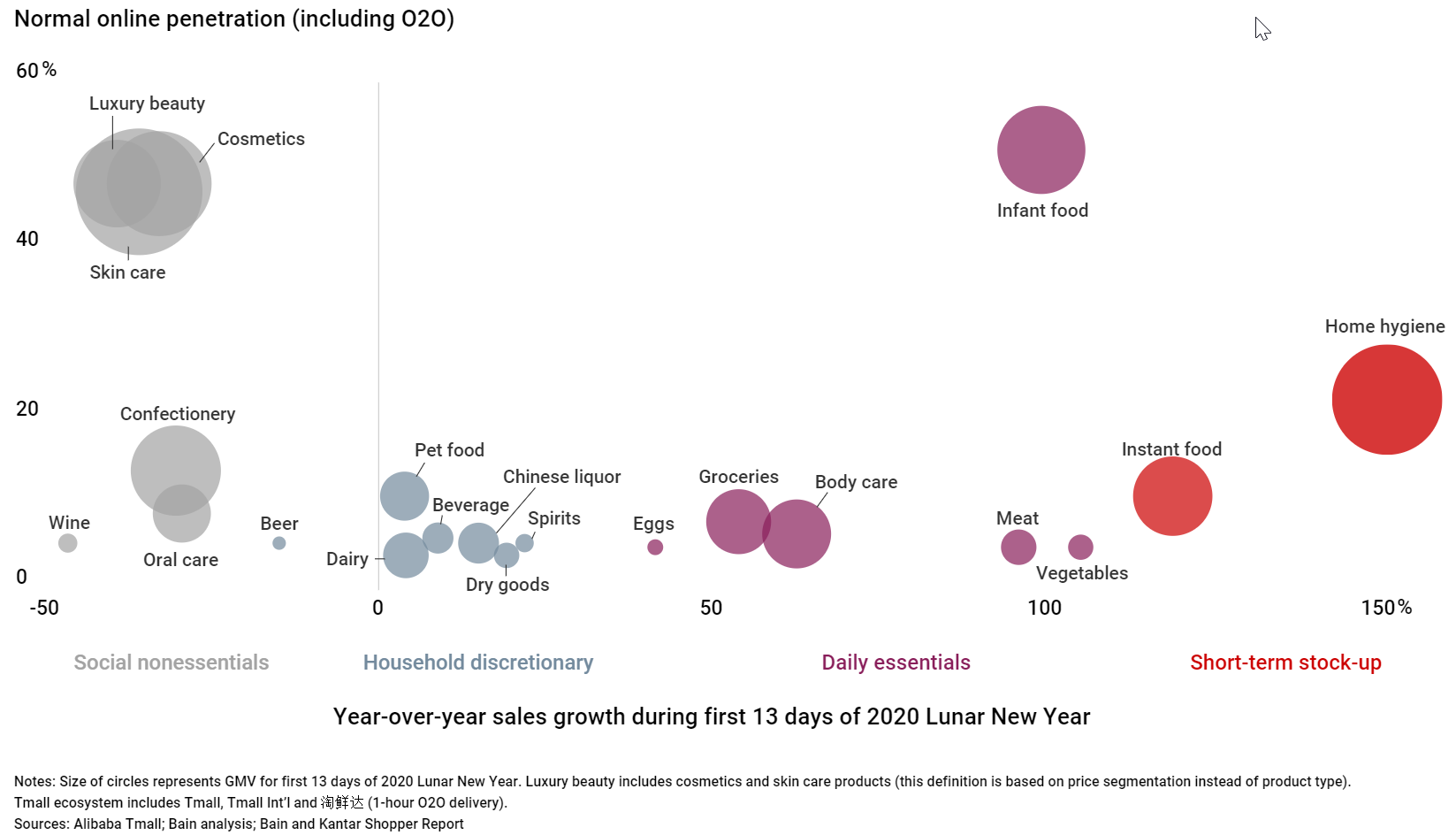 Outside food and drug, all the other retail sectors in effected areas will hit pause. In the United States, several retail chains that were already struggling prior to the health crisis, may end up shutting their doors.
Retail is not going of business, but a new normal will emerge. Health & wellness basics will increase in importance. We will accelerate towards the digital transformation outlined in the last article Welcome to the $30 Trillion Global Future of Retail.
The Economic Scenarios Ahead
Economists are still struggling to model what happens post COVID-19. In their latest briefing dated March 16, McKinsey offers up two scenarios.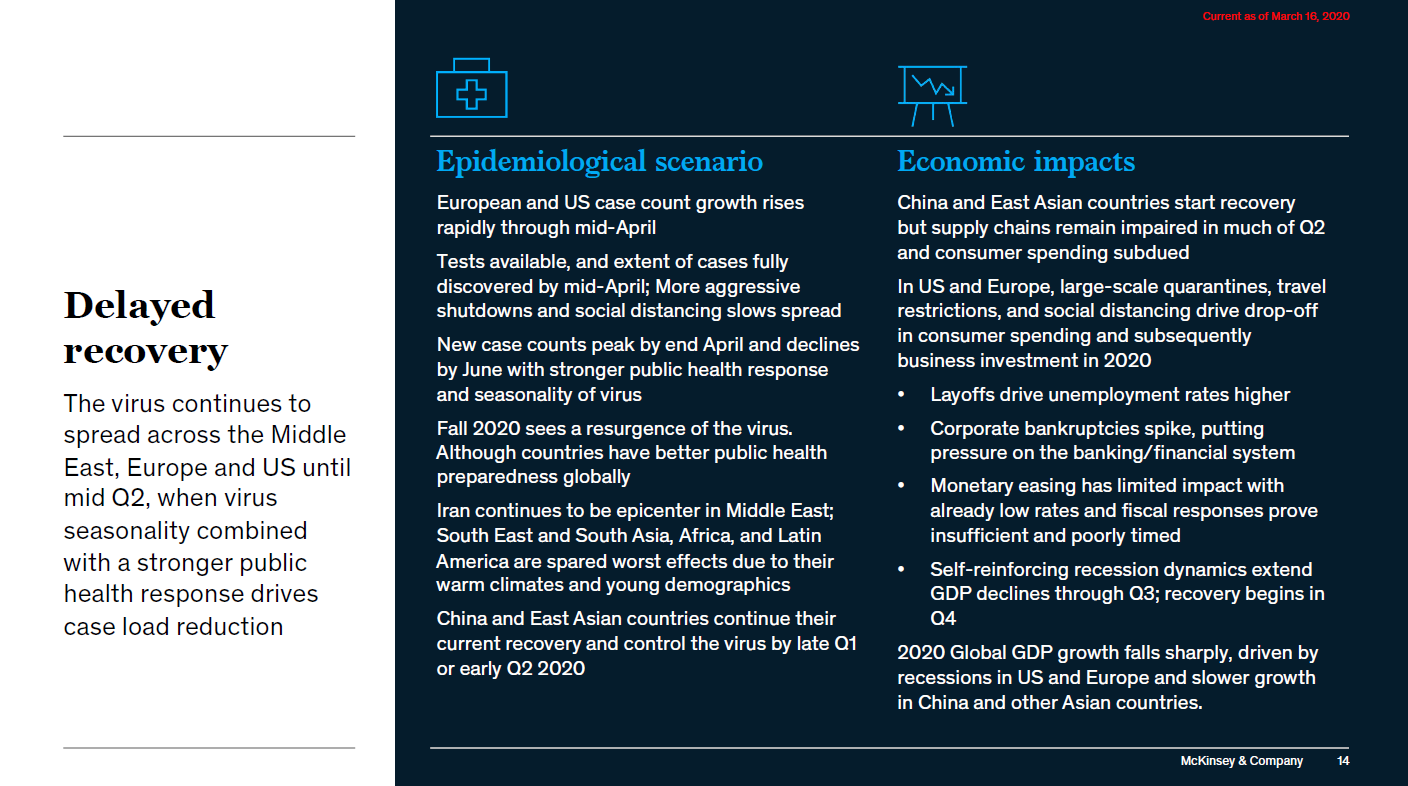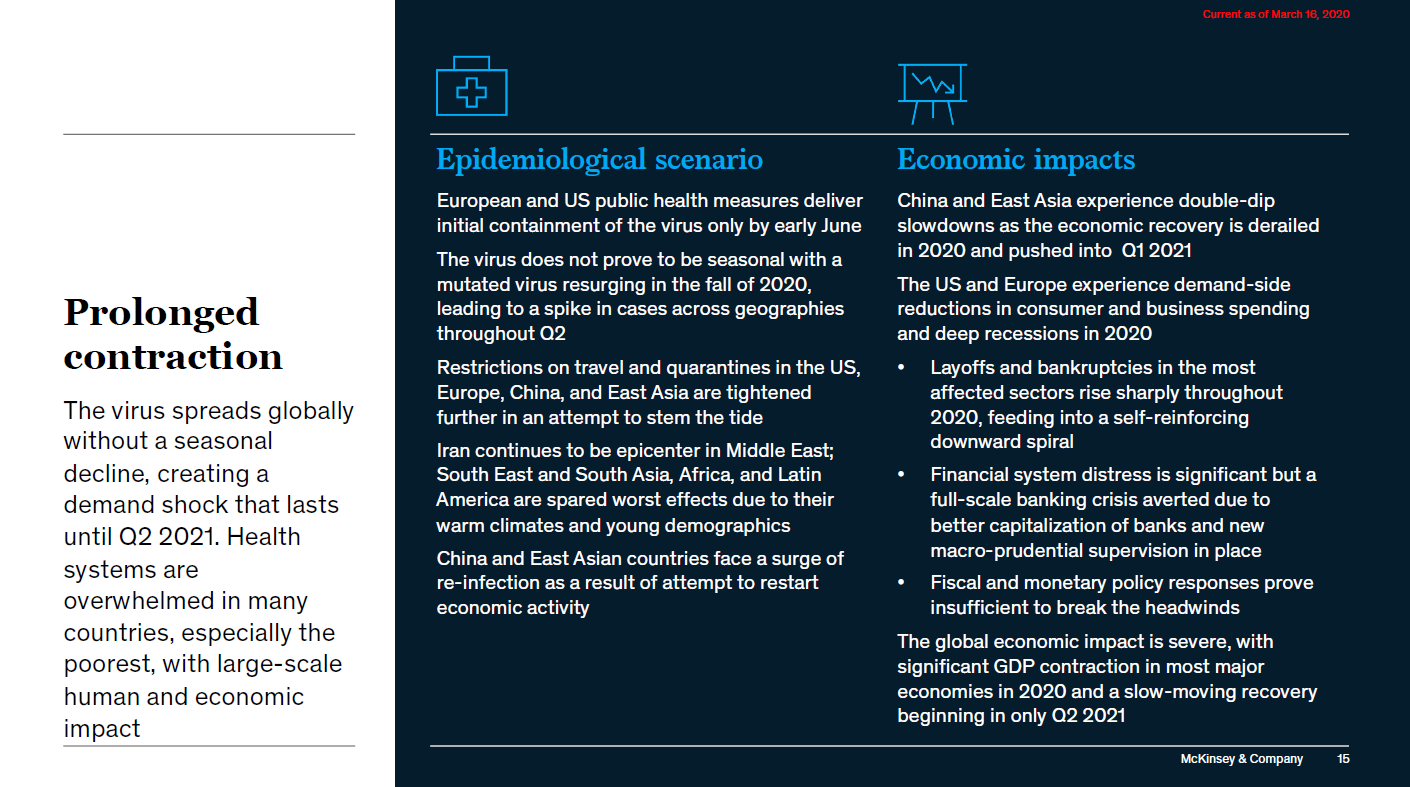 Short term, we are in unchartered times. "Analysts currently expect to see a negative impact on all sectors of the economy, from bottlenecks in logistics and plant shutdowns to downturns in business investments and consumer spending."
Roland Berger analyzed three scenarios: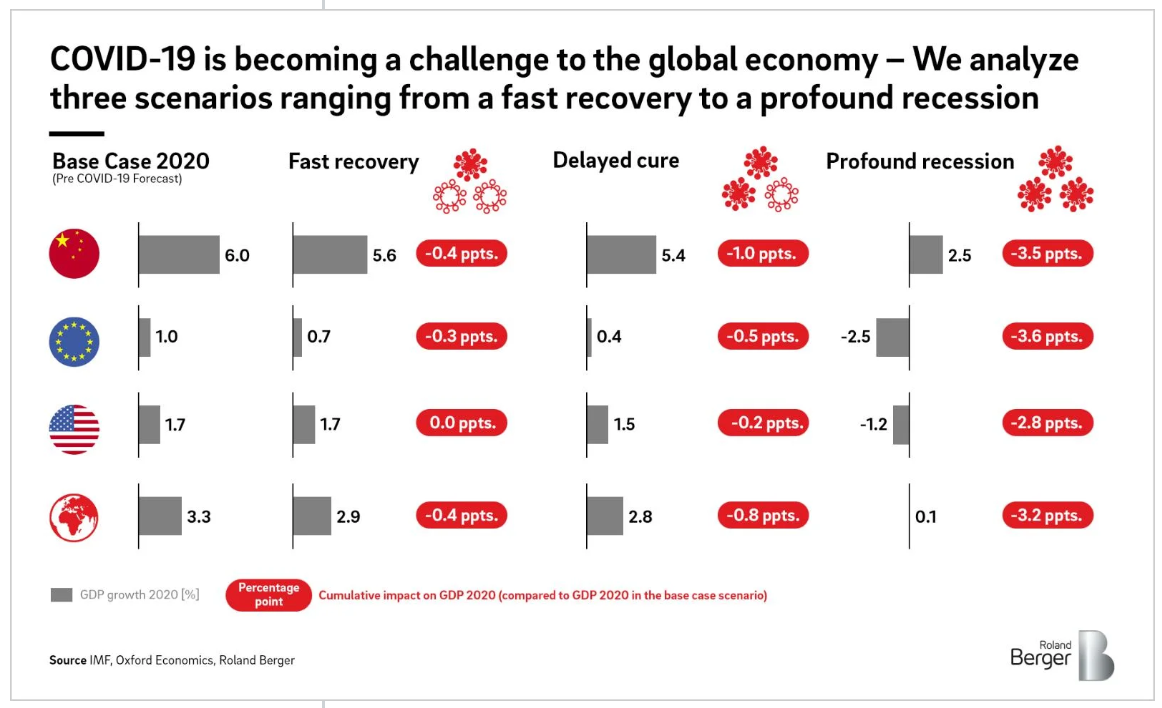 The end of this health crisis may be uncertain, but as discussed in a previous Coronavirus article, there are multiple historical examples to eventual recovery and stabilization.
The Unforeseen New 'Normal'
"A major coronavirus pandemic may mean social consequences we never foresaw and painful shifts away from economic models on which many jobs depend – on top of the deaths and suffering the virus itself will bring. But this crisis could end up being less like the banking crash and more like a war, an event throwing everything high enough into the air that some of it never returns to Earth."
Welcome to telework and the end of having to go the office on a daily basis. New tools to both monitor employees and make it easier to work from home will mean the end of the aspired physical corner office.
Digital models are overdue for higher education to reduce cost and improve delivery.
Royal Caribbean was scheduled to launch the Symphony of the Sea this year carrying 6,680 passengers. COVID-19 was a reminder of the petri dish danger of these floating mini-cities.
Much louder in 2019 were calls to decrease over-tourism to trendy locations. What is really meaningful to be on your life bucket list?
Flight shaming became popular in several European countries last year. For business, how many actual flights do we need to take versus leveraging digital communication tools? Check out the continuously decreasing value of that loyalty program you may be chasing.
Trade show attendance continues to decline and the model needs major reinvention.
Both governments and companies will reassess distant supply chains, especially for critical products required during a crisis. Robotics will accelerate near-shoring manufacturing.
Universal has just decided to release movies that are in theaters directly online during the crisis. Do we need movie theaters?
Think of all devices that you touch every day from your phone, ATMs, credit card readers, self-checkout terminals, airport kiosks, and gas stations pumps. How do we step up conversational commerce and contactless solutions for several of these?
As China has already demonstrated, ecommerce will get a major boost out of this crisis, along with increased adoption of cashier-less stores. Physical stores are not going away, but COVID-19 means they need to accelerate their harmonized across channels digital transformation.
The loss of life because of the Coronavirus is painful and for me personally, it has hit very close to my Italian home.
For all of us, this crisis is a once in a lifetime moment for reinvention and discovering the next set of transformational professional growth models. Take the time to prepare for the worst and concurrently strategically plan for your future personal best.