"Your time is limited, so don't waste it living someone else's life. Don't be trapped by dogma - which is living with the results of other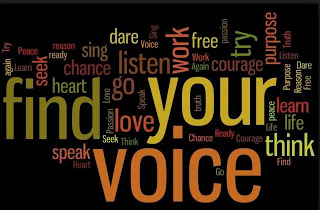 people's thinking. Don't let the noise of others' opinions drown out your inner voice. And most important, have the courage to follow your heart and intuition." - Steve Jobs
According to a just published study by the Center for Economic Performance at the London School of Economics, human happiness peaks at age 23, hits its low point at
age 55, and then peaks again at age 69. Hannes Schwandt of Princeton University who led the research said "the findings make sense to me", because
"at 23 you are... confident your future includes great riches and fame, a lovely wife and a perfect family and home. As you move along, though, it doesn't take long for the disappointments to begin piling up...And then you are 50. Good God, a half century?... Your mistakes and regrets come into sharp focus...You worry about the future more than you ever have."

From personal experience, there are a couple of voices that determine our levels of happiness at any age.
Your inner voice - The silent thoughts that swirl in your mind every day are the fuel to success.
Your outer voice - The cliché "action speaks louder than words" is true. What they do not say is that those actions are typically shaped by our inner thoughts. In other words, the fuel we put in our mind reflects externally to the world when we speak and take action.
It is not what age you are today that determines happiness. It is not age 23, age 55, or age 69 that pre-disposes whether you are at your peak or low point in your life's journey. Your inner voice and more importantly how you respond to what it is telling you are THE elements that determine current and future success.
The keys to your inner voice include:
The fuel you put into it. - Are you feeding your mind with worry about the future, resentment of work, family issues, unrealistic daydreaming? Make the time to leverage our great age when information is indeed at your fingertips to feed your mind the content that fuels your passions.
Taking action from the signals being provided by your inner voice. - Listening to your inner voice and not taking the positive actions from the inputs is also a recipe for failure, more resentment and disappointments in your life.
My inner voice was very active this past weekend. Having come off a great family vacation where less attention was paid to the everyday noise of rushing through life was a great reminder that this is probably the happiest time of my life.
The top three elements that have contributed to my own personal positive life's journey to date:
Plan the journey - About three years ago decided to take a more active role in planning my life in multiple horizons: one year, three years, and five years. Asked the very simple question of where did I want to be at the end of each of the time horizons?
Change the fuel - An important wake up call in the same time frame led to heavy reflection on what fuel was feeding my personal and business acumen. The conclusion was a dramatic shift in the fuel feeding my inner voice.
Find the positive outlets to express your inner voice - Focus on family, personal brand, and professional performance were strategies adopted several years ago. Having active Plan A, B, and Plan C were additional steps to ensure a positive future.
There will be ups and downs at every age. With the right plan, positive fuel inputs, and outlets that make your passions shine, you will be in control.
In his 2005 Stanford Commencement address quoted at the opening of this post, Steve Jobs was channeling his inner voice. Re-read his comments and this time focus on the last two sentences originally omitted:
"Your time is limited, so don't waste it living someone else's life. Don't be trapped by dogma — which is living with the results of other people's thinking. Don't let the noise of others' opinions drown out your own inner voice. And most important, have the courage to follow your heart and intuition. They somehow already know what you truly want to become. Everything else is secondary." - Steve Jobs

Image from http://ow.ly/nC7r9