Loss Prevention Research Council Weekly Series - Episode 74 - Online / Ecommerce trends and Ten Touchless Retail Trends for 2021
With Dr. Read Hayes, Tony D'Onofrio, and Tom Meehan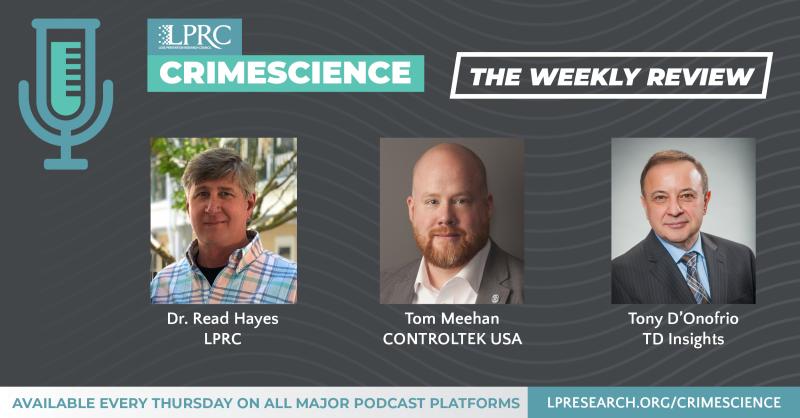 Listen
What Happens on the Internet Every Minute in 2021?
https://www.weforum.org/agenda/2021/08/one-minute-internet-web-social-media-technology-online/
From the World Economic and Statista, here is what happens on the Internet every minute in 2021
28,000 subscribers watching Netflix
695,000 stories shared on Instagram
9100+ connections made on Linked-in
69 million text messages are sent
5000 downloads of TikTok
6 million dollars spent shopping online
Nearly 198 million emails are sent
500 hours of content are uploaded on YouTube
That's an amazing amount of information that is uploaded and reminds me of the stat that more data has been created in the last two years, than the entire previous history combined.
Where is E-commerce growing the fastest
https://www.statista.com/chart/22729/e-commerce-sales-growth-by-region/
From Statista, some interesting statistics on the growth of e-commerce by region.
World wide E-commerce will grow 47% to nearly $4.2 trillion by 2025
Asia will have the fastest growth at 51% to nearly $2.6 trillion.
China in Asia was the world largest e-commerce market in 2020 at $1.3 Trillion and will grow 49% to nearly $2 trillion by 2025.
North America was only a $588 billion ecommerce market in 2020 and will grow 35% to $795 billion by 2020. Europe was even smaller at $460 billion and will grow 42% to $656 billion by 2025.
Both North America and Europe are below the growth average for the world at 47% to 2025.
Where is Pasta Always on the Menu
https://www.statista.com/chart/19776/gcs-pasta-consumption/
Can you guess the number one country which regularly ate pasta in 2021 and at what level?
Italy at 86%
France at 80%
UK at 72%
USA at 62%
Germany at 61%
10 Touchless Trends to Watch in Retail in 2021
https://www.ihlservices.com/product/top10touchlesstrends/
From the IHL Research Services Group, here is their list of the top 10 touchless trends to watch in 2021
Optimizing Customer Journeys – Margin points losses for retailers' range anywhere from 4.2% to 8.2% for all those new services such as Buy Online Pick-up in Store or Local Delivery from Store. Lots more focus needed to offset these expenses with technologies.
Simplified Checkouts – Retailers that had self-checkout installed saw sales increases that were 18% higher than average for 2020. In Food, Drug, and Mass Merchants, for the next two years, self-checkout deployments will grow 178%, consumer mobile checkout will grow 300%, and contactless payments will grow 190%.
Electronic Shelf Labels – Public companies plan to expand their installs of electronic shelf labels by 600%.
Pickup Lockers – Customers who picked up their purchases from a pickup tower rated their overall customer experience 25% higher than when the pickup required human intervention.
Associate / Manager Mobile – Mobile devices are already in the hands of managers for 32% of food, drug, C-stores, and Mass Merch; 43% of General Merchandise retailers, and 39% of hospitality. All will be over 50%+ adoption in next twelve months. 18% of food drug, C-store, and mass merch store associates carry store provided mobile devices. For GMS its an amazing 40% and for hospitality its 21%.
2nd Location in Store – Second location in-store for micro fulfillment will grow 700% over next two years.
Dark Stores – To fulfill online orders only will grow 966% over next two years.
Voice Picking – Retail winners defined as growing 15%+ the previous year are 214% more likely to invest in voice recognition tech for order picking and / or inventory.
Optimized Inventory – The problem of inventory distortion globally is an amazing $1.8 trillion. 81% of the problem is out-of-stocks and 19% is overstocks.
New Tech Architecture – Edge architecture is critical to optimizing all those new retail journeys. Edge computing will grow 533% next two years. Microservices architecture will grow 208% over next two years.