Loss Prevention Research Council Weekly Series - Episode 73 - Country with most people behind bars and Ten Brands Founded 10 Years Ago
With Dr. Read Hayes, Tony D'Onofrio, and Tom Meehan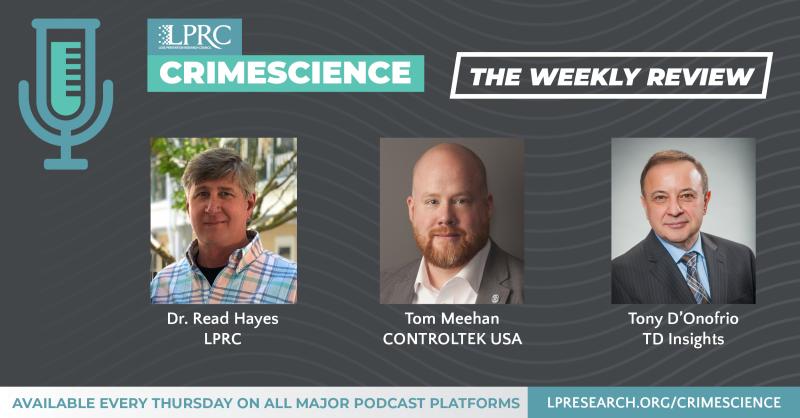 Listen
The World Behind Bars
https://www.statista.com/chart/25644/prison-population-by-100000-residents/
According to Statista, as of August 27, here are the top 5 five countries with the most people behind bars per 100,000 of national population. Number one is the United States which has 639 people per 100,000 in population behind bars. Number 2 is El Salvador at 564. Number three is Turkmenistan at 552, Number 4 is Rwanda at 545. And Number is Cuba at 510 per 100,000 in population. I was and was not surprised that USA leads this list.
Ten Brands Founded 10 years Ago in USA and How they have Succeed
https://nrf.com/blog/ten-brands-founded-10-years-ago-and-how-theyve-succeeded
NRF just published a list of ten USA brands that were founded ten years ago in 2011 and provided some insights on why they succeeded. Sharing this as these companies have lessons for all other retailers.
Making NRF's list of 10 companies and their key strategies are:
BHLDN – Pronounced beholden, this company focuses on the bridal market and is part of the Urban Outfitters and Anthropologie family. Company was able to leverage the sibling companies acquisition costs.
Chewy – Created an efficient replenishment experience for pet food and supplemented it with pet today to increase margins and offset high shipping costs for that 60-pound bag of dog food.
Hello Fresh – The meal delivery sector is expected to more than double to $27 billion by 2028. The pandemic helped but more competition is coming from Amazon and others.
The Honest Company – Sells eco-friendly personal care products. Having actor Jessica Alba as cofounder helped. Sales rose to over $300 million in 2020.
ILIA Beauty – Provides cosmetics with both organic and non-toxic synthetics. ILIA allows customers to send up to five empty beauty product packages each month – its own and other – which it will responsibly break down.
Poshmark which is a social re-commerce marketplace. More than a third of buyers are also sellers on the platform, facilitating the whole sell to buy flywheel.
Stitch-Fix – By collecting data on its users preferences, Stitch fix's team of more than 100 data scientists match customers with their preferences.
The Real Real – This is mostly a digital marketplace which also operates 10 physical stores of authenticated pre-owned luxury goods.
UNTUCKit – A digital company that has now expanded to more that 80 brick and mortar stores selling casual shirts that are untucked.
Warby Parker – This company highly disrupted the highly consolidated eyeglass market and recently went public.
The common characteristics that allowed these 10 companies to survive 10 years, according to NRF are: They were not afraid to be the David's against the big Goliath companies; They focused on digital and direct to consumer; They also added physical stores to reduce cost; they are highly focused on their business model; they leverage social media; they intensively use data to serve their customers; and they target high frequency purchases.
The Impact of the Delta Variant on Consumer Shopping Trends
https://www.morningbrew.com/retail/issues/2021/08/30?email=%7B%7Bprofile.email%7D%7D
A year into the pandemic, and just as vaccines were rolling out in March, we (Retail Brew) wanted to know how people's shopping habits changed and what would stick in the After Times. For one, most Americans we surveyed with Harris Poll said they would prefer to shop in person.
Now, with the rise of the Delta variant, we wanted to see if the optimism is still there. So, we (Retail Brew) teamed up with Harris Poll again to run an exclusive, representative survey of 2,046 US adults.
IRL's return
Brick and mortar's comeback has been sustained, and is projected to increase whenever the pandemic wanes: 71% of Americans shop in person at least once a week. That figure was 70% when we asked in March.
63% of respondents will do most of the shopping in person a year from now, compared with 37% who said online. The split was 43% in person and 24% for online in our previous survey.
25% of Americans said they now make big ticket purchases in person, compared with 18% when asked the same question a few months ago. However, that figure jumps to 66% when people were asked about a year from now.
The Delta variant could stymie traffic to malls and department stores—as less than half (43%) of shoppers surveyed go to those locations. But that's up from 32% in March.
Stocked up
We all remember the great toilet paper craze of 2020. Well, it seems consumers are still stockpiling the essentials, albeit to a lesser extent.
Three out of four Americans reported stockpiling toilet paper at the outset of the pandemic, and the figure was still as high as 69% last month. Slightly more respondents (63%) said they stockpiled water last month, compared with the beginning of the pandemic (61%).
76% of shoppers loaded up on cleaning supplies last year, compared with 63% in July.
Despite elevatedmeat prices, 46% of Americans said they stockpiled meat last month, compared with 39% at the start of the pandemic.
Is the price right? Nearly half of Americans (47%) say they are much or somewhat more sensitive to prices because of the pandemic.
And there's a generational divide: 47% of Boomers say they're at least somewhat more sensitive compared with 37% of millennials.
The summary from this this week is that USA continues to have very high levels of incarceration. It's always a good time to launch a new retailer and the top 10 from NRF this week confirms that there is lots of innovation still taking place in the industry. Winners start with good ideas. Consumer changes continue because of the pandemic, but physical stores are back and they will continue to be a very important component of the retail success mix.