Loss Prevention Research Council Weekly Series - Episode 71 - Amazon Opening Dept Stores and the REAL USA Retail Shakeout
With Dr. Read Hayes, Tony D'Onofrio, and Tom Meehan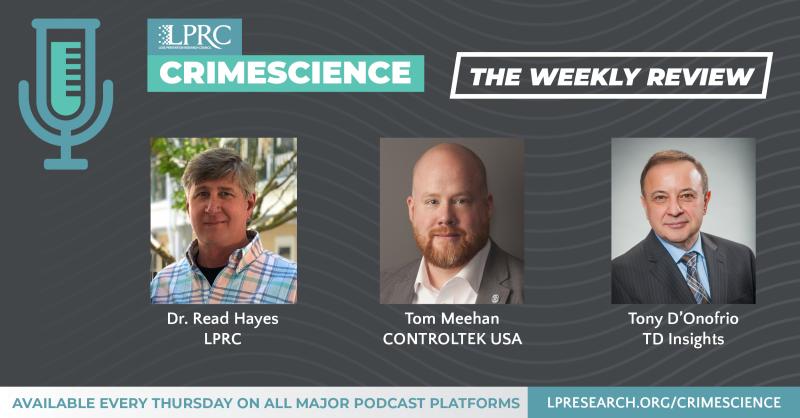 Listen
USA Retail Sales
https://www.wsj.com/articles/us-economy-july-2021-retail-sales-delta-variant-11629153243
The headline last week from many publications was that retail sales were down for July in USA. The Wall Street Journal said US retail sales fell 1.1% in July as spending fell across categories. In their analysis, US retail sales fell sharply amid cooling purchases of goods and some signs of pullback in consumer demand as COVID-19 cases tied to the Delta variant rose.
As the IHL Group who tracks retail very closely pointed out in an interesting social media post, you need to look behind the top level to see what is really happening to retail industry. Their analysis in core retail sectors, excluding auto which include, food, drug, mass merchandise, warehouse clubs, department stores, specialty soft goods, specialty hard goods, convenience and gas, restaurants, and pure-play online has retail sales growing in July 15.9%. Slowest growth in July comparing it to June was in food which is leveling off its pandemic spikes, and surprisingly pure play online non-store sales. Food grew 2.9% and non-store pure play grew 3.7%. Fastest growth for July versus June was in specialty soft goods which was up 45.8% and restaurants which was up 40.7%.
Looking at the July year to date retail sales date, the news is even better for sectors that struggled through the pandemic. Specialty soft goods which includes apparel grew 70%. Convenience and gas grew 31.6%, restaurants grew 30.5%. Even struggling department stores through the first seven months of the year grew sales 21%.
Year to date for 2021 through July overall USA retail sales in the key sectors are up18.8% and excluding pure play online, retail sales grew 19.2%.
Above data is another reaffirmation on the importance of the physical stores in the mix of omnichannel retail strategies.
Amazon Reportedly Planning to Open Department Stores
https://www.theguardian.com/technology/2021/aug/19/amazon-open-department-stores
If you need further proof of the importance of physical stores, look no further than the headline from the Guardian this week that Amazon reportedly is planning to open department stores.
The company's latest move to bricks and mortar, first reported by the Wall Street Journal, comes after Amazon earlier this week eclipsed even Walmart in overall sales to become the world's largest retail seller outside China.
With the opening of Amazon department stores, the strategy is set to expand to sales of Amazon's private-label clothing, household items and electronics as well as independent brands. According to Wells Fargo Amazon is already the largest seller of clothing in the US.
But clothing is a notoriously difficult business to succeed at online, with customers only able to guess at fit and quality, and plagued by high rates of returns. At the same time, many fashion brands have resisted Amazon's approaches, preferring to maintain their own pricing, distribution and image-management.
According to the Journal, some of the first Amazon department stores are expected to be located in Ohio and California. The retail spaces will be a relatively modest in department store terms of around 30,000 sq ft, matching scaled-down formats that existing department store chains, Bloomingdale's Nordstrom, have developed.
Retail Shakeout and Growth Story
https://www.ihlservices.com/product/retailshakeoutwebinar/
This past week, the IHL group also hosted a great webinar summarizing the latest on store openings and closings in USA.
Summarizing their key findings:
Retail as an industry continues to evolve, but chain retail continues to be strong. In the last five years the number of net stores decreased just over 6.000, but the number of restaurants increased just over 8,000 for chains with 50+ stores.
Since January 1, 2017, total USA retail sales increased 16.1% (3.8% CAGR)
The number of chains adding stores increased 66% in 2021
The number of chains closing stores decreased 67%.
For every chain closing stores, 4.3 chains are opening stores.
In key retail sectors that I mentioned earlier in this recording, for 2021, USA retailers opened a new positive 4,361 stores. Largest openings were mass merchandisers opening 1,727 stores followed by restaurants opening a net 1,572 locations. Net negative openings were in specialty soft goods at minus 652 stores and department stores at minus 120 stores. Every other sector opened more stores that it closed.
Retail store growth is accelerating. Labor, product and chip shortages are current major constraints. Small retailers / restaurants are recovering. Chain store retailing has mostly right sized. IHL reports that department stores and specialty soft goods are the two sectors still over stored.
Their study concludes that the wild retail ride is not over yet as shortages will extend into mid-2022. I can personally attest to this, I ordered various amounts of furniture with some a month or so ago and it will not arrive until the end of the year and some early into next year.
In closing, would encourage this audience to check out my latest article on all my social media platforms which summarizes the key economic and retail forecast for the second half of 2021 and summarizes the four key retail trends to watch for success into the holidays.
Welcome to a growing future of retail.