Loss Prevention Research Council Weekly Series - Episode 54 - Innovation, Cybercrime, and Retail Robotics
With Dr. Read Hayes, Tony D'Onofrio, and Tom Meehan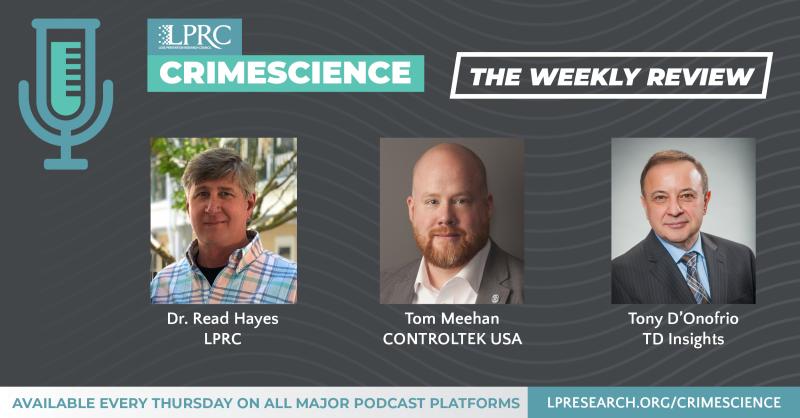 Listen
From Statista and the Boston Consulting Group, the top 10 innovative companies.
https://www.statista.com/chart/24645/ranking-of-the-most-innovative-companies-over-time/
Interesting comparison between 2005 to 2021.
In 2005, the top ten ranked from number 1 to number 10 were: Apple, 3M, General Electric, Microsoft, Sony, Dell, IBM, Google, Nokia, and Procter & Gamble.
In 2021, the top 10 innovative companies are Apple, Google, Amazon, Microsoft, Tesla, Samsung, IBM, Huawei, Sony, and Pfizer.
The COVID-19 pandemic has without a doubt demonstrated the importance of innovation in turbulent times. Note Pfizer coming into top 10.
The research also highlighted that the most innovative companies today are coming from USA and China. As I have said in my podcasts and blogs, if you want to understand the future of retail, look to China which on multiple fronts is the laboratory where the industry will go next.
From Statista and the FBI, here are the top five most common types of cybercrime in USA and the number of people who fell victims to them in 2020
https://www.statista.com/chart/24593/most-common-types-of-cyber-crime/
No.1 Phishing, Vishing, and Smishing with over 240,000 people who fell victim to this in 2020.
No.2 Non-payment / non-delivery – Nearly 110,000 victims
No.3 Extortion – Over 75,000 victims
No.4 Personal Data Breach – Over 45,000 Victims
No.5 Identity Theft – Over 43,000 victims
This is one of the items covered extensively on this podcast, especially by Tom. Would encourage our listeners to follow us as cyber crime can be very painful.
From Statista and Eurostat great data on which countries in the European Union are making strides with artificial intelligence.
https://www.statista.com/chart/24614/share-of-enterprises-using-artificial-intelligence-in-the-eu/
The number 1 country is Ireland with 23% of enterprises using artificial intelligence
No. 2 is Malta with 19% of enterprises using AI
No.3 is Finland at 12%
No.4 is Denmark at 11%
Tied for No. 5 at 9% of enterprises using AI are Spain, Lithuania, Portugal and Sweden.
Note the leadership of Scandinavia in the top 5 with Finland, Denmark, and Sweden having higher percentages.
AI is becoming critical in all industries including retail and great to see my fellow Europeans stepping up to this. Congratulations to Ireland at being number 1. Guess the luck of the Irish is with you.
In support of Read and his updates on COVID-19, let me go back to Europe and list top five countries making the most progress in curbing the pandemic from Statista
https://www.statista.com/chart/24617/7-day-incidence-rate-european-countries/
No.1 is the UK whose 7 day average of new COVID-19 cases per 100,000 inhabitants as of April 13 is an amazing low number of 16.8. It is amazing progress when you consider that in January, the UK had one of the highest death rates in the world.
No. 2 is Spain with 125.1 people 7-day average per 100,000 inhabitants
No.3 is Germany with 146.2
No.4 is Italy with 167.1
No.5 is Switzerland with 206.7 cases per 100,000 people.
Sweden which experimented with no restrictions early in the pandemic to get the population to herd immunity quicker has a much higher rate of 427.6 cases per 100,000 inhabitants.
Finally, I just published a blog on robotics and their growth in retail. This was after seeing multiple headlines just in the last couple of weeks such as:
>> Domino's testing pizza delivery by self-driving robot car in Houston'
>> Chick-fil-A tests robot delivery in Southern California
>> Kroger is Amassing a Robot Army to Battle Amazon, Walmart
>> Save Mart kicks off pilot of shelf-scanning robots
>> Gap rushes in more robots to warehouses to solve virus disruption
>> Alibaba Group Xiomanlv delivery robots hit Chinese Universities
>> Your Drone-Delivered Coffee is (Almost) Here
COVID-19 became a brutal accelerator of many digital trends, including the adoption of robotics. A key focus area that is getting a lot of attention is the delivery at the last mile.
Worldwide retail ecommerce in 2020 increased 27,6% with sales crossing $4 trillion. By 2025, ecommerce will reach 6.4 trillion worldwide or nearly 22% of total retail sales.
Data from the IHL Group find that the highest margin loss for retailers when customer journeys are not optimized is with local delivery from store. Retailers lose 8.2% percentage points in margin with this service. It's no wonder they are looking to robots to help with the last mile.
Research published in Retail Wire indicates that 63% of retailers say the pandemic has led to a moderate or sharp increase in robotics usage in warehouses and distribution centers; 42% state the same for stores.
The top retail applications projected are scanning shelves for stock-outs at 59%, order picking at 47%, moving product loads from backroom onto the sales floor at 35%, pricing accuracy checks at 35%, floor cleaning at 21%, and planogram compliance at 21%.
While I agree with multiple of the above applications, as the ecommerce innovation journey in 2020 and the Walmart example discussed above confirm, there is no one solution to the problems that retailers are currently facing. Robots and other autonomous technologies are feeding the drive to contactless commerce that has been underway for some time. Focusing those roaming robots on that very important last mile is an excellent start.
Summarizing this week:
As demonstrated by the top 10 innovation companies, innovation is transformational. Just look at the valuation of Apple, Google and Amazon today.
It's important we stay vigilant online to stay protected from cyber crime.
AI is driving companies and just look at where Ireland is already.
The pandemic is still with us, but countries such as UK and even USA have made great progress.
The accelerated rise of the retail machines which is the title of my new blog means robots will keep invading a store near year.
Stay close to these podcasts to learn more on how LPRC can help you lead the digital transformation ahead.
Touchless Technology is Increasing and BOPUS is Increasing! In this week's episode, our co-hosts discuss these topics and more, including a Vaccine Distribution is Paused, Israel is Leading in Citizens Vaccinated, FusionNet Updates from Minnesota, and Weather is a Major Player in Protest Attendance. Listen in to stay updated on hot topics in the industry and more!