Loss Prevention Research Council Weekly Series -Episode 53 - Pandemic Leaders and Retail Frictionless Future
With Dr. Read Hayes, Tony D'Onofrio, and Tom Meehan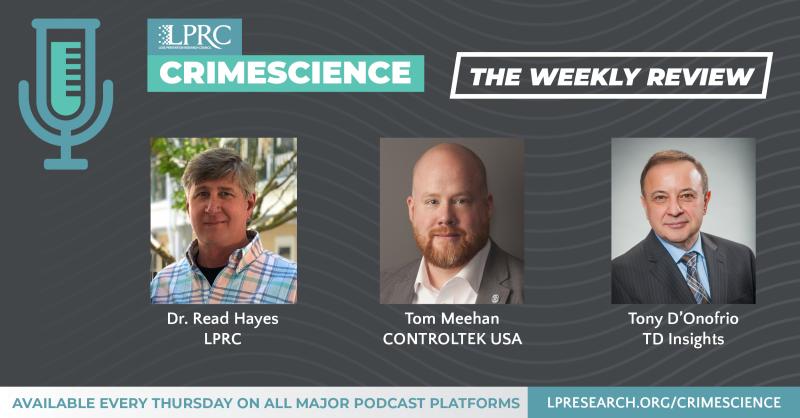 Listen
EU Vaccine Rollout Severely Lags Behind – From Statista
https://www.statista.com/chart/24471/covid-19-vaccine-doses-per-100-people/
Ridden with supply issues, safety concerns surrounding the AstraZeneca vaccine and, some say, an abundance of bureaucracy, the European Union has fallen way behind in the global race to mass inoculation. According to official numbers tracked by Our World in Data, the European Union had administered 18 vaccine doses per 100 people as of April 5. The recently divorced United Kingdom has already given 55 jabs per 100 people, while the U.S. currently stands at 50 doses per 100 inhabitants.
The COVID-19 Vaccination Race
https://www.statista.com/chart/23833/covid-19-vaccination-doses-per-100-people/
Who's winning the vaccination race?
Up to April 10, Israel administered 118.21 doses per 100 of its citizens, some 10 million in total. That is the highest rate of Covid-19 vaccination so far, more than second-placed UAE's 90.74 doses per 100 inhabitants and Chile's 62.76 doses per 100 of its citizens. In the United States, the rate of vaccination stands at 54.86 jabs for every 100 people.
Employers Are Urging, but Not Mandating Vaccines
https://chiefexecutive.net/employers-are-urging-but-not-mandating-vaccines/
U.S. companies are promoting vaccination to employees, making it more accessible and, in some cases, offering incentives to get inoculated, but very few will require proof of vaccination to return to work, according to a new Willis Towers Watson survey.
The Emerging Trends in Health Care Survey conducted earlier this month found more than eight in 10 employers (84%) agree immunization of the population will allow the country to reactivate the economy, and 80% of employers say it will allow them to move to a new normal in terms of returning to the workplace.
More than three-quarters of companies said they are either currently helping, or planning to help, employees get the vaccine.
Retail Frictionless Future
https://www.ihlservices.com/product/retails-frictionless-future/
Even prior to the COVID-19 global pandemic, retailers were already moving to a future with less friction. While there are already several small format stores that are fully frictionless, for most retail environments the future involves a combination of technologies that remove friction from the purchase process, but are not completely automated.
For 2021, Retail Winners which are defined as retailers that grew 10%+ in 2020 are prioritizing deployment of touchless solutions, adding self-checkout or consumer app checkout instore, and refreshing POS infrastructure as the top 3 focus areas.
A technology that is getting a lot of attention this year is electronic shelf labels with research pointing out that public companies will expand installs by 600%.
More lockers and pickup towers are coming to your store near you. Research shows that using these technologies can improve the customer perception of the retailer's click and collect or buy online, pick up in store (BOPIS) process. In fact, previous IHL research found that customers that picked up their purchases from a pickup tower rated their overall customer experience 25% higher than when the pickup required human intervention.
Touchless technologies are having a positive impact on retailer financial results. As an example, retailers that had self-checkout installed saw sales increase that were 18% higher than the average in 2020.
Retail winners which are again are those that grew 10% plus in 2020 are spending even higher on touchless technologies. 843% for electronic shelf labels, 96% on self-checkout, 83% on mobile devices for managers, 65% on consumer mobile checkout, and 57% on contactless payments.
In the next two years, aggressive growth will take place with microservices architecture (+208%) and edge computing (+533%). A lot of money will also be spent on optimizing the new services retailers delivered during the pandemic such as BOPIS.
Summarizing this week:
Progress is being made in multiple countries in getting vaccines delivered. Fully expect the back end of this year to be very strong in retail, especially in countries such as USA and UK.
We will be dealing with some touchy issues of enforcement of vaccines that retailers will need to deal with.
The pandemic has accelerated technology trends that were already underway and touchless solutions are here to stay which means that more opportunities for theft are coming.
Changes are timely to what is happening with LPRC with the increased focus on advanced innovation with artificial intelligence.
Touchless Technology is Increasing and BOPIS is Increasing! In this week's episode, our co-hosts discuss these topics and more, including a Vaccine Distribution is Paused, Israel is Leading in Citizens Vaccinated, FusionNet Updates from Minnesota, and Weather is a Major Player in Protest Attendance. Listen in to stay updated on hot topics in the industry and more!