Loss Prevention Research Council Weekly Series - Episode 101 - Happiest Countries, Trends Reshaping Retail and USA Organized Retail Crime
With Dr. Read Hayes, Tony D'Onofrio, and Tom Meehan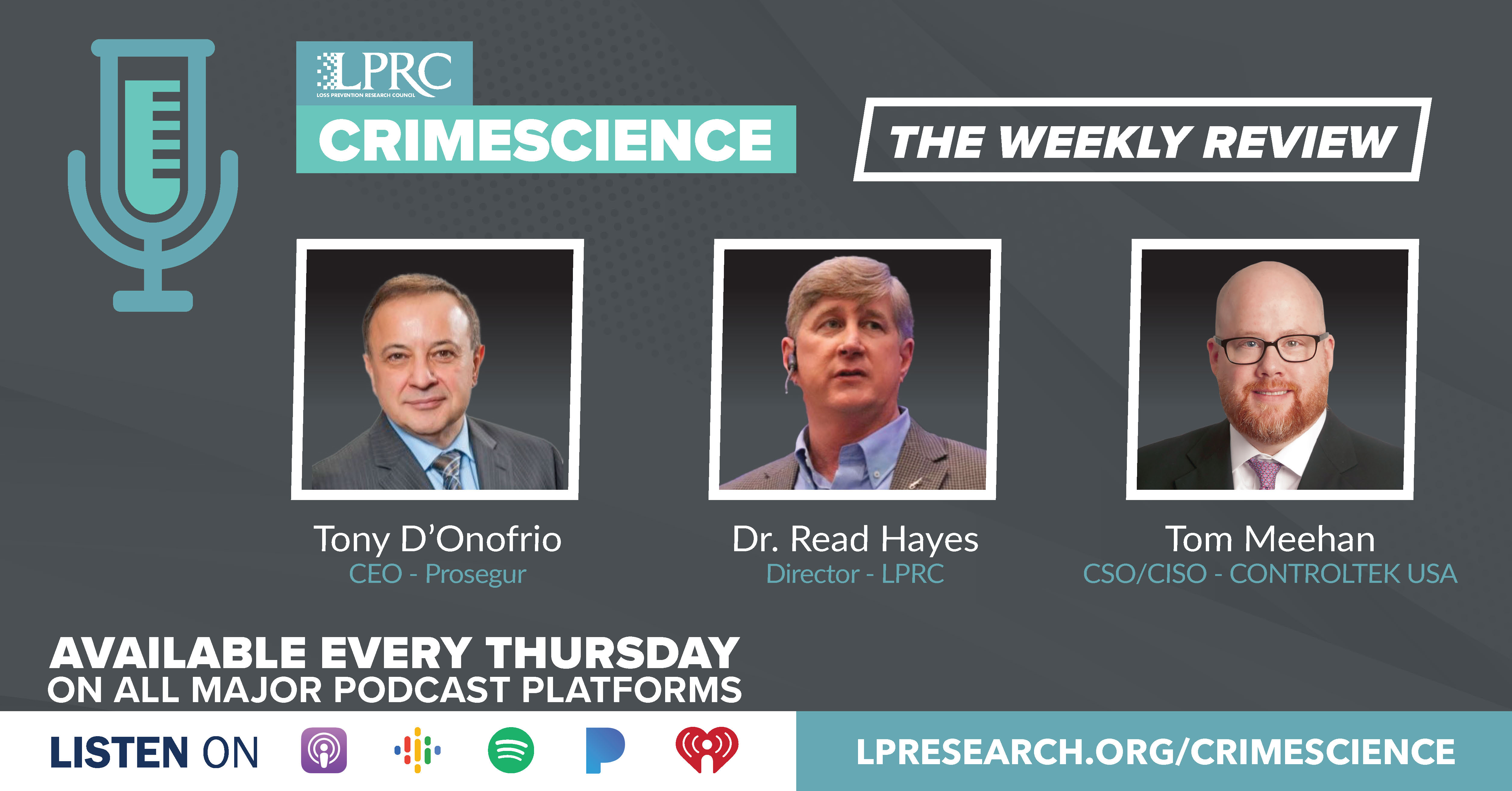 Listen
Mapped: Global Happiness Levels in 2022
https://www.visualcapitalist.com/mapped-global-happiness-levels-in-2022/
Let's start this week with recent published research from Visual Capitalist on the global happiness levels for 2022.
The report does a regression analysis to look at how happiness scores could be explained, by looking at tangible and intangible factors that could factor in Social support, Life expectancy, Freedom to make life choices, Generosity. GDP per capita, Perceptions of corruption, and Positive and negative effects.
Like last year, Canada ranks first as the happiest country in North America. However, it's lost some ground on the global ranking, placing 15th this year compared to 14th the year prior. In contrast, the U.S. climbed three places in this year's report and ranked just under Canada with a score of 6.97. The Dominican Republic comes in last place in North America.
In South America, Uruguay retains its top spot as the happiest. It continues to rank high on the list because of its high income per capita, relatively low levels of poverty, and strong middle class. In last year's World Happiness Report, Colombia was the most improved country in the region. But this year, it's dropped 14 places on the global ranking, making it the least improved country in this year's report.
In Europe, Finland is not only the happiest country, but it also takes the top spot as the happiest country in the world, for the fifth year in a row. Finland is one of five Nordic countries to place in the top 10. Denmark comes in second place, followed by Iceland in third. Romania was the most improved country in Europe, climbing 18 spots on the global ranking since last year's report.
In this year's report, China climbed 12 places on the global ranking, making it the most improved country in East Asia and Oceania. On the flipside, Thailand has improved the least in the region, likely because of the significant toll that COVID-19 had on the country's economy.
With a regional score of 4.5, Africa ranks as the unhappiest region worldwide. Zimbabwe remains the most unhappy country in the region, as it continues to struggle with high levels of poverty.
What's new in retail: Emerging Global Concepts
https://go.euromonitor.com/white-paper-retailing-220310-retailing_new_concepts.html
Euromonitor recently released a new research report titled 'what's new in retail: emerging global concepts.'
The report lists 10 competing forces reshaping retail and they are: accessibility vs exclusivity, choice vs curation, consumers vs companies, consumption vs minimalism, efficiency vs effectiveness, human vs bot, personalization vs privacy, physical vs virtual, retailers vs brands, and value vs values.
In our most recent survey of retail professionals, 96% point to digitization, 89% point to channel shifts, and 89% point to emerging retail changes as key trends that with will change the retail industry by 2025.
Three themes emerge from the trends expected to have the most influence near term.
RETHINKING THE STORE Creative brick-and-mortar concepts, including but not limited to store formats, displays, unattended commerce, collection services, checkout processes and new in-store services.
DIGITAL SHOPPING AND ENGAGEMENT Innovative online shopping concepts, including but not limited to improved digital shopping experiences, new apps or digital loyalty programmes, livestream shopping, last mile delivery and integration of new technologies like AR / VR.
SOCIAL AND ENVIRONMENTAL RESPONSIBILITY Retail concepts with a core social and / or environmental purpose, including but not limited to recycling and reselling, reducing use of plastic or other waste, transparency in the supply chain, services for underserved demographics and promotion of minority-owned businesses.
The top 3 store format changes in 2021 are devoting more space for digital fulfillment options (48%), shifting to or opening experiential formats (44%) and reducing instore inventory 31%.
The greatest impact of augmented reality and virtual reality in the next five years will be in enhancing the past to purchase (50%), creating a virtual showroom (49%), and purchase transactions 42%.
D&D Daily – Q4 and 2021 Organized Retail Crime Report
http://d-ddaily.com/archivesdaily/2021-Q4-ORC-Report.html
Let me conclude this week with the latest 2021 summary organized retail crime report from the D&D Daily.
Their analysis found that ORC cases were up 10% in 2021 over 2020 while dollar amounts dropped 34%. Average case value for 2021 was just over $145,000.
73% of the cases were theft shoplifting, followed 12% which were robberies / burglaries, 8% which was fraud, and 7% which was employee theft.
Hardware and clothing were the highest categories stolen by ORC both at 18%. Electronics was second at 17% and pharmacy / tobacco / marijuana followed at 12%.
By comparison in 2020, highest theft category was electronics at nearly 25% followed by clothing at nearly 19% and hardware at nearly 14%.
The top three states for ORC in 2021 were California, Florida, and Pennsylvania. The top three cities for ORC were Chicago, New York City, and San Francisco.
In closing a good place to learn more about fighting ORC is the LPRC so join us and help make the world safer.