By 2018, the smart home market will reach $71 billion, more than double the $33 billion in 2013. Eighty percent of the current market is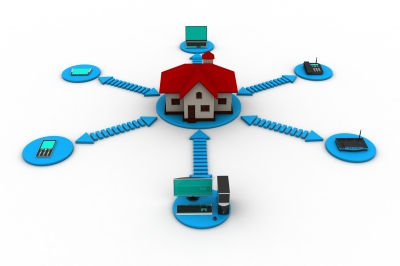 driven by entertainment. By 2020, other research points to a $1.7 billion market just for light controls and $1.4 billion for automated thermostats.
This month Time magazine dedicated their cover to a special report on "The Smarter Home". According to Time, the following companies will control your future smarter home:
Tech Titans
Apple - With iOS 8 this fall Apple will release the Apple Homekit. Say "bedtime" to Siri and your Philips internet bulb will turn off.
Google - Followed up $3.2 billion purchase of Next (smart thermostats / smoke detectors) with acquisition of Dropcam (web enabled security cameras.
General Electric - Has partnered with startup Quirky to crowdsource ideas for connected gadgets, like a tray that tells your smarphone that you are out of eggs.
Microsoft - The Xbox could be the entry point to home automation via software. Has partnered with Insteon which provides home automation services and apps for Windows and Windows phone.
The Telecom Masters

Verizon - Discontinued its do it yourself security and automation service in February.

A&T - Has a digital home service in most U.S. markets that lets you monitor security, energy use, and more from an app.

Comcast - Bundles security services with TV channels and is now rolling out Xfinity, a suite of tablet controlled home automation services.
The Startups
SmartThings - For $100, SmartThings provides a wi-fi enabled hub to connect products from a range of companies including Quirky, Jawbone, and Honeywell - all controlled with a single app.
Resolv - Has a retail partnership with Home Depot and offers a similar hub approach to SmartThings.
The Wild Cards
Security Specialists - ADT and Vivint are giving away home automation with touchscreen controls as an incentive for long term contracts.
Appliance Makers - LG, Samsung, Whirlpool, and others are adding connectivity to appliances.
Retailers - Lowe's offers Iris, a system that lets you control security cameras, light switches, locks, and other devices. Staples offers the same for offices.
For companies such as Google, the Smart Home is another surface on which to deliver content which for their business model often means targeted advertising. In a recent SEC filing, Google admitted that in a few years it could be serving ads and other content on refrigerators, car dashboards, thermostats, glasses, and watches. The Securities and Exchange Commission had asked Google to disclose the amount of revenue generated through mobile devices. Google responded that mobile is no longer just a smartphone.
According to a just published study that analyzed hundreds of millions of news, blog, forum, and social media posts from March through June 2014, the Smart Home is the most popular branch of the Internet of Things. Home automation accounted for 66% of the influence among the top 20 influencers. This new study concludes that despite strong brand recognition, no clear leader has emerged within the Internet of Things.
Technology disruption of legacy products is the clear trend emerging from the evolution of the Smart Home. Low cost sensors and the Internet are leading to new innovative solutions. Every traditional business model is at risk. Which companies will control the Smart Home? The winner may not be on this list.