"Technology will be your canvas and how you shape your work of art will be totally up to you." - Tony D'Onofrio
My favorite post from last week was from Mashable and it highlighted the 11 "big" tech trends that we will see in 2013. While the list was interesting, more intriguing were the interwoven fundamental business opportunities that these new technologies are driving.
Let's start by summarizing the 11 "big" tech trends from Mashable (http://ow.ly/gWRL9):
Second Screen Revolution - More than 80% of smart phone and tablet owners are multi-tasking while watching TV on their personal devices. 51% of those who post on social media while watching TV do so to connect with others who might also be watching the same thing. "In 2013, brands, media companies, and marketers are going to get more aggressive and inventive when it comes to second screen engagement."
Big Data - Our expanding connectivity is creating mountains of data and 2013 will be the year when companies finally start figuring out what to do with it. Driving this trend is the the fact that marketers are starting to trust the data. "The 2012 USA Presidential election was a validation of data over guesswork. Big data analysis will lead to better products, sharper and more insightful predictions."
End of Anonymous Trolls - While there will be people still wanting to remain anonymous on the Internet, in 2013, the trend is shifting towards personal branding. "There will be a flood of young people entering the online stage with a fresh perspective on branding on line discourse."
End of Privacy - No.3 above will expedite the end of privacy. "Constant data collection, ever growing number of services that ask you to share something about yourself and a generation of users who don't care about privacy will change how many of us think, feel and act about our personal, digital space."
Rise of Reporting - "Expect 2013 to be filled with a lot more long reads, real investigative reporting, and fewer digital mea culpas."
Official Death of Desktops - Sales of desktops have been falling since 2006. Laptops surpassed desktops in 2008. "PC sales are in all out tailspin... In 2013, we will bury the PC box for good."
3D Printing - Prices are expected to tumble for this technology in 2013. "There will be more and more stories of 3D printing in our everyday life and industries: at doctors' offices, in hospitals, even at the local auto mechanic."
Flexible Devices - "2013 will be the year of flexible displays -- and possibly flexible computer." By year's end the first bendable phone will appear.
Embedded Technology - "A whole class of household products that offer instructions when you tap your NFC enabled tablet or phone" will appear in 2013. "Embedded technology will also show up where you least expect it: utility poles, door handles, sidewalks, you name it. Any place they can jam a sensor to capture -- you guessed it -- data."
Crowdfunding Mania - Building on Kickstarter, Indiegogo, iCrowd, and SmallKnot, in 2013 there will be an explosion of crowdfunding startups.
Robots Rise - More powerful in-home robots are coming in just a few years, spearheaded from Wow Wee or iRobot, Honda, and Toyota.
As indicated in the weekly post, my favorite technology trends from this list include:
Second Screen Revolution - Carrying and viewing multiple devices is now the norm. At NRF 2013 saw some innovative marketing campaigns from Coca Cola that leveraged the second screen concept. Consumers were encouraged to interact with Coke on the second online screen while viewing commercials on television. Interactivity between devices to capture consumer attention will be the key to future consumer interaction. The same concept of multi-screen interaction will also emerge in B2B.
Big Data - Multiple of the past blogs have pointed to the explosion of data. The winners will be those companies that effectively mine the data to drive their core strategies to growth. Big Data is not just about the data collection process. It is also the explosion of channels by which customers and consumers will interact with your brand.
3D Printing - Get ready for an explosion of creative products driven by the declining cost of 3D printing. The cycle from imagination to product will become shorter. Creative individuals that can quickly visualize ideas will be in high demand. From Mashable, this link will take you to a gallery of 14 Incredible 3D Printing Creations (http://ow.ly/hn6jb). Article also explains how 3D printing may soon be coming to a Staples near you.
The most intriguing aspect of the above 11 technologies are the common themes interwoven between them that will impact future business activities. These include:
The rise of individualism - What you will achieve in life will only be limited by the self imposed mental limits you place on yourself. Technology trends are driving greater individual possibilities Your creativity and how you express it will be your most important personal asset. Technology will be your canvas and how you shape your work of art will be totally up to you.
Connectivity explosion - You are not alone. Connectivity will drive many more virtual relationships that open up new business model opportunities. The virtual network around you in many ways will be an aggregate mentor to new ideas, new directions, and multiple career changes in your life.
Short attention spans - The challenge with the explosion of information means that our filtering radar will need to increase and must be able to sort out the most important elements much more quickly. For marketers, a good example, of the future of communications is Twitter. The pressure to get your messaging out in less that 140characters will increase. Keeping your messaging short, crisp, and increasingly visual will be critical to reaching your target audience.
Messaging across platforms - The idea of creating separate campaigns by media type are coming to an end. In the digital world, success will be defined by highly coordinated multi-media interactive campaigns across multiple mediums, increasingly in real time.
With the second screen revolution, Big Data, 3D Printing and all the other "big" technology trends highlighted above, 2013 should be another interesting year. As the author of the original Mashable article pointed out, the new technologies have actually been building as a trend for while. Technology is on a constant evolutionary cycle driven by all of us. Profitably keep your radar tuned in 2013 to those subtle changes to drive both personal and professional success.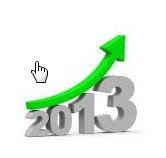 Image from http://ow.ly/hnnPe