This week's favorite post was a reminder of one of the initial books that started my personal journey in trying to decipher future technology and retail trends by tracking key global indicators and industry influencers. The title of this blog is actually from a quote in John Naisbitt's book Megatrends. His exact words were that "we are drowning in information but starved for knowledge". There are multiple parallels between this past week's favorite post, Naisbitt's book, and emerging retail data trends.
Favorite Post this past week: The Mega-Trends That Are Changing Retail Forever. http://ow.ly/erxlQ
When Naisbitt's book was published in 1982, personal computers were becoming widespread for the first time. Eight inch floppy disks were the common information storage technology. PC monitors were mostly black and white. The mouse was still a joystick. Telephone modem technology was starting to be used to connect to online information services and bulletin boards. No one had yet really heard about the internet. Naisbitt's key predictions (*):
The Information Economy – Western world transitioning from manufacturing to an economy based on the creation and distribution of information.
Technology and the Human Scale - Dual trend directions of both going high tech and high touch, matching new innovative technology with a compensatory human response.
The Emergence of a Global Economy - No longer operating within a self sufficient, isolated, national economic system. We are part of a global economy.
Longer Time Frames - Society is moving away from short term thinking.
The Growth of Empowerment - Rediscovering the ability to act innovatively and to achieve results from bottom up.
Self Reliance - Self reliance replaces institutional help in all aspects of life.
Changing Framework of Democracy - The framework of representative democracy have become obsolete in an era of instantaneously shared information.
Hierarchy is Replaced by Informal Networks - Thanks to technology, networks can grow today in ways we could have never imagined.
Speed is a Competitive Weapon - Economies of scale are giving away to economies of scope, finding the right size for synergy, flexibility, and speed.
More choice - Society moving from either/or limited choices to multiple options for all.
This past week, the web site Business Insider published "The Megatrends that are Changing Retail Forever." Most of the retail predictions are spot-on and amazingly some of them still have linkages back to the original megatrends published by John Naisbitt thirty years ago. Summarizing the retail megatrends with some additional industry data:
UNREST IS HERE TO STAY – The causes of the financial crisis, Euro Crisis, and tensions in the Middle East have not been solved and are not likely to be solved in the near future. On the contrary what we used to call a crisis just might be the new normal. As this section of the presentation concluded, on every level you need to plan for the longer term, not next year, but next decade. The ability to adapt products, costs, business models, and everything else is crucial to survival in a global marketplace. According to some recent economic trending analysis, it took almost 30 years to build up to the recent financial crisis in both Europe and North America. The unfortunate conclusion from that same trending analysis is that it will probably take another 30 years to address the core issues that created the crisis.
GLOBAL VS LOCAL VS GLOCAL – Some key emerging trends mentioned in this section include: a) Local brands will be able to challenge global brands as prices for transportation rise; b) Old time brands of the West are not the obvious winners in emerging markets; c) Smaller stores will continue to grow as it means lower investments, closeness to market, and higher sales per square meter as well as energy efficiency. Re-read the post "INCREDIBLE INDIA, Modern Global Retail is Calling" to understand the impact of emerging markets just in retail (Link: http://ow.ly/eE7Cn )
SOCIAL MEDIA SOBRIETY – Social media will add another layer of possibilities for a dialogue with consumers, not replace everything else. If you do it well, consumers will help you spread the message. Social media is not an excuse for ignoring your brand development activities, except if you mess it up, people will know it a lot faster. Social media will intensify the speed of the conversation especially when negative experiences are part of the dialogue. Recall from an earlier post that 29% will stop shopping in a retail store following a bad customer experience. 25% will do the same with poor experiences in online stores (Market Tools 2012). Social customers will tell an average of 53 people about a bad customer experience (2012 American Express Global Customer Service Barometer). Social media will also have a different impact for each of the target audiences. A recent RIS News / Cognizant Shopper Study (June 2012) had social media as the 9th and last factor influencing shopping decision for all shoppers. When age is taken into account, however, social media ranked first for 18-33 and 34-45 age groups.
EMBRACE TECHNOLOGY OR DIE – Old news is Iphones and Ipads that have added a second screen, meaning you use these devices while for example watching TV. Also old news is mobile devices to do competitive pricing research, interact with ads, products in stores, and even "showroom". The new news will be an explosion of augmented reality apps by which you can interact with your surroundings by simply pointing a camera at them. Age of course also plays a role in the retail experience with technology. Twice as many 18-33 and 34-45 age groups want better product knowledge by technology than 45-65 and 65+ (RIS News / Cognizant). Need some further parallel proof? Consider movie animation and its evolution from the original Walt Disney first full length movie Snow White & the Seven Dwarfs. Justifying the ROI for augmented reality apps will be an interesting phenomenon to watch.
CASH IS SOO 20th CENTURY – PayPal processed $78 billion payments in 2011, up 36% from 2010. Mobile payments are positioned to explode in retail. Cash use started declining in the 1950s with the introduction of credit cards. Twice as many $150K income shoppers would use a digital wallet via mobile phone than those in less than $25K income group (RIS / Cognizant).
IN-STORE EXPERIENCE IS MORE CRUCIAL THAN EVER – The degree of interaction between customer and the store will rise in order to increase the perceived value. A spectrum will emerge from customer as the audience, to customer as the partner, to customer as part of the concept. Blurring the offline and online experience will increase over time. Multiple previous posts have discussed this topic and we will come back to it again in the future.
CUSTOMER DATA ANALYSIS NECESSARY TO KEEP TRACK OF VISITOR BEHAVIOR – Focus is moving from simple counting people at the exit to in-store analytics on customer flow, hot spots, cold zones, and displays effectiveness. As competition gets tougher, in-store traffic analysis will be crucial in order to maintain profitable stores. This technology is just around the corner and there are multiple companies delivering initial implementations that are allowing retailers to increase the profitability of each of their stores. Video analytics can now identify employees by their uniform, distinguish children and shopping carts, create a virtual fitting room experience, identify which direction your eyes are looking at, and much more. More on video analytics in future posts.
Both John Naisbitt's initial predictions and also this past week's retail specific megatrends are good examples of the historical continuum being driven especially by technology. Chose the opening quote on drowning in information because retail is on the verge of a new information explosion. Multiple of the retail megatrends above plus RFID promise to bring high granularity to the shopping experience. Think "Big Data" requiring a lot more storage and number crunching capability. Successful retailers will prioritize the information treads that support the core value of their brand. Success is a journey built on a core set of principles that continuously build the core value of the brand. Want to understand and predict the future of your brand, then listen to John Naisbitt when he also said "The most reliable way to forecast the future is to try to understand the present."
"Carpe Diem" this week to leveraging your megatrends to success.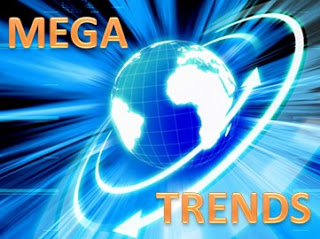 (*) Source: http://ow.ly/eE63c