The latest BrandZ Top 100 Most Valuable Global Brands survey has insightful data for both technology companies and the retail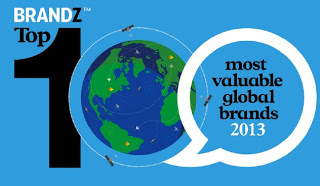 industry.
For the retail industry, the brand value data projects continued economic recovery especially in the United States and in luxury brands.
The value of apparel brands grew 21% following a rise of 13% a year ago. "Consumers felt ready to spend, particular on fast fashion and premium offerings, and brands matched their desires." (1)
The value of retail brands rose 17% after a 5% decline a year ago. "Adjusting to the new normal of steady but cautious purchasing, consumers are ready to spend." (1)
For technology companies, total brand value remained flat. For high tech, the past year was more about product iteration, than innovation. "The race to assemble and dominate ecosystems defined the year for B2C and B2B brands. In B2B, some brands discovered opportunities in big data and the cloud, while others struggled to reposition from device-driven strategies." (1)
Without Apple and Facebook whose brand value increased, technology declined 1% in the 2013 study, after 5 years of 8% average growth.
Value of the Telecom category grew 1%, driven by the increase in mobile data transmission.
Technology and Telecom brands as a group make up the largest brand value in the survey, both in number of brands and in their aggregate value.
The top 3 most valuable global brands are in technology: Apple, Google, and IBM. Six out of the top 10 are in Technology and Telecom.
Following are the top 10 trends driving the evolution (and value) of global brands:
Technology is a life force - "The winning brands attempt to be omnipresent and indispensable" and leverage technology in that effort.
Life is blended - "Brands must keep up as we move among the personal, social, and business aspects of our lives" which are increasingly blended.
Location is not important - Successful brands are increasingly focused on onmichannel strategies. "Brands in all categories need to meet customers where the customers are."
Consumers expect what they've paid for, and maybe a bit more - "Consumers don't expect everything from a brand - just what they've paid for - and maybe a bit more, like finding some luxury feel in a mass setting." This is an opportunity for big data.
Consumers expect the experience that a brand promises to be executed flawlessly across categories - "No aspect of the brand is excluded, including: how the brand engages in physical and virtual stores; how the brand communicates with customers; and how customers communicate about the brand in social networks. Brands need to benchmark against the best in class brand experience."
Brands are becoming media - Brands increasingly are taking on the role of traditional media - "organizing and reaching audiences with relevant content." This is especially true in apparel and retail.
The role of reputation is rising - "Strong corporate reputation correlates with high market share and improves key trend metrics."
Presence in fast growing markets is imperative for global brands - "There's a correlation between high brand value and presence in fast growing markets."
The middle gets squeezed - "In today's economy, brands that effectively make a case for premium or value are better positioned than those in the middle with a less defined reason for being and a limited story to tell."
The individual is the expert - "Information is available everywhere, anytime to everyone....The brand-customer relationship becomes more of a partnership. Comments on social media are fast, direct, informative, and inexpensive."
Social media is the new complaint letter that is much more effective in negatively impacting brand value. Recall the "United Breaks Guitars" http://ow.ly/lrcPR video which went viral in 2009 when United Airlines damaged a passenger's guitar and refused to initially address it. To date, over 13 million people have viewed the video on YouTube. This past week, Ferrero retracted its "Cease and Desist" letter that it sent to the founder of "World Nutella Day" http://ow.ly/lrcWg after a social media outcry.
In our increasingly inter-connected world what the brand stands for and how it is differentiated from the competition is becoming more critical. Best in class brands realize that they are in charge of building brand value. Increasingly growth markets are crucial to building brand value, especially for luxury brands. Fully agree that technology is now the life force of brands.
The future is bright for both company and personal brands, if you properly leverage technology and the multiple insights in this year's "The Top 100 Most Valuable Global Brands" study.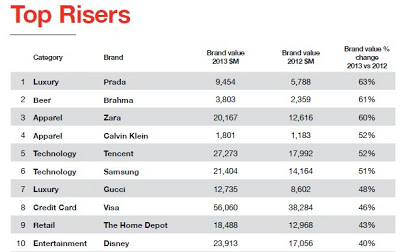 Download the full BrandZ Study at this link. http://ow.ly/looZB