What's "HOT" in Retail Loss Prevention Technologies?
A recent IHL Group research study titled "The Great Disconnect Between LP and IT" summarized that "traditional LP Technologies are (now) being co-opted for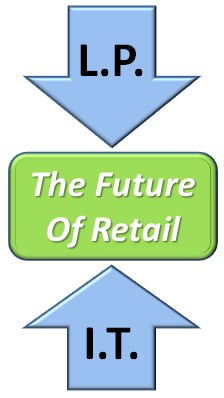 use in other activities leading to influencers of buying decisions that would otherwise be purview of LP only." The convergence of Loss Prevention and Information Technologies has been underway for some time. The pace of change is increasing and further innovative disruption will arrive from unexpected market segments.
"The Great Disconnect Between LP and IT" Key Insights
The data protection aspects of loss prevention dominate LP initiatives. The top five focus areas where retailers spend LP efforts are PCI, data breach, employee theft, returns fraud, and consumer theft. PCI and data breach account for 35% of the focus. Data breach spending is tied with employee theft at 14%. Returns fraud and consumer theft each represent 12% of the overall retailers LP spend focus.
In departments outside LP and IT, the issues of PCI and data breach are a bigger concern with 54% of the survey respondents. As the study authors indicated, "what we believe is happening is that PCI and Data Breach efforts are so pronounced and communicated in the organizations since the numerous public data breaches that have happened are being over-communicated to everyone. We think this is a good thing as long as the LP department is still focused on the larger issues of Employee and Consumer Theft."
Both LP and IT agree that the greatest internal barriers to a closer LP and IT relationship are business priorities, systems integration, and growth objectives. Not a surprise as both LP and IT are cost centers and "it is natural that their primary issues are due to an overall organization focus on growth."
Purchase Plans for LP Technologies
Of most interest is the following chart that appears in the study on current and future LP spending plans.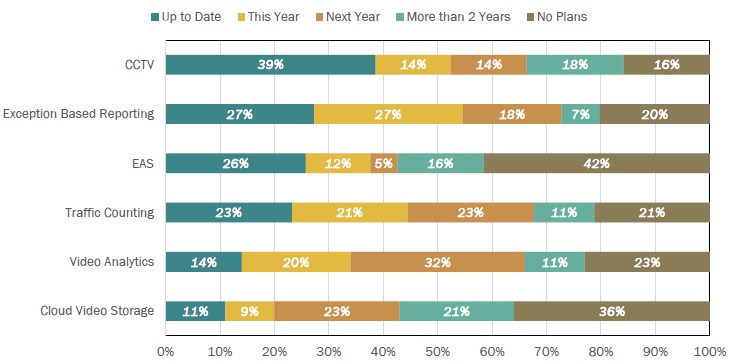 Software is the focus LP spending area for retailers for the next 24 months, "led by Exception Based Reporting with 54% of retailers expecting to make a purchase decision in the next 2 years. Likewise 54% over the next two years are planning to buy new Traffic Counting software, but is more loaded in the second year than in this first year. Video analytics is also a huge investment area over the next 2 years at 52% with 20% of that coming in the next year."
One of my favorite insight from the study is the disconnect between LP and IT on the up to date status of each of the technologies. Except for EAS, across the board, LP perceives that their technologies are up to date at a higher percentage. The rest of the business has a more pessimistic view, especially with more advanced technologies such as video analytics and cloud video storage.
An Eye on Retail
Video's popularity in retail continues to grow. 86% of the survey respondents use CCTV and 64% are already IP enabled. As this chart from the study indicates, the focus of CCTV remains LP traditional functions.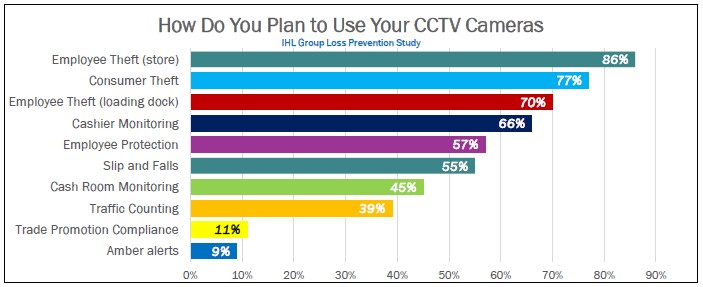 The State of IT and LP Technology Convergence
For the retail industry, LP technologies will play a key role in "The $1.2 Trillion Internet of Things Opportunity" discussed in the last post. The pace of change is accelerating. Disruption from unexpected niche technology segments will lead to new innovative solutions.
The underlying clues to a brighter retail future appear throughout the IHL group study. Data and smart sensors are critical ingredients to the prosperity of the retail industry. Foundational LP technologies such as EAS and video are evolving into intelligent data gathering engines. IT and LP hold the keys to a smarter store. It is time for both to connect and unlock the industry's potential before they are disrupted by alternative business models.