"With high hopes for the future, no prediction is ventured." - Abraham Lincoln
On March 4, 1865, the above words were spoken by Abraham Lincoln in a short, yet very powerful speech given on the day of his second inauguration as President of the United States. As backdrop to this speech, Lincoln had just won a major legislative win in passing the 13th Constitutional Amendment abolishing slavery (as dramatically depicted in the current Steven Spielberg movie) and the Civil War raged on taking over 620,000 lives (the most of any war in USA history) by the time it ended in April 1865. The same month the war ended, roughly one month after this speech, Lincoln was assassinated.
The context of Lincoln's speech and the quote selected are important, especially as we think about the many global challenges surrounding all of us today. Unbelievably, 2013 is about a month away and in this blog, with high hopes for the future, we will venture to look at some general predictions and also a few specific to retail.
Let's start with the top 10 general 2013 predictions published on November 12, 2012 by the non-profit World Future Society (WFS.org). These forecasts are typically within a 10 year time frame window and feature a diverse mixture of business, economics, demography, energy, the environment, and health & medicine topics.
As published in the WFS "The Futurist" magazine, here are the top 10 predictions for 2013 (*):
Neuroscientists may soon be able to predict what you'll do before you do it.
Future cars will become producers of power rather than merely consumers.
An aquaponic recycling system in every kitchen?
The economy may become increasingly jobless, but there will be plenty of work.
The next space age will launch after 2020, driven by competition and "adventure capitalists."
The "cloud" will become more intelligent, not just a place to store data.
Corporate reputations will be even more important to maintain, due to the transparency that will come with augmented reality.
Robots will become gentler caregivers in the next 10 years.
We'll harness noise vibrations and other "junk" energy form the environment to power our gadgets.
A handheld breathalyzer" will offer early detection of infections microbes and even chemical attacks.
This blog was inspired by the short survey conducted by Kurt Salmon with 100 retail executives on their top priorities for 2013. Here are the results from that survey (**):
The Top Retail Priorities for 2013 are:
Domestic Growth (25%)
Improving the in-store customer experience (21%)
Improving mobile and online experiences (17%)
The Areas Targeted for the Largest Capital Expenditures for 2013 in Retail are:
New technology to support merchandising and planning (23%)
Remodeling existing stores (19%)
International expansion (14%)
With this industry data as background, here are the 2013 top 10 predictions for retail:
The "cloud" will indeed become more intelligent and its importance to retail will increase. From the latest 2012 Edition of the popular video "Did You Know", it is estimated that 40 exabytes (4.0 X 1019 ) of unique new information will be generated worldwide this year -- more data than the previous 5000 years (***). To make sense of all that information, there will be a push both for greater "cloud" storage and analytical capabilities in both retail and other industry sectors.
2013 will be the year that will aggressively segment the winner and the laggard retail chains. Convergent trends of mobile, social media, and online shopping patterns will drive the draconian segmentation.
Greater focus will be placed by more retailers on creating a more engaging / entertaining / visual in-store customer experience. Successful retailers will respond to showrooming by aggressively embracing customer engagement technology.
Mobile penetration will accelerate in-store both as a customer engaging tool and as a POS device to make the checkout process more personal. Stationary POS will need to reinvent itself as a kiosk to deliver greater customer interactivity.
RFID will make significant market penetration progress in both department and specialty apparel stores. Macy's, JC Penney, Walmart, are only the beginning. New market segments will begin to evaluate RFID potential in their retail sub-vertical. Omnichannel retailing will be the key driver for RFID expansion.
Video analytics will also make significant progress in penetrating retail stores as a technology tool to drive greater analysis of customer experience. Specialized technology providers will leverage the "cloud" to increase the number of use cases to improve the deployment ROI.
Globalization will continue for brands that have strong core value. The pace of expansion will slow for some of the largest global retailers as they refocus on improving their market share / financial position in their home base.
The dichotomy of slow growth in development markets and emerging markets will continue -- single digit growth in Western Markets and double digit growth in key selected emerging markets. China, India, and Brazil will be key growth countries. Brazil especially will be key for selected retailers in preparation for World Cup and next Olympics. Russia will slow. Indonesia, Turkey, and Malaysia will emerge as key new growth markets.
Online retail sales will continue to grow in double digits. Emerging markets such as China which just registered a $3 Billion online retail sales day, will outpace the growth of online sales in Western Markets.
The App revolution will continue and will more aggressively spill over into retail. Successful retailers will develop unique apps to drive customer engagement with their brand. Getting the app to go viral, having consumers engage with your brand, and not get distracted by that next new app will be the challenge.
The above 10 trends point to a Store Revolution underway in retail. The physical limitations of brick and mortar stores are breaking down at an accelerated pace. In Western Markets there are too many stores and the winners will be those that focus on building an engaging onmichannel customer experience. New store growth will be primarily in emerging markets. As already seen in market such as China, technology trends that took decades to evolve in the West, will arrive in the emerging markets at an accelerated pace.
Major challenges surround all of us, especially in Western Markets. Multiple industry / global events could derail the optimistic trends above. With high hopes for 2013, it is time to venture forward towards a hopeful future. Think back to the world that Lincoln lived in as he started his second term as President. For the United States, it was a very tough environment from which to positively look forward, much tougher than today.
As Peter Drucker once said, "The best way to predict to future is to create it." Make the end of 2012 a time of reflection / planning for creating a very successful / healthy / prosperous 2013.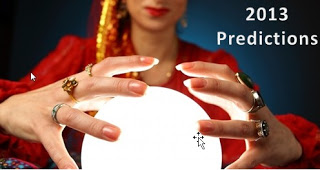 (*) http://ow.ly/fywh0 (**) http://ow.ly/fyJyU (***) http://ow.ly/fyNnU