Loss Prevention Research Council Weekly Series - Episode 102 - Baby Formula Shortage, Second-Hand Hot Buys, Record Imports, and We Love Stores
With Dr. Read Hayes, Tony D'Onofrio, and Tom Meehan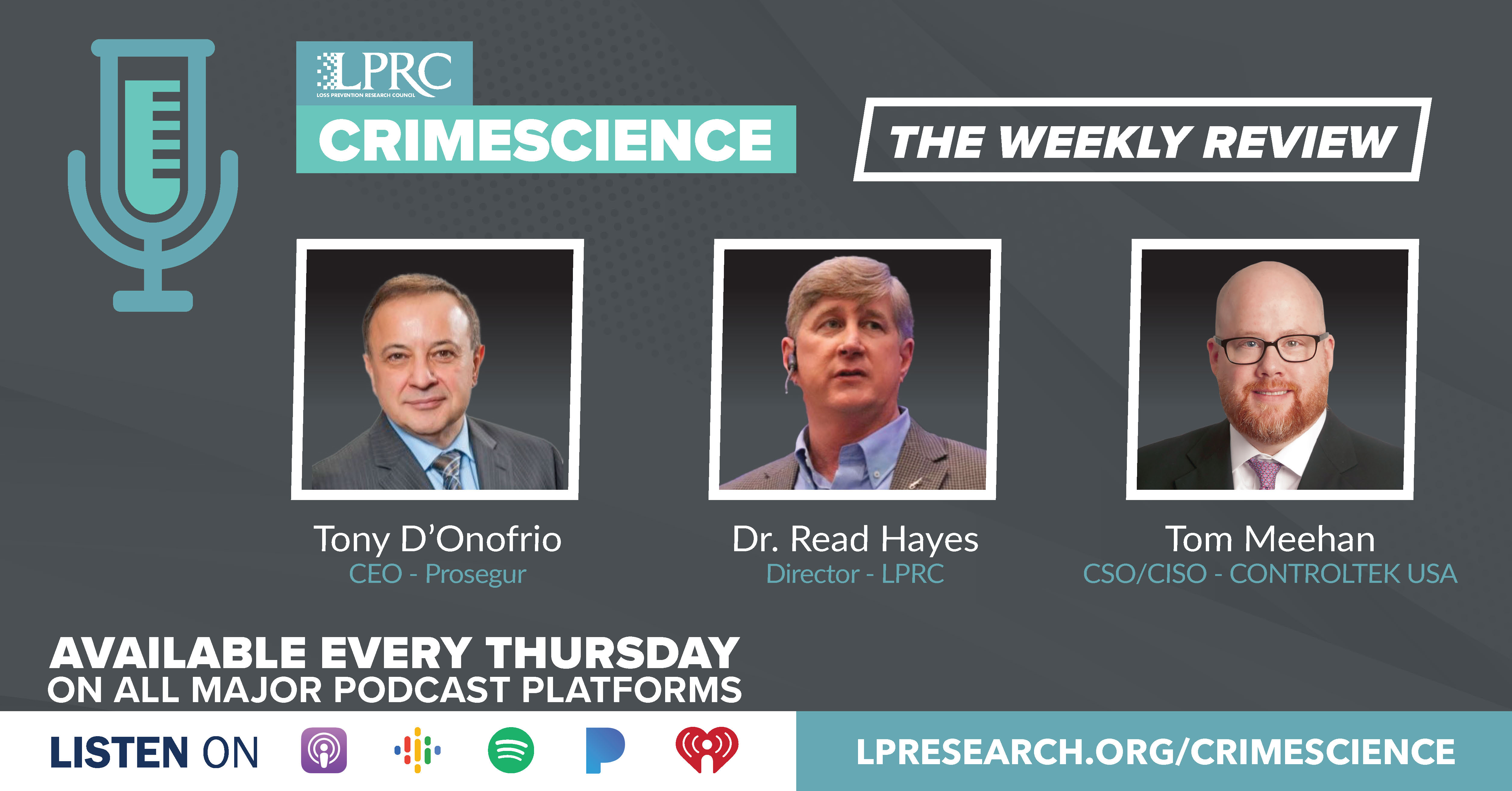 Listen
40% of America's Baby Formula Supplies are out of Stock
https://www.cnbc.com/2022/05/09/40-percent-of-americas-baby-formula-supplies-are-out-of-stock.html
Some disturbing news from NBC News and CNBC. There appears to be no end in sight to America's baby formula shortage, according to the most recent data from a retail tracking group.
The share of baby formula out of stock across the U.S. hit 40 percent on April 24, according to Datasembly. That's up from 29 percent in March.
Inflation, supply chain shortages and product recalls have continued to bring volatility to the category, and continues to be one of the most affected products in the market.
The states seeing the worst shortages include Texas, Tennessee, Missouri, Iowa, North Dakota and South Dakota — all with out-of-stock rates of about 50 percent. A total of 26 states have out of stock rates of 40 to 50 percent.
Among metro areas, San Antonio's out-of-stock rate has climbed to 57 percent, with Memphis and Nashville at 52 percent and Houston and Des Moines at 50 percent.
Second Hand Rarely First Choice
https://www.statista.com/chart/27398/share-of-americans-buying-second-hand-products/
With all the concerns on inflation are USA consumers shopping more for used items? For the Answers let's look at a new survey Statista.
The top five categories that we buy used and the percentage of consumers who purchased second hand products in the last 12 months are:
Clothing with 30.4% buying this category.
Surprised that shoes is number 2 at 19.8%
Books, movies, music and games are number 3 at 16.7%
Bags & accessories is number 4 at16%
And consumer electronics is number 5 at 13.5%
As Statista commented, the high inflation is not pushing a majority of consumers to used. it's far from fashionable to "go copping it, washing it and get some compliments.
Retailers Import Record Amount of Goods
https://chainstoreage.com/retailers-import-record-amount-goods
Some news this week from Chain Store Age on the retail imports this spring. As they stated, imports at the nation's major retail container ports set a new record this spring and are expected to see near-record volume this month.
The increased volume comes as retailers bring in merchandise ahead of rising costs and further supply chain issues, according to the monthly Global Port Tracker report released by the National Retail Federation and Hackett Associates.
U.S. ports covered by Global Port Tracker handled 2.34 million twenty-foot equivalent units– in March, the latest month for which final numbers are available. That was up 10.8% from February and up 3.2% year over year. It also topped the previous record of 2.33 million TEU set in May 2021 for the number of containers imported in a single month since NRF began tracking imports in 2002.
The first six months of 2022 are expected to total 13.5 million TEU, up 5.1% year over year. Imports for all of 2021 totaled 25.8 million TEU, a 17.4% increase over 2020's previous annual record of 22 million TEU.
Consumer spending is growing faster than income growth, perhaps as shoppers buy ahead of expected rising prices. Importers are doing much the same as they continue to replenish their inventories. Doing so will protect them against potentially rising freight costs, further delays in the supply chain and complications in upcoming labor negotiations at U.S. West Coast ports."
Study: Consumers Prefer Shopping In-store
https://chainstoreage.com/study-consumers-prefer-shopping-store
Finally, also from Chain Store some great news on the importance of physical stores for consumers.
More than half of all U.S. consumers would rather shop in-store than by any other method.
That's according to new research from customer engagement specialist Emarsys, which found that 54% of consumers prefer bricks-and-mortar retail to any other channel, with more than twice as many preferring it to shopping via a mobile phone (21%) or via laptops/computers (18%).
However, huge value remains in digital channels. Two in five (39%) consumers "couldn't live without online shopping." And younger audiences push the boundaries further: Thirty percent have made purchases on TikTok, while one in 10 use a smart speaker.
Time spent across all channels is fleeting, according to the study. With consumers shopping for an average of two hours per week, retailers need to reach customers where they want to shop — be that in store or elsewhere, advised Emarsys.
The study noted the changes in consumer preferences across different industries:
In food, for example, despite the rise of online groceries, consumers are still four times more likely to prefer buy in-person (38%) than online (9%).
For travel purchases, by contrast, 23% of consumers prefer to shop online compared to 5% in-store.
And in fashion, 21% prefer to shop online — while an almost identical 20% prefer the in-store experience.'
Summarizing this week:
Product shortages continue as supply chains are stressed and baby formula is the latest example.
Inflation has not stopped consumers in preferring to buy new versus used and yes 20% buy used shoes.
All the surge at the ports to get ahead of inflation and labor issues is keeping supply chains challenging.
Stores is there the place to be when it comes to retail's future, but digital influence is here to stay.
The LPRC is the place where you can test ideas and stay current on the latest in retail.